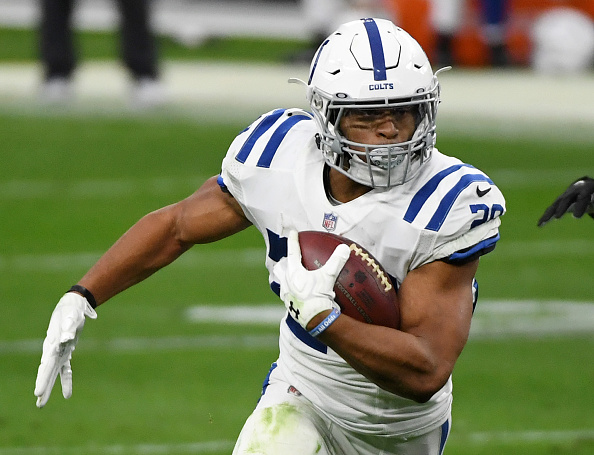 After an exciting round one of the fantasy football playoffs, many people are sitting in different positions. Whether they won or lost, the crucial round of the first playoff matchups comes in Week 15. Week 15 presents itself with multiple potentially exciting games, which means the potential for high scoring performances by players. Besides this, the key throughout the season has been finding the players with perfect matchups, so here they will come. Here are the top Week 15 fantasy football matchups in points-per-reception leagues.
Best Week 15 Fantasy Football Matchups
Quarterback
Recently, Herbert has underperformed in the fantasy category. In the last two games, he has scored a total of 20.08 fantasy points. Herbert's ability to score should not be overlooked during this rookie slump. Weeks before the slump he was playing tremendously. This week, Herbert has a fantastic opportunity to bounceback, as the Raiders give up the 10th most points to quarterbacks in the league. In their previous matchup in Week 9 against the Raiders, Herbert scored 23.44 fantasy points. He should find that success in this matchup again, as the Raiders' defense has continued playing poorly.
Running Back
This is probably one of the best Week 15 fantasy football matchups of all players this week. Jonathan Taylor in the previous three games has looked like the phenomenon he was expected to be coming out of college. He had a total of 68.4 fantasy points, including a game against the Texans in which he scored 22.5 fantasy points. The Texans have been awful defensively this year, especially in defending the run where they give up the second-most points to running backs in the league. A prime example of their horrendous defense is when they gave up an 80-yard rushing touchdown to David Montgomery on the opening play last week. Jonathan Taylor is on fire, and his momentum will most certainly carry on into this matchup against the abysmal Texans. I expect him to rush for over 100 yards and score a touchdown putting him in the range of 20 fantasy points scored.
Wide Receiver
Since Mitchell Trubisky's return, Allen Robinson has been on fire, averaging 22.73 fantasy points in those games. Trubisky has a special connection with Robinson, being his first read most of the time. With that, a lot of targets come towards Robinson's way. Against a Vikings defense, that has given up the most fantasy points per game to receivers, Robinson should get a minimum of 6 receptions and over 75 yards. With Nick Foles, Allen Robinson hadn't gotten a lot of touchdowns. That has certainly turned around with Mitchell Trubisky as he has scored three in the last three games. Therefore, look for Robinson to potentially get a score in this game.
Tight End
After being out for two weeks, Andrews put up a very solid performance against the Browns. He caught five receptions for 78 yards giving him a total of 12.8 fantasy points. The Jaguars give up the sixth-most fantasy points per game to tight ends, so Andrews will have success. He should also get plenty of opportunities as he is Lamar Jackson's main target. Around the end zone, if the Ravens can't use the run to score, then they will certainly look for Mark Andrews due to his size and athleticism. I expect Andrews to have a great game and him to get around 16 fantasy points including a touchdown.
Defense/Special Teams
There is no better D/ST to start this week than the Los Angeles Rams and it's not even close. They are going up against the miserable and winless New York Jets who managed to score only three points against a pretty bad Seahawks defense last week. There is a great chance the Jets won't score any points this game, as the Rams are the number one ranked defense in the league. They are talented and skilled all around on defense. Look for Aaron Donald and Leonard Floyd to heavily pressure Sam Darnold into fumbling or throwing errant passes into one of the league's best secondaries. Also, the Rams defense has scored a touchdown in three straight games, so there is a great chance that could happen this week. There is no other way of saying this, but this game will be total domination by the Rams. I genuinely think the Rams defense gives up zero points along with over five sacks and this is bold, but I believe they will have over four turnovers.
Kicker
Myers played very well last week against the Jets as he connected on two field goals and four extra points. Washington presents a very favorable matchup for Myers. The Seattle Seahawks offense is good enough to move into Washington's territory, but then again Washington's defense is very good and could stop them from scoring a touchdown. Well if they aren't scoring a touchdown, then they are kicking field goals which allows Myers to score many fantasy points.
Main Image: Embed from Getty Images