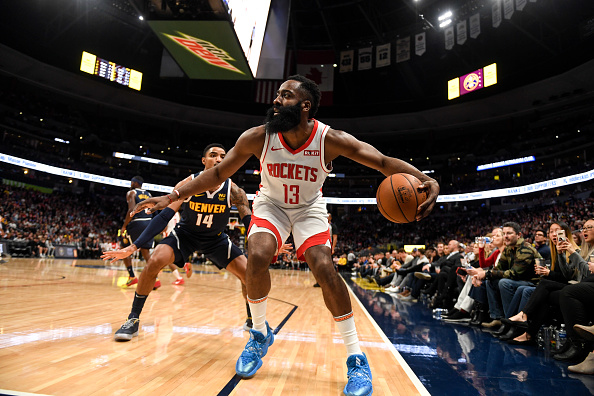 What sets the NBA apart from other major sports is the constant flow of narratives. The NBA dominates social media on a daily basis, and they utilize it to their advantage. Social media analysts and personalities draw up rumors and narratives that may or may not actually exist, but makes for compelling action on and off the floor. That being said, here are the major NBA rumors and narratives to watch for in the 2021 NBA season.
Buying or Selling NBA Rumors and Narratives For The 2021 Season
What Team Does James Harden Start and Finish the Season With?
At the forefront of all NBA rumors and narratives this season to this point has been James Harden. Harden has been open about his wish to leave the Houston Rockets for quite some time now, even after the team acquired John Wall and signed DeMarcus Cousins. Harden's destination is still unknown, but the belief among league executives is that the move is inevitable. Where could "The Beard" end up?
Unless the Rockets lower their asking price, it looks like the Miami Heat have pulled out of the sweepstakes. That team has a lot of young stars, who already have deep playoff experience at such a young age. With already one veteran like Jimmy Butler at the helm, sacrificing the team's future for a player like Harden may be too much for them. The Heat not making a move is understandable for that reason.
According to an "impeccable source"(whoever that is), two teams that are at the forefront of the Harden sweepstakes are the Boston Celtics and the Toronto Raptors. Houston would ask for Pascal Siakam and more, or Jaylen Brown and more from both teams respectively. If those are the asking prices, then a move is likely doubtful as those two should be untouchable for both teams.
As more rumors come about, it looks like James Harden could be heading to Brooklyn, whether it be for Kyrie Irving or for their plethora of assets. While these could merely just be made up rumors by NBA Twitter analysts, it makes for one of the most interesting narratives to watch for in the coming days.
Is This the Start of LeBron James' Decline?
One of the most popular narratives for NBA fans to start, or reiterate, every year is when will Lebron James will eventually fall off? Before anybody answers this question, I'll ask you another first; What does a Lebron James decline look like? The King will be entering his 18th season in the NBA, yet he continues to play at the top of his game.
James signed a two-year extension this offseason that will match the same year his son Bronny graduates from high school. This was easily a strategic move by James to go play with his son wherever he ends up being drafted. That scene is coming slowly but surely, and with LeBron turning 36 at the end of the month, how soon can we start seeing physical signs of his age?
The NBA offseason was the shortest it has ever been, and LeBron is coming off a full NBA playoff schedule. After securing a fourth NBA title, how much will the lack of full rest take off his body? Star players will still rest, despite the season being shortened by 10 games. The Los Angeles Lakers protected their investment by adding some needed ammunition in Montrezl Harrell, Dennis Schroder, Marc Gasol, and Wesley Matthews to provide serviceable minutes while Bron rests.
The regular season in this kind of environment will merely be an experimental time period, at least the first couple of months. LeBron is a different animal in the playoffs, as seen this past season. If LeBron is able to rest for a good chunk of the regular season and play at a high level in the postseason, there is no telling how much longer we may see "The King" in the NBA.:
Put Up or Shut Up for Giannis and the Bucks
In a puzzling yet admirable move, Giannis Antetokounmpo decided to re-sign with the Milwaukee Bucks on the most lucrative deal in NBA history. One of this year's most intriguing narratives was supposed to be whether Milwaukee could prove themselves to Giannis, but that will be no more. Rumors were swirling through NBA Twitter that Giannis would leave the Bucks to go elsewhere, but now that he has re-signed for the long haul, where does that leave the two sides moving forward?
Can the Bucks finally get over the hump? The Milwaukee Bucks have been one of the titans of the east for the last few years now. They have put forth consecutive dominant regular season performances, only to fall short in the postseason. This has been because they did not have that next gear needed for a championship push.
Despite holding onto their franchise superstar, the Bucks cannot be complacent. While they were able to keep Giannis, which is a win in itself, they have yet to actually win anything. The Bucks have to move on from past demons in order to get to the next level. With a new addition of Jrue Holiday, the Bucks may just have that now. Time will tell whether or not this move turned into anything down the line, but the Bucks have a chance to start this season on the right track.
Is Kevin Durant Back?
Thus far, Kevin Durant looks to be all the way back as he torched the Boston Celtics Friday night in preseason action. If this is the KD that NBA fans are getting, then it makes the Brooklyn Nets all the more dangerous. That is until the inevitable tension between Kyrie Irving, KD, the front office, and coaching staff becomes prevalent. Until then, it will make for very entertaining basketball.
It is safe to say the NBA missed Durant this past season. His game adds a whole other level of intrigue to the NBA product as a whole, as wherever he goes, the news follows. After coming off one of the most devastating injuries for an NBA player, it became uncertain whether or not Durant could return to form.
Fortunately for him, he does not rely on his athleticism or vertical in order to prosper. His shooting, handle, and scoring ability are what has made him one of the best players in NBA history. At worst, Durant is still an All-Star caliber forward on a playoff-bound team. If Durant is at the peak of his powers, he is likely one of the most unstoppable forces in the NBA today.
Main Image: Embed from Getty Images