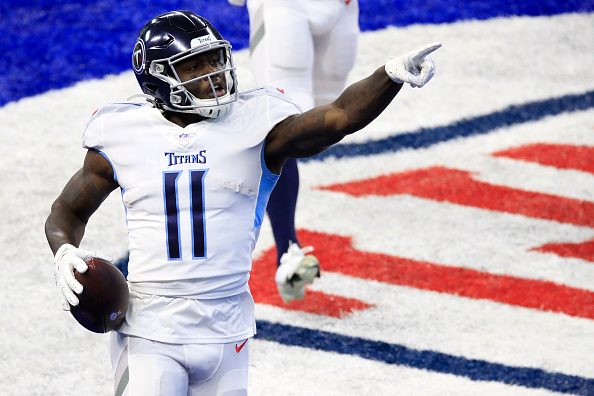 Dominating, explosive, monster-like are all characteristics that can be used to describe Tyreek Hill's fantasy performance. It's a performance in which he scored a mind-blowing 57.9 fantasy points and most of it came in the first half. Huge fantasy performances come from huge games, like the Kansas City Chiefs versus Tampa Bay Buccaneers game last week. There should be a couple of these games in Week 13 and it starts very soon. Will there be another Tyreek Hill-like performance in Week 13? The greatest chance for that to happen is if a player has a fantastic matchup. Here are the best Week 13 fantasy matchups in points-per-receptions leagues.
Best Week 13 Fantasy Football Matchups
Quarterback
Derek Carr has never been known as a great fantasy quarterback, but it's too hard to pass up on him in this game. First of all, the Jets have an abysmal pass defense that gives up the fourth-most fantasy points to quarterbacks per game. Additionally, as bad as the Jets might be, their run defense isn't that bad. With Josh Jacobs potentially out, look for the Las Vegas Raiders to throw the football a lot.
Lastly, the Raiders got humiliated last week against the Atlanta Falcons, and Jon Gruden is a tough coach. He will expect a huge bounceback from his team. With that in mind, the Raiders will try to score as much as they can and will have a big bounceback game. Expect Carr to have at least three passing touchdowns and 300 passing yards.
Running Back
The Chicago Bears' offense has been miserable this season, but one of the more talented players on that offense is David Montgomery. He had a great game against the Green Bay Packers where he scored 25.3 fantasy points. The Packers' run defense is their Achilles heel, so going up against a worse run defense in Detroit, Montgomery has the potential to score more fantasy points than he did last week.
Additionally, Montgomery is a solid pass catcher too. With Mitchell Trubisky starting, Montgomery might be a safety net for him that could be used a lot of times. I predict Mongtomery gets a score and over 130 scrimmage yards.
Wide Receiver
A.J. Brown has shown this year that he is a freak athlete and has certainly proved that he is one of the league's most promising, young receivers. In his last four games, he has averaged 16.3 fantasy points per game. He doesn't get a lot of receptions but shows lots of effort on plays, so he always gets those extra yards.
He is going up against the Browns who give up the 10th-most fantasy points to wide receivers per game. This is a huge AFC game that has big playoff implications. In these big moments, the Tennessee Titans of course use Derrick Henry, but they also use A.J. Brown. I expect A.J. Brown to shine and get at least 17 fantasy points.
Tight End
Every game, Hockenson proves that he is a future top-three tight end. He hauls in almost anything that is thrown towards him. Last week, he led the Lions in receiving yards with 89 while scoring 13.9 fantasy points. Will that continue?
I expect it to because although the Bears have a very good defense, they have a hard time covering tight ends. A prime example is they gave up 17.7 fantasy points to Robert Tonyan last week. Meanwhile, in Week 1, they gave up 16.6 fantasy points to Hockenson. Hockenson is also the primary target on this team without Kenny Golladay in the lineup, so if Golladay is out, Hockenson should get lots of opportunities. Hockenson should get at least 15 fantasy points.
Defense/Special Teams
The Packers aren't the best defense and they have been inconsistent throughout the year. However, they don't have to do a lot because they have Aaron Rodgers. This is a prime matchup for the Packers' defense. Their opponent, Carson Wentz, leads the league in turnovers by throwing 15 interceptions and having three fumbles.
I do expect him to throw at least one pick and maybe a fumble which means points for the Packers defense. Besides the turnovers, the Eagles have a hard time moving the football and don't score a lot, which means the Packers will hold the Eagles to under 20 points. With the possibility of many turnovers and not a lot of points, the Packers D/ST should have a great game.
Kicker
Tyler Bass has been one of the less-talked-about kickers this year, especially after there was no talk about his six field-goal game. It's good to take a kicker that is on a competent offense but can be stopped which presents field goal opportunities for kickers. The Buffalo Bills are a very competent offense and should get down to score a couple of touchdowns, but the 49ers still have a very good defense. It's a defense that held the Rams explosive offense to 14 points. Therefore, the Bills will get stopped a couple of times, allowing for Bass to kick field goals. I expect Bass to get a minimum of three field-goal attempts to round out the best Week 13 fantasy matchups.
Main Photo:
Embed from Getty Images