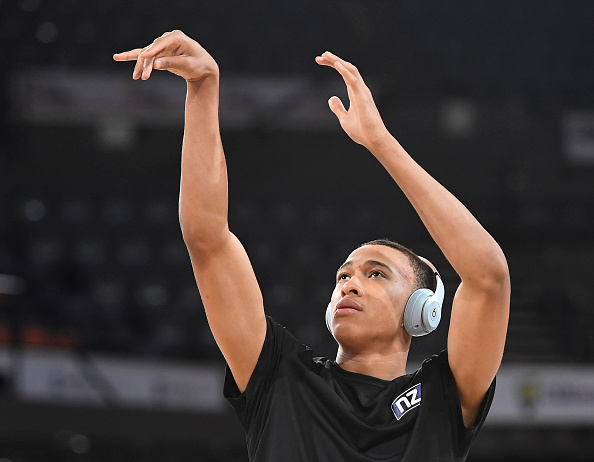 The NBA draft has finally concluded after five long months removed from its scheduled date. After months of deliberation, the top five was finally laid out and it's safe to say not many predicted its exact shakeout. Many in the sports betting world were enlightened to see the top three picks stay true to the mock drafts, but other picks later on didn't follow the same formula. There were certainly some major surprises in those four hours of draft coverage, but these five steals of the NBA draft stand above all the other great value picks.
Top Five Steals of the NBA Draft
5. G Myles Powell, New York Knicks (Undrafted)
To the surprise of many, Myles Powell was passed on 64 times and ultimately wasn't drafted by any NBA team. However, he went less than 12 hours following the draft before finding out his new destination. The Seton Hall product signed with the New York Knicks just hours after the draft and has been highlighted as one of the best undrafted signings in quite awhile.
Powell started three out of his four seasons at Seton Hall and is widely considered one of the best Big Ten players to ever play. He cracked the top 10 for total points scored in Big Ten history and achieved both Big East Player of the Year and First Team All-American honors in his final year there.
So why is he such a steal? Well for starters, you'll be hard-pressed to find a combo guard with this type of scoring output, go undrafted. So his value went up exponentially once that second round ended. But more importantly, Powell is very diverse in his scoring ability. He isn't just an on-ball guard. He's got a ton of off-ball promise which is truly becoming less and less common in a more iso-centric game.
The one thing that Powell will need to revive is his three-point game, which dipped over these past few seasons. But anytime a top college scorer like Powell slips out the draft, there's got to be some nod to whichever team signs him. It's a great low-risk and high-reward move for the Knicks who have certainly been one of the biggest winners this offseason. They aren't done on this top five steals of the NBA draft list either.
The 76ers have been very hit or miss in the past couple of years with their draft picks. One of the biggest misses just a few years ago came with the drafting of Markelle Fultz. But, just a couple of years later, they hit great on the Matisse Thybulle pick. This year, Tyrese Maxey was one of the best value picks in the class.
Maxey spent just one year at Kentucky but was one of the most highly sought after prospects coming out of high school. He averaged 14 points at Kentucky along with just over three assists and four rebounds. The rebounds are a real standout, as you don't normally see that type of production from a 6'3″ freshman guard. Maxey has some great offensive traits, highlighted by his speed. His outside shot could use some work, but he also isn't afraid to take those shots which is somewhat reassuring.
Maxey also excels on the defensive end. His 6'6″ wingspan and 8'3″ standing reach give him a significant advantage over many of the other guards in this draft. His numbers against other top guards in this class last year prove his got some real defensive capabilities.
Maxey at times was ranked as high as #15 in this year's class in some mock drafts, so he definitely showed significant promise during this past season. The Sixers moved on from Josh Richardson in a trade for Seth Curry, so a combo guard was missing from their future plans. Maxey should be able to provide that and should be able to do so rather quickly.
He's certainly one to watch for in the later first-round picks and this was a great selection by a team that really needed this type of player.
Tyrese Haliburton was a consensus top 10 pick before the night started. I'm sure if you asked the Kings, they certainly didn't think he'd be available at 12. Well, Patrick Williams moved up and Haliburton moved way down.
This could certainly be the steal of the entire draft. Haliburton was projected as high as five in this year's class and I believed it was almost certain he was going to be headed to the Atlanta Hawks at six. That wasn't the case, and the Kings landed a potential top-five talent at pick 12. That's worthy of a spot on this list for sure.
Haliburton really exploded in his second year at Iowa State, totaling a split of 15/7/6. Plus, he was extraordinarily efficient in his offense, shooting 50% from the field and 42% from three.
The big advantage for the Kings is Haliburton's height. He sits at 6'5″ and can easily be run at the two with De'Aaron Fox who just recently signed an extension. I believed that was what the Hawks planned to do with Trae Young at point, evidently, they went a different route.
It was surprising to see Haliburton continue to slip further and further down and any time you have a top-five mock pick slipping near the end of the lottery, it raises some eyebrows. But, the talent is there and the Kings completely lucked out with this pick. There was talk about entry into the top 10 by some late lottery teams. Ironically, the Kings didn't even need to move up to get this type of talent.
This was a pick originally made by the Bucks, that was then sent to the Pelicans, which finally ended up with the Denver Nuggets. So, I'm crediting Denver with this steal.
R.J. Hampton was a top-five talent coming out of high school just a year ago, receiving offers from Duke, Kansas, and Kentucky. Evidently, Hampton chose to take his talents to Australia, where he struggled. He averaged just nine points on 41% from the field and shot 29.5% from distance. Keep in mind, this is a professional international league, similar to where Luka Doncic played. Not to say the talent is the same in those leagues, but there is generally more talent overseas compared to many college conferences. Still, his performance last year did drop his draft stock pretty considerably.
It's an interesting pattern with the Nuggets, who took both Bol Bol and Michael Porter Jr. in the previous two drafts. Denver really does pride themselves on taking top-ranked prospects no matter what setbacks they may have faced in their most recent season. Both MPJ and Bol had injuries that significantly dropped their stock. Hampton didn't have an injury, but he did have a down season that made most teams pass on him.
The Nuggets excel at redeveloping talent that was once cream of the crop and they've done it again this year. That scouting team and development team for the Nuggets should be getting a massive raise. R.J. Hampton is one of the top five steals of the NBA draft at pick 24 and I think a lot of teams in the mid-rounds will be really regretting their decision to pass on him.
The Knicks are at the top of a list not labeled "worst _____". That's a win for New York. But in all seriousness, props to the Knicks for this pick. I just recently wrote an article on why I believe Obi Toppin will be the best player to come out of this draft and why he'd be the draft day steal. Although I was right, I didn't expect him to be this big of a steal.
Toppin is an extremely gifted athlete who has one of the most unique stories in the draft. He received zero D1 offers out of high school. Eventually, Toppin ended up at Dayton and tore it up. He was voted AP Player of the Year last season and is generally considered the prospect with the highest floor in this class.
He's got an elite knack for scoring all over the court, including from deep. His defense requires a bit of work on the outside, but it's nothing that can't be corrected. Furthermore, it's not something that should have dropped him this low in the draft.
I won't go too deep into his game, because I did more of an in-depth assessment just last week. However, the Knicks not only hit on a hometown prospect, but they hit on the best prospect in this draft. He'll give them instant help in nearly every aspect of the game. I'm sure RJ Barrett was grinning ear to ear when he saw this selection.
It certainly tops the list of top five steals of the NBA draft and it isn't remotely close.
Main Image: Embed from Getty Images