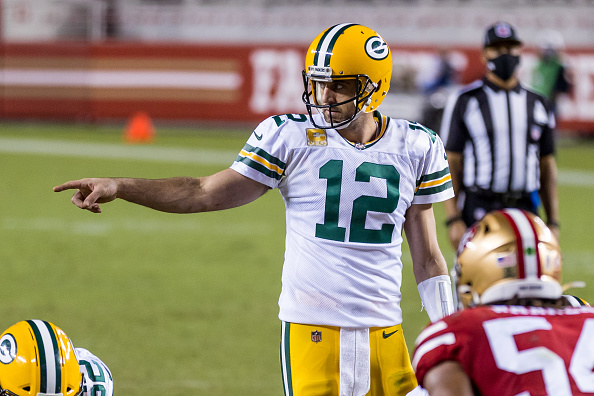 Week 10 is coming up and there are some notable matchups meaning there is a great potential for explosive fantasy performances. With that in mind, here are the top fantasy football matchups for Week 10 in points-per-receptions leagues.
Best Week 10 Fantasy Football Matchups
Before we move on to Week 10, which should be another great week of fantasy football, we have to stop and admire a player for his play in Week 9. That player is none other than Dalvin Cook, and he was cooking. He racked up 252 scrimmages yards and two rushing touchdowns on the day to give him 39.2 fantasy points. Oh yeah, the week before that he got 48.6 points, so that means he has scored a remarkable 87.8 fantasy points only in the least two games. He is a monster, and his proving to everyone that he should have probably been the number one pick in fantasy drafts along with Alvin Kamara.
Quarterback
Starting off, we have the MVP candidate, Aaron Rodgers. Rodgers and the Green Bay Packers are on a roll as of recently. Last week, Rodgers' masterpiece of a game included throwing for over 300 yards with four touchdowns totaling 28.9 points. Overall this season, Rodgers has been a fantastic quarterback averaging 23.3 fantasy points a game. Now mix that with him going up against a Jaguars team that gives up the third-most fantasy points per game, Rodgers should have a field day. I also believe the Packers will be the highest-scoring team this week, which means I expect Rodgers to throw a minimum of four touchdowns. Yes, that's crazy, but Rodgers is crazy good.
Running Back
First of all, I give credit to anyone who picked up James Robinson off of waivers, because he is looking like the waiver wire pickup of the season. Robinson has been so consistent this year fantasy-wise, with him scoring at least 14 fantasy points in six out of eight games played. Last week he rushed for 99 yards and scored 15.9 fantasy points. He could have had more, but he didn't have any receptions due to the fact that the Houston Texans secondary is easy to attack, so there was no need for him in the short passing game.
He goes up against a Packers team that is absolutely horrific against the run, one that gives up the second-most fantasy points to running backs per game. Look for Robinson to also be a factor in the passing game as his quarterback, the young Jake Luton, will have a harder time throwing deep against a solid Packers secondary. This means Robinson should get easy check downs. I predict Robinson gets a minimum of 130 scrimmage yards and at least one score.
Wide Receiver
Allen Robinson is the only bright spot on a pathetic Chicago Bears offense. Robinson currently is sixth in the league in receiving yards with 712. What's important with Robinson is he is a high-volume guy. He has the second-most targets in the league and averages around six receptions a game, which means points in PPR leagues. In this matchup specifically, he is likely to have an even greater involvement as Bears running back, David Montgomery, is in concussion protocol, therefore the Bears will stick to the passing game. Lastly, the Vikings gift points to receivers as they are second-worst in the league in points per game for receivers. I predict Robinson gets around eight receptions, close to or over 100 yards, and most likely a touchdown.
Tight End
I am feeling really good about this matchup. For starters, the Bengals don't have a great defense. The Bengals give up the second-most points per game to tight ends in the league, so that's already in favor of Ebron. In the past couple of weeks, Ebron has become a more vocal point in this Pittsburgh Steelers offense, and that should continue. What's crucial though is Ben Roethlisberger's health. Last week he got hurt. Against this Bengals defense, the Steelers might not force Big Ben to throw deep. If they aren't going to throw deep to the receivers, then to whom will they turn? Well, that would Eric Ebron in the middle of the field. As many people say, a quarterback's best friend is the tight end. In this matchup, it's true.
Defense/Special Teams
The Ravens defense has played spectacularly this year. To back that up is the fact that they are the second-highest scoring defense and special teams unit in fantasy. Though the Ravens are great, it is really about the opponent here: the Patriots. The Patriots have had a disappointing season, including almost losing to the New York Jets last week. On offense, the Patriots heavily rely on the run game, which the Ravens will be able to stop. Without the run, Cam Newton has to pass. Evident by his seven interceptions this season, he isn't the most trustworthy passer of the ball. With Newton being turnover prone, and the Patriots likely scoring less than 21 points, there should be plenty of fantasy points for the Ravens defense.
Kicker
Carlson has been a very reliable fantasy kicker this year as he has made 17 out of 19 field goals. Additionally, he is on a Las Vegas Raiders team that attempts the seventh-most field goals per game. Against the Broncos, the Raiders will score a couple of touchdowns resulting in extra-point attempts for Carlson. Lastly, the Broncos have an under the radar defense that will have the ability to stop the Raiders, which most likely means Carlson will have his fair share of field goal attempts. I predict Carlson gets a minimum of eight points.
Main Photo:
Embed from Getty Images