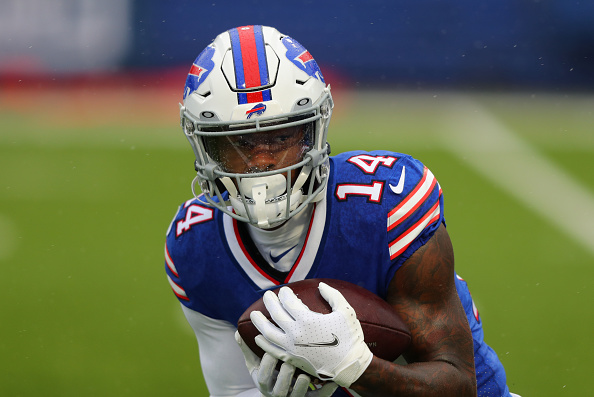 In Week 8, fantasy football was rather quiet due to the lack of many high scoring games. This, of course, was caused by the harsh weather conditions all around the league. As always, players who had great performances deserve credit and they will. D.K. Metcalf was an absolute beast out on the field as he scored 40.1 fantasy points, and some say his performance looked very similar to those of Calvin Johnson's. However, the best performer in Week 8 wasn't DK Metcalf. Rather, it was Dalvin Cook who scored all of the Vikings touchdowns (four), which gave him 48.6 fantasy points. Enough with Week 8, let's move on to Week 9. Week 9 features a couple of prime fantasy matchups that just can't be missed. Here are the top Week 9 fantasy football matchups in points-per-reception leagues.
Best Week 9 Fantasy Football Matchups
Quarterback
Yes, Tom Brady didn't play well in Week 1 against the Saints. He only put up 20.46 fantasy points. However, that was because he had no preseason, and the whole Tampa Bay Buccaneers system was new to him. After that performance, Brady has greatly improved and now averages 21.3 fantasy points a game. He is going up against a Saints team that surprisingly gives up the fifth-most fantasy points to quarterbacks per game due to their lack of correctly covering the deep ball.
The biggest factor in this matchup is that Brady lost in Week 1. Tom Brady remembers the loss in Week 1. He knows in Tampa, he can show off in front of the fans, and lead his team to a victory in a crucial matchup that has playoff implications. Many players fail to rise in crucial moments, but that is not Tom Brady. Brady will rise in this moment, and he should have a fantastic performance.
Running Back
This one is a no brainer. Dalvin Cook, when healthy, is probably a top-five running back in the league. Look at him when he was healthy against the Green Bay Packers last week. He feasted on them as he scored four touchdowns, rushed for 163 rushing yards, and scored 48.6 fantasy points. Now he is going up against a Detriot Lions team that allows 130 rushing yards per game and has given up the second-most fantasy points per game to running backs. I smell blood in the water and so does Cook. He should have a monster game because when he is healthy, there is very little chance you can stop him. I expect him to have over 175 scrimmage yards, and I believe he will get two touchdowns or even more.
Wide Receiver
Stefon Diggs looks like the best sort of sneaky fantasy pick up for fantasy football. Nobody expected a lot from him with the Buffalo Bills, but he proved them all wrong as he has racked up 695 receiving yards which is second in the league, and he is averaging 17.7 fantasy points a game. Digg's production has recently dipped due to Josh Allen's poor play, but he is primed for a huge game in this matchup.
The Seahawks have allowed the most passing yards per game this year and the most fantasy points to receivers per game. Diggs being the number one option on a Bills offense that is looking to get back on track against a poor Seahawks pass defense is very favorable. I predict Diggs gets multiple targets along with crossing over 100 receiving yards and at least one touchdown.
Tight End
Waller has been one of the most reliable fantasy tight ends this season. He averages 14 fantasy points a game and gets around five to six receptions a game, which is above average for many tight ends not named Travis Kelce or George Kittle. His opponent, the Chargers, has been very disappointing as they have blown four games that had huge leads. This defense also has been very underwhelming and is likely to decline slightly more after they traded away Desmond King. The Chargers have given up the ninth-most fantasy points to tight ends per game. This game should be a shootout, and with Waller being the number one target on the Las Vegas Raiders, he should get many looks and he will cash in on them.
Defense/Special Teams
Let me start off by saying, yes the Steelers have the best defense in football. Also, yes this defense will massacre the Cowboys. The Cowboys are still undecided on who they will start at quarterback, but it is between Garrett Gilbert and Cooper Rush who have a remarkable nine pass attempts combined in their careers. With this lack of experience going up against the deadly Steelers pass rush, the Steelers are heavily favored and should force a couple of fumbles and interceptions.
Ezekiel Elliott has fumbled five times this year, and I don't see a chance where he doesn't fumble in this game. Lastly, one last quick nod to how good the Steelers defense. They scored 13 fantasy points against a great Baltimore Ravens offense. An atrocious team going up against the best defense in football, give me the Steelers defense. This might be bold, but I predict they get over 20 fantasy points.
Kicker
Wil Lutz versus Tampa Bay Buccaneers
It goes without saying that Lutz is one of the best kickers in the league. He has made 15 out of 16 field-goal attempts and has nailed 23 extra-point attempts while averaging 10.4 fantasy points a game. The Buccaneers are a tough defense to play against, and the Saints offense hasn't been the greatest at moments. Still, I believe, though that the Saints offense will be able to move the football, they won't score a lot of touchdowns, but they will get into Buccaneers territory, which means potential field goals for Lutz. Lutz should get a couple of extra-point attempts along with a minimum of two field goals.
Main Photo:
Embed from Getty Images