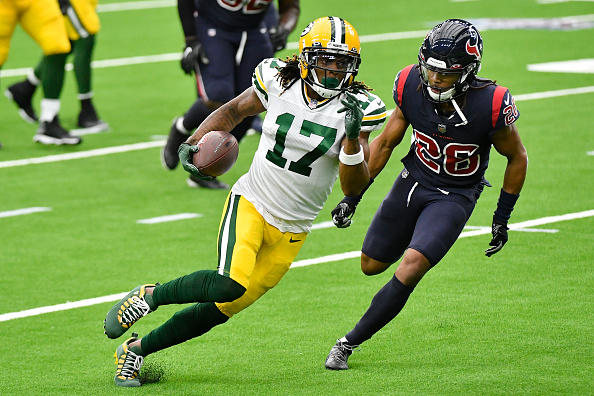 Throughout the 2020 NFL season, there have been plenty of memorable fantasy performances, from superstars scoring crazy amounts of points or high scoring fantasy performances by surprise players. The most impressive fantasy performance though this year happened in Week 7 and it belongs to Tyler Lockett. In the Sunday Night Football thriller between the Seattle Seahawks versus Arizona Cardinals, Lockett scored 53 PPR fantasy points which was absolutely crazy. It was very memorable, but Week 7 has passed, and the start of Week 8 is very close. What does that mean? Well, with the start of a new football week, it means time to start setting up fantasy lineups, which should include fantasy stars and players with favorable matchups. Speaking of matchups, they are one of the keys to success in weekly fantasy games, so here they come. Here are the top Week 8 fantasy football matchups in points per reception leagues.
Best Week 8 Fantasy Football Matchups
Quarterback
Wentz, along with the Philadelphia Eagles had a disappointing start to the season. Through the first three weeks of the season, he averaged 15.63 fantasy points, which was way below his expectations. He had very little help and was turning the football over a lot. As of late, he has looked better, considering he has scored 57.18 fantasy points in his last two games. What's interesting with Wentz is he hasn't thrown a lot of passing touchdowns and for not a lot of passing yards, so how has he been scoring more fantasy points of late?
Well, he has actually gotten back to being somewhat 2017 Wentz, the one that ran and scored rushing touchdowns. Thus far, he has five rushing touchdowns on the year. Dual-threat quarterbacks will always score more points than pocket passers, but what makes this matchup better is the Cowboys. The Cowboys have looked lost this season and have played awful. Their defense is a bottom-three defense, and it is not that they are just playing awful, they also look like they don't have the desire to play at some points. With that in mind, I always like a dual-threat quarterback going up against a horrendous defense. Expect Wentz to score over 26 fantasy points including possibly a rushing touchdown.
Running back
Hunt has played fantastically in place of the injured Nick Chubb. This year, Hunt has averaged 16.4 fantasy points per game. It may not seem like a lot, but that is good for sixth-most points per game among running backs in the league. Hunt is going up against the Raiders who give up the third-most fantasy points to running backs per game in the league. Additionally, the Cleveland Browns recently lost their number one receiver, Odell Beckham Jr, for the year due to injury. With Hunt also being a good receiving back, he will likely get more targets, which means more fantasy points against a poor defense like the Raiders. Hunt should have over 115 scrimmage yards including at least one score against a Las Vegas defense who just isn't able to handle running backs.
Wide Receiver
First of all, everybody knows the Houston Texans' defense is bad, but Davante Adams absolutely handled them. The Week 7 game featured the classical Aaron Rodgers and Adams connection, which was just a masterpiece. Adams caught 13 balls for 196 yards and two touchdowns giving him 44.6 fantasy points. In this matchup, Adams is going up another poor defense in the Vikings that has allowed the second-most fantasy points to receivers per game. It is also worth mentioning, Adams faced off the Vikings in Week 1, where he torched them for 156 receiving yards and 41.6 fantasy points. Davante Adams is a top-tier receiver that feasts off of horrendous defenses like the Vikings'. When constantly healthy, he should probably be considered a top-three receiver. I predict Adams will get above eight receptions, over 120 receiving yards, and most likely one touchdown.
Tight End
Smith has been pretty bad in his worst two games, scoring a total of 4.2 fantasy points. I expect the poor streak to stop and he should have a bounce-back game in what is a favorable matchup against the Bengals, who give up the second-most fantasy points to tight ends in the league. Also, the Bengals are going to be so preoccupied with defending Derrick Henry and A.J. Brown that they just might leave Jonnu Smith wide open in the middle of the field. One last thing is the Bengals have the 7th worst red-zone defense, and Jonnu Smith is 6'3″ and 263 pounds, so you could say he is quite the red zone target. Jonnu Smith should have a bounce-back game, but most importantly a great fantasy day.
Defense/Special Teams
I was one of those people in the preseason that didn't have faith in the Buccaneers and I was completely wrong because they are playing out of their minds. They look like the most legitimate Super Bowl LV contender out of the NFC and a large part of their success has been their defense, which is probably a top-three defense in the league. The Buccaneers go up against the Giants who are tied for the third-most turnovers in the league at 13. That number just sings fantasy points for the Buccaneers defense.
Going deeper into this matchup, the Giants won't get the run game going as the Bucs have the number-one run defense. Additionally, Daniel Jones has the most fumbles in the league since the start of last season, and the Bucs front seven is so deadly that it will pounce on Daniel Jones most likely forcing him to throw interceptions. I expect the Giants to score at most 13 points. The Buccaneer's defense should have at least one fumble, one interception, and maybe a defensive touchdown. All in all, the Buccaneers defense will terrorize Daniel Jones and that Giants offense.
Kicker
Obviously, the Jets are absolutely dreadful and the Kansas City Chiefs will score lots of touchdowns, meaning extra-point attempts for Butker. Additionally, it is not always the best to have kickers on teams that only score touchdowns, because kickers only get one point per attempt. Even though this is true, I have the idea that at some point for example in the third quarter, the Chiefs will bench Patrick Mahomes and will put in Chad Henne because they will have such a comfortable lead. No offense to Henne, but he is no Patrick Mahomes, meaning on his drives, Henne could mess up which would allow Butker to kick a field goal. The idea of benching Mahomes might seem out of this world, but that is what the Chiefs did last week when they were blowing out the Denver Broncos. To summarize, I basically am predicting that Butker gets at least five extra-point attempts and at least one field goal attempt.
Main Photo:
Embed from Getty Images