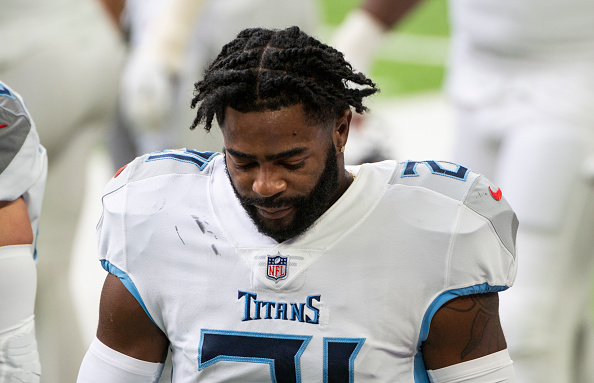 Another week, another NFL player – or nine – testing positive for COVID-19. Since last Tuesday, 12 Tennessee Titans' players have tested positive for the virus, two as recently as yesterday. The virus isn't contained within one organization, though, as players on the New England Patriots, Kansas City Chiefs, and Las Vegas Raiders have tested positive in the past week. The positive test results are causing scheduling headaches for the NFL.
The NFL continues to struggle for a solution to the Tennessee Titans' outbreak. At the onset of the outbreak last Tuesday, league officials shut down Titans' facilities. The league instructed the Titans to cease in-person activities at team facilities, as well as away from the facilities. There have been largely substantiated rumors that Titans players gathered at a local high school and city park to practice. This would of course be a violation of the league's instruction and may result in strong repercussions against the team. Regardless, the fact remains, the outbreak has not slowed.
With new players testing positive each day, team facilities remain closed and the Titans' week five game against the Buffalo Bills is in jeopardy. The NFL can't postpone the game to another week because the Titans' week four game against the Pittsburgh Steelers was already postponed to week seven, their original bye week. Barring additional positive test results over the weekend, the NFL announced the Titans–Bills game has been delayed to Tuesday night at 6PM. In a subsequent move, the Bills' week six game against the Kansas City Chiefs, originally scheduled to air on Thursday Night Football, has been rescheduled to the following Sunday. If this solution proves unsuccessful, the league may have to resort to adding a week 18 at the end of the season.
The Titans aren't the only NFL franchise dealing with COVID-19, the virus responsible for a global pandemic. New England Patriots quarterback Cam Newton tested positive late last Friday. Patriots' cornerback Stephon Gilmore has since also tested positive. In step with the Titans, Patriots' facilities have been shut down. Originally scheduled to play the Broncos on Sunday, the game has been moved to Monday night. Like the Titans, this move relies on consecutive days of negative test results for players and staff.
As seen in the past few months, it's not uncommon for a professional sports franchise to catch and spread the virus. Major League Baseball had three separate teams, the Miami Marlins, Philadelphia Phillies, and St. Louis Cardinals, deal with a COVID-19 outbreak during the season. The Titans may be the first, but likely not the last. The league is betting on NFL protocols to stop the virus, or at the very least, dampen the spread. In what was already a chaotic 2020, the NFL knew they were in store for a year unlike any other. The season's success may very well hinge on the league's ability to manage the speed bumps along the way.
Main Photo:
Embed from Getty Images