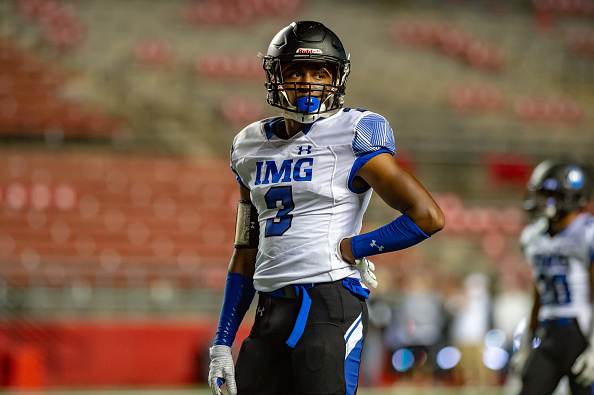 Before B1G football shut down, we looked at the star-studded offensive side of the ball. This time around, we are going to look at the 2020 Ohio State football recruiting class on the defensive side of the ball. The number one class in the B1G only gets better. Even though all of the five star recruits are on offense, the Silver Bullets will be adding even more talent, including some that may even contribute this fall.
Reviewing The 2020 Ohio State Football Recruiting Class (Defense)
As we did with the offense, the ratings and stars will be according to 247Sports. In terms of sheer numbers, the defense is lacking compared to classes past and compared to the offense. However, quality over quantity. Of the 11 signees, only one is rated below four stars. The Rushmen and B.I.A. will be two groups that will only get better with the inclusion of these athletes. Not to mention the strong linebacker group. Let's take a tour through the 2020 Ohio State Football recruiting class on defense.
Defensive Line
Joey Bosa, Nick Bosa, Chase Young. These are the names of some of the greatest recent Buckeye defensemen. Add in current Buckeye with an extremely high ceiling, Zach Harrison, it's plain to see why Darrion Henry chose Ohio State. Coach Larry Johnson is one of the best in the business and locking down elite recruits is just one of his skills.
Of all of the athletes in the 2020 Ohio State football recruiting class, the defensive line is least likely to see a significant amount of playing time. Between Harrison, Tyreke Smith, Jonathon Cooper, Tommy Togiai, Haskell Garrett, Taron Vincent, and Tyler Friday, there is not much room. His 6'6″, 260 lbs frame will be hard to keep off the field, however. He is very quick for his size and has great hand skills to get offensive linemen off of him. He hails from Princeton High School in Cincinnati and dominated every snap. With the abridged season (plus the fact Ohio State will be playing catch-up and will need to put up style points), Henry will likely redshirt. Watch for him to take over in 2021 as a redshirt freshman.
Ohio State just has a way of recruiting elite-level defensive ends. Enter Jacolbe Cowan from Providence Day School in Charlotte, North Carolina. Currently, Cowan stands at 6'5″ and 277 lbs. For a defensive lineman, this could be considered to be small. He's got long arms and can stuff up the run if he moves inside. Considering Ohio State loves to move its defensive lineman all over the place (SEE: Rushmen package), Cowan will likely earn some playing time as he continues to bulk up.
Like Henry, that playing time will likely not come until 2021. Despite Cowan's ability to move with quickness and disrupt the offense, he still needs time to develop. Once the Ohio State strength and conditioning department gets ahold of him, plus developing with Coach Johnson, look out for another top defender. As it stands, Cowan is not projected to be a top-end prospect like Henry, but still good enough to be a starter and get drafted.
Legacies are always fun to think about. Ohio State likely had the inside track for Ty Hamilton from the get-go due to the fact his brother, Davon Hamilton, suited up for the Buckeyes the last five years before becoming the third-round selection for the Jacksonville Jaguars this year. If there's one thing Larry Johnson recruits, it's versatility. Hamilton, like Henry and Cowan before him, is able to play inside and out. Right now, Hamilton is a quick-footed, 6'2″, 240 lbs stud from central Ohio power, Pickerington Central.
The unfortunate thing for Hamilton is that he has his work cut out for him. His size is the biggest issue right now. Once he bulks up, he will likely be able to challenge for a spot within the defensive line rotation. Ohio State rotates their line frequently, so he will likely redshirt this year and begin to see playing time in 2021. Look for him in Rushmen packages on obvious passing downs to use his quickness to disrupt offenses.
Linebacker
Cody Simon (0.9660, four stars)
As Julian Fleming was the crown jewel of the offensive side of the ball, Cody Simon is the highest-rated defensive recruit. Simon hails from St. Peters Prep in Jersey City, New Jersey. Gone are the days of recruiting big, mean linebackers. It's time for athletic studs to fill the role. The Buckeye defense has a special linebacker/safety hybrid position called the Bullet. Brendon White popularized this for Ohio State fans before he transferred to Rutgers. Admittedly, he probably left due to the fact they did not use the position often enough and he could not fit with either of the other positions.
The current linebacker room for the Buckeye is severely top-heavy because all six athletes in the two-deep are either juniors or seniors. Despite this, it's very possible that Simon finds his way onto the field. Ohio State loves to make its athletes earn playing time via Special Teams, so an athletic linebacker would certainly fit. With multiple linebackers departing after this year, Simon will likely find himself battling for a starting spot next year. Look for him to light it up. I think this kid will be special.
Yet another top linebacker commit for the 2020 Ohio State football recruiting class is a play-making, athletic type. Williams is an aggressive, fast, intelligent linebacker who would also be well-suited for the hybrid Bullet position. It pays to play for the number one high school team in the nation. Williams caught the attention of the Buckeye coaches early and it was a no-brainer to offer. As a junior, he tallied 74 tackles and two sacks.
Regardless of the COVID-19 pandemic, the fact that Williams enrolled early will benefit him. By the time the Buckeyes finally take the field, he will have nearly ten months to digest the playbook. Despite the logjam at the position, he has a leg up on the rest of his freshman linebacker peers. If Simon has a good shot to play on special teams, Williams has a better shot. It should be noted, however, that on the official Ohio State football page, Williams is listed as a safety. Perhaps we will see Williams play this year whenever they use a formation with the Bullet position.
Mitchell Melton is a versatile linebacker. Are you sensing a pattern here? The difference is, unlike Simon and Williams who could be linebacker/safety hybrids, Melton is a linebacker/defensive end hybrid. In a 3-4 formation, he is a great fit as an outside linebacker, whereas he could come down as a stood up edge rusher in a 4-3. Gaining a flexible stud is always a great thing. Winning him over Michigan just makes it sweeter.
As with the other front-seven recruits, it will be difficult for Melton to find his way onto the field. Both the line and linebackers are full of established upperclassmen. A lot of the athletes in the 2020 Ohio State football recruiting class on defense are investments for the future. It kind of speaks to the Ohio State greatness when multiple four-star athletes won't see the field. Either way, look for Melton to make plays in blowouts against cupcake teams like Rutgers or Michigan and then work his way into the regular rotation in 2021.
Corner
Sometimes, a recruit is so explosive that he is just considered an "athlete." This is certainly the case for Cameron Martinez out of Muskegon, Michigan. At Muskegon, Martinez absolutely dominated to the tune of a 26-2 record as starting quarterback. When competing at recruiting camps, he took snaps at both wide receiver and corner. According to Ohio State's official roster page, Martinez is listed as a corner. This is good considering the fact that on early signing day, the Buckeyes missed out on Clark Phillips who flipped to Utah.
As every season, B.I.A. continues to reload. Right now, it looks like Shaun Wade and Sevyn Banks will be the top two corners. Either way, the addition on Martinez as well as the rest of this 2020 Ohio State football recruiting class will continue the tradition. Look for Martinez to also take snaps as a returner. Ohio State hasn't had a kick return for a touchdown since 2010, nor a punt return since 2014. If Demario McCall or another veteran falters, watch out for one of these talented freshmen.
"It's gonna be legen-wait for it-dary! Legendary!" Seriously, Lejond Cavazos has one of the best names in football and comes into Columbus as one of the most exciting defensive back recruits. Cavazos has all of the tools defensive coaches look for: speed, length, smarts. At The Opening, even before he gets into Ohio State's weight room, Cavazos ran a 4.4 40-yard-dash. He is a leader but he's very raw. These are perfect traits for coach Kerry Coombs.
For any other team, Cavazos would likely be a day-one starter and have a legit shot to become one of the greatest defenders from that respective school. However, he enters a program that touts 31 first-round defensive backs since 2000. Every starting corner since 2014 has turned into a first-rounder, thanks to the Las Vegas Raiders reaching a bit for Damon Arnette. Regardless, both Cavazos and Martinez have the talent to get onto the field early. If they can ascend in that stacked cornerback room, they are going to special. Oh, and Cavazos enrolled early, so he's been marinating in the system for nine months now.
Safety
With the departure of former captain Jordan Fuller, there could be a power vacuum at safety that could be filled by a newcomer. Right now, it looks like junior Josh Proctor and senior corner-turned-receiver-turned-corner-turned-safety Marcus Williamson. If the Buckeyes' defense wants to replicate Fuller's toughness and play style, Ransom could be the wild card to earn that spot.
To start the year, Ransom will likely be used to give the starters a rest in lower-leverage situations. However, you can't keep this kind of talent off the field for long. We were talking about the Bullet position earlier. Cavazos could likely be used as a Bullet in situations where they need someone to feign a blitz but help in coverage. If Cavazos gets a redshirt this year, I will be surprised. He will challenge to be the Buckeyes' starting strong safety.
Ryan Watts (0.9206, four stars)
It's not often that a high schooler lines up at quarterback, but prefers to play defense. This is the case for Ryan Watts out of Little Elm, Texas. Initially an Oklahoma commit, Watts flipped to the Buckeyes once he secured the official offer. He said "no disrespect to Oklahoma…Ohio State is DBU." Watts' ability to turn and play the ball are great for a potential center fielder type of safety. Naturally, he is a bit raw due to his initial focus on quarterback. If anyone can mold him into exactly what he wants, it's Kerry Coombs.
Realistically, Watts also has a chance at early playing time. Even it's not as a safety, Watts admitted he just wants to get in the game, even if its special teams. Another team-first athlete is just what Ohio State is about and is exactly why they keep churning out first-round defensive backs.
Silver Bullets Reloading
With the departure of three first-round defenders and a two-time captain who played all four years, there are some mighty big shoes to fill. Thankfully, the Ohio State roster is loaded enough that these guys may not need to be asked to step up. However, if the time came, each one of them could produce. The future is bright as always. Pretty soon, some of these studs will be household names. You heard it here first!
Main Photo:
Embed from Getty Images