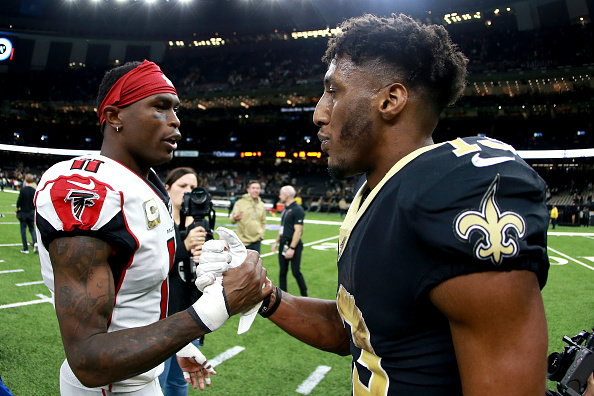 The NFC South top five players list includes three wide receivers and five offensive players. If you wanted a quick summary of this division, that is a good place to start. Offense, offense, and some more offense, the NFC South is an offensive juggernaut unlike any other division in the NFL. Led by two surefire Hall-of-Famers and likely another one, this division can put up points fast. If you can't score over 25 points a game in this division it might not even be worth the time to show up to the stadium.
NFC South Top Five Players Heading Into the 2020 Season
NFC South Top Five Honorable Mention:
Tom Brady – Quarterback, Tampa Bay Buccaneers
Drew Brees – Quarterback, New Orleans Saints
Marshon Lattimore – Corner, New Orleans Saints
Shaquil Barrett – EDGE, Tampa Bay Buccaneers
Matt Ryan – Quarterback, Atlanta Falcons
Grady Jarrett – Defensive Tackle, Atlanta Falcons
Chris Godwin – Wide Receiver, Tampa Bay Buccaneers
5.) Ryan Ramczyk – Tackle, New Orleans Saints
Ryan Ramczyk was a first-team all-pro in 2019 for the Saints. He fills out this top-five list at the most important position other than quarterback. Ramcyzk took only three seasons to become a first-team all-pro and the Saints are lucky to have him on their roster going forward.
4.) Mike Evans – Wide Receiver, Tampa Bay Buccaneers
The NFC South truly is an offensive juggernaut. Mike Evans is the third-best receiver in the division and yet in six NFL seasons, he has never put up fewer than 1,000 receiving yards. He is a three-time pro-bowler and gets to play the 2020 NFL season with the greatest quarterback of all-time in Tom Brady. Evans is a match-up nightmare for NFL defensive backs and he is on pace for a potential Hall-of-Fame career.
3.) Michael Thomas – Wide Receiver, New Orleans Saints
Michael Thomas broke the NFL single-season reception record and he is the number three player on this list. In the 2019 NFL season, there were very few players better than Michael Thomas. He is currently one of two players to record over 300 receptions in their first three seasons. Thomas has never had a season with under 92 receptions and 1,100 yards. Heading into his fifth year, Michael Thomas already has many NFL records under his belt, maybe it's time to see if he can add to that list.
2.) Julio Jones – Wide Receiver, Atlanta Falcons
Jones has been arguably the best receiver in the NFL for years. Regardless of who had better numbers in 2019, if you were choosing a wide receiver to be on your favorite team for one season, you would take Julio Jones nine times out of ten. He is a physical beast and cannot be guarded one-on-one. When Jones does finally decide to retire, he will be a first-ballot Hall-of-Famer and not many wide receivers can say that.
1.) Christian McCaffrey – Running Back, Carolina Panthers
Christian McCaffrey plays a position that is no longer valued in the NFL today. With that being said, McCaffrey is a first-team all-pro and one of only three players to have a 1,000-yard rushing and receiving season. McCaffrey is also one of only two players to ever record over 300 receptions in their first 3 seasons (Michael Thomas is the only other player). There is a reason he was also a first-team all-pro at the flex position as he is much more than a running back and heading into the 2020 season he is the best player in the NFC South.
Main Photo:
Embed from Getty Images