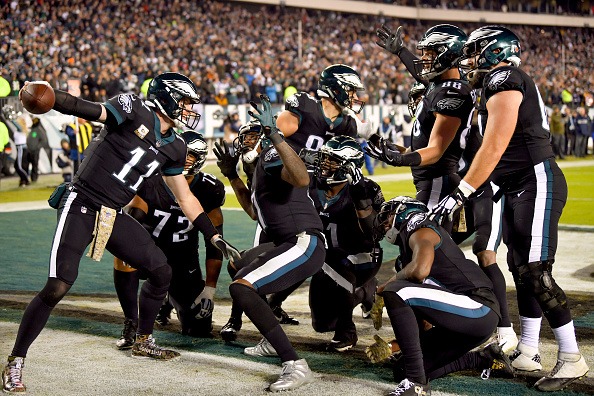 The Philadelphia Eagles ended their 2019 season with their top three wide receivers on injured reserve, top tight end Zach Ertz battling through injury in a playoff game, top running back Miles Sanders dealing with an ankle injury, and missing starting right guard Brandon Brooks. Also, Carson Wentz got knocked out of his first playoff game five passes in, with a controversial hit to the head by former Seattle Seahawks edge rusher Jadeveon Clowney. Upgrading the skill position group around star quarterback Carson Wentz was an offseason priority for Philadelphia. Let's take a look at the top five Philadelphia Eagles playmakers heading into the 2020 season.
Top Five Philadelphia Eagles Playmakers
Dallas Goedert is the starting off the list at the fifth-most important skill position player on the Eagles. The second-string tight end seemed to start breaking out at the end of last year. The Eagles believed in his talent when they took him in the second round in the 2018 draft, which was their first pick overall when Zach Ertz was already on the roster. Goedert finished the year with 58 receptions, 607 yards, and five touchdowns. He was battling a leg injury last year, so expect him to take another leap this year since the Eagles run a ton of 12 personnel.
The young, speedy receiver out of TCU is expected to contribute early in a big way. Reagor suffered from poor quarterback play at TCU, but possess all the tools he needs to be an explosive playmaker for Carson Wentz and the Eagles for a long time. Although he did not get a proper offseason due to the pandemic, he has worked out with Carson Wentz during the offseason and has been tagged as a quick learner. Don't be surprised if he ends up higher on this list during, or after the 2020 season.
Don't let his age fool you, he is still as fast as ever. Jackson has been active on social media posting his workout videos this offseason. We only got to see one real game of Jackson with Wentz and he exploded on the scene. Jackson had eight receptions for 154 yards and two touchdowns. He showed his explosion, but his season was cut short due to a core muscle injury. The speedy wide receiver is critically important to help stretch the defense, and he will probably be the only healthy veteran receiver to start the season with Alshon Jeffery recovering from injury. Managing Jackson's snaps could be key to getting him through the season healthy.
He could end up being the number-one playmaker on this team after this season. The young running back emerged last season. The second-round pick in 2019 was phenomenal last year when the Eagles needed him most. A question coming out of college for Sanders was can he be a receiving threat out of the backfield since Penn State didn't ask him to do it often. In his rookie year, he ended with 50 receptions for 509 yards and three touchdowns. His rushing stats for the year were 818 yards on 179 attempts for 4.6 yards a carry and three touchdowns. This was while splitting time with Jordan Howard until he ended up on the Eagles long list of injured players. Look for Sanders to claim the role of the three-down workhorse back Pederson and Wentz have been looking for.
1.) Zach Ertz
He is the best of the Philadelphia Eagles playmakers, plain and simple. He has been the Eagles' best weapon for some time now. During the 2018 season, there were reports saying that Ertz was receiving too many targets. The reason would be because the Eagles haven't employed very good receivers over the years, but it's also because Ertz is an elite playmaker. He is a silky smooth route runner with great hands. The tight end has a great connection with Wentz. The Eagles would be wise to look to keep that going by giving Ertz the contract extension he desires. He finished 2019 season with 88 receptions, 916 yards, and six touchdowns while dealing with the defense's best cover player down in and down out. Look for the added speed the Eagles brought in to open up the middle for Ertz to be even more productive.
Main Photo:
Embed from Getty Images