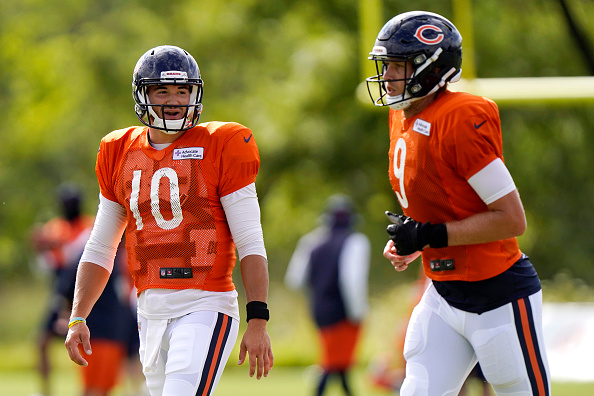 The Chicago Bears quarterback battle between Nick Foles and Mitchell Trubisky is gonna catch the watchful eye. Both could be described as average starting quarterbacks.
Foles has never had true success outside of Philadelphia and Trubisky regressed after being selected to the Pro Bowl in 2018.
We're gonna look at an overview of both quarterbacks and then the projected starting quarterback will be revealed.
Chicago Bears Quarterback Battle Evaluation for 2020
Nick Foles
In 2019, Nick Foles signed a rich, four-year contract with the Jacksonville Jaguars, hoping to be the long-term starter. A year later, Foles was traded to the Chicago Bears in exchange for a 2020 fourth-round pick.
He disappointed in his only season in Jacksonville, playing just four games. In those games, Foles threw for three touchdowns and two interceptions while completing 65.8% of his passes and throwing for a 84.6 passer rating.
Surprisingly, rookie phenom Gardner Minshew burst onto the scene and will be the starting quarterback in Jacksonville this season. In 14 games, Minshew threw for 21 touchdowns and six interceptions with a 91.2 passer rating.
Foles has only found success in Philadelphia. He is most famous for guiding the Philadelphia Eagles to their first Super Bowl ring in Super Bowl LII against the New England Patriots. In that game, he famously caught the "Philly Special". Not to mention, he also made a Pro Bowl in 2013, a year after being drafted. In his final season with Philadelphia in 2018, he guided the Eagles to the playoffs, once again.
After his first stint with the Eagles, he bounced around with the Kansas City Chiefs and St. Louis Rams. Combined, Foles threw for 14 touchdowns and 12 interceptions in 2015 & 2016.
He never found sustained success with either team. Gardner Minshew overshadowed any chance of Nick Foles having a starting job in Jacksonville.
Foles was last a truly successful starting quarterback in Philadelphia in 2013. He's been a reliable backup since. Foles will never be a true bonafide starting quarterback in the NFL unless he is successful in Chicago. This will be his final chance to prove he can start in this league.
Mitchell Trubisky
Mitchell Trubisky is the presumptive franchise quarterback for the Chicago Bears. Taken in the 2017 NFL Draft, Trubisky was questionably drafted over eventual Super Bowl MVP Patrick Mahomes and two-time Pro-Bowler Deshaun Watson.
Trubisky would play seven games in his rookie season. In those games, he threw seven touchdowns and seven interceptions, with a passer rating of 77.5.
Mitchell Trubisky would see a big step up in 2018. That season, Trubisky threw for 24 touchdowns and 12 interceptions, giving the fans hope in their franchise quarterback. The Bears made the playoffs and won the NFC North with a 12-4 record. The Bears would lose to the Eagles in the Wild Card Game.
In 2019, big expectations were heading the team's way. Some even called them super bowl contenders. Ultimately, the Bears disappointed and failed to make the playoffs. What led to the regression of the team was a step taken back by Mitchell Trubisky. He saw a drop in his completion percentage, and his accuracy dipped. He saw a decrease in passing touchdowns and passer rating.
Does Trubisky rebound in 2020?
Projected Starting Quarterback: Mitchell Trubisky
I think that Mitchell Trubisky will progress in training camp and win the Bears quarterback battle. Foles might be the better-overall quarterback, but he's more reliable as a backup.
The Bears should give Trubisky another chance. One bad year shouldn't dictate one's fate. The Bears have done a nice job of surrounding their young quarterback with receiving talent. David Montgomery and Tarik Cohen are nice weapons out of the backfield. Allen Robinson, Riley Ridley, rookie Darnell Mooney, and Anthony Miller headline the receiving core. The Bears will also feature a tight end group consisting of rookie Cole Kmet and veterans Jimmy Graham and Demetrius Harris.
The Bears' offensive line will need to improve from last year. Their adjusted sack rate was 8.6%, ranking 29th in the league, per Football Outsiders.
Can Mitchell Trubisky return to Pro-Bowl form? Will he shock the doubters? Will he make his mark as the next franchise quarterback for the Chicago Bears?
The Bears quarterback battle should be lots of fun!
Main Photo:
Embed from Getty Images