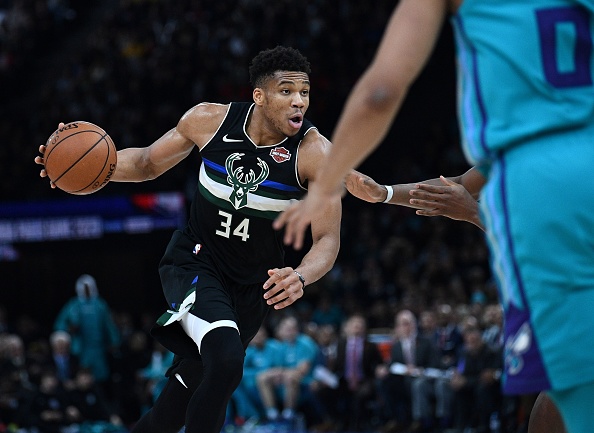 At long last, the 2020 NBA playoffs are finally here. Many thought we wouldn't get to this point this year due to the four-month hiatus, but here we are, and we couldn't be more ready. The NBA playoffs are always an exciting spectacle, and this year looks to be no different. With several ongoing storylines, rivalries, and not to mention an atmosphere unlike anything we've ever seen, this year's playoffs are especially interesting. Here are the predictions for the first round of the 2020 NBA Eastern Conference playoff.
2020 NBA Eastern Conference Playoff Predictions – First Round
This series had potential to be relatively interesting in my opinion, had Magic forward Jonathan Isaac not gone down with a torn ACL in the early stages of the bubble But now, the Bucks will likely win in four games, instead of five.
The Milwaukee Bucks will open their quest for a championship by making quick work of this Orlando Magic team. Giannis Antetokounmpo and company will look to shake off last season's failures and start fresh on a new postseason run that will hopefully end in better fashion.
The Magic are once again in no-man's land in the NBA. Not good enough to compete, but not bad enough for the lottery. They've been treading water for years now, but continue to be looking like they are on the uprise. Jonathan Isaac is one of the league's best defenders due to his combination of size, speed, length, and athleticism. The Magic will absolutely miss his services against the league's best player.
FINAL PREDICTION: Bucks defeat Magic 4-0
The Toronto Raptors have been one of the most interesting teams in basketball for the last year. How a championship team loses its best player (Danny Green) to the Los Angeles Lakers in the offseason and still remains a championship contender is a testament to the entire organization from not only the players but to the coaches and front office.
Pascal Siakam has emerged into a franchise superstar for the Raptors, while Kyle Lowry has been playing the best basketball of his career. Fred VanVleet took on a larger role with Kawhi Leonard out of town and was a large contribution to the team's success.
Not to mention they are 7-1 inside the NBA bubble. The Raptors are red hot and are one of the most dangerous teams in this year's playoffs. A depleted Brooklyn Nets team will not be able to match them.
While a group consisting of Caris LeVert, Joe Harris, and Jarrett Allen is nice on paper, it's not winning you a playoff series. Especially against the 2 seed. Brooklyn is playing on house money these playoffs without their main contributors in Kevin Durant, Kyrie Irving, Spencer Dinwiddie, and DeAndre Jordan. The team they are arriving with will likely be made quick work of.
FINAL PREDICTION: Raptors defeat Nets 4-0
If you asked anyone back in October what a Celtics-Sixers NBA playoffs matchup would look like, they'd probably tell you the seeds would be in reverse to what they are now with Philly clearly the better team. That is not the case, as it turns out.
Philly struggled all season with a combination of on-and-off court drama coupled with a poorly constructed starting five. Between Brett Brown being on the hot seat, Al Horford's struggles, and Ben Simmons' and Joel Embiid's futures called into question, it's made for a bumpy ride in Philly this year.
No Simmons, no problem for Celtics
Speaking of Simmons, him being out for the NBA playoffs is a huge blow to the Sixers, for obvious reasons. Simmons is one of the league's best defenders who can guard nearly all positions at an elite level. If he were healthy for this series, he would surely be a tough task against Boston's elite wing depth in Jayson Tatum, Jaylen Brown, and Gordon Hayward.
The Celtics are going to capitalize on the giant hole left by Simmons and make relatively quick work of the Sixers. Yes, Joel Embiid is still the best player in this series, and the Celtics don't really have anyone with his size and skill to combat him, so it is likely Philly could steal a game thanks to him. However, it shouldn't be enough to stop the Celtics' attack.
The guard-wing combination with Walker, Brown, Tatum, and Hayward is going to be a nightmare for the Sixers without Simmons. Defensively, this team is just too quick and athletic compared to Philly, who is still a larger team, but now are left vulnerable without their 6'10 point guard.
Expect Boston to roll over the Sixers in the latest edition of this storied rivalry.
FINAL PREDICTION: Celtics defeat 76ers 4-1
This will be the most competitive series in the first round of the 2020 NBA Eastern Conference Playoff. Both teams stack up fairly evenly and will ultimately make for compelling basketball to watch. While Indiana is without its All-Star Domantas Sabonis, it received plenty of help from T.J. Warren, who was the talk of the NBA bubble with his stellar offensive play.
Miami was without its star Jimmy Butler for a chunk of the bubble, but the team picked up the slack for him by knocking off the Celtics in impressive fashion and putting up a strong fight against the Bucks, even holding a 23 point lead, but they ultimately blew that.
Fans see this matchup and look at the Jimmy Butler-T.J. Warren matchup as the most must-watch aspect of this series. Now that Warren is in a larger role and will be a big focal point of the series, it makes that matchup all the more enticing.
With Miami's roster as well constructed as it is, with a strong blend of youth and experience, I see them as the favorite to move on in this matchup. Indiana will put up a strong fight and make this series interesting, but they just don't have enough to go over the top, especially without Sabonis.
FINAL PREDICTION: Heat defeat Pacers 4-3
Main Photo:
Embed from Getty Images