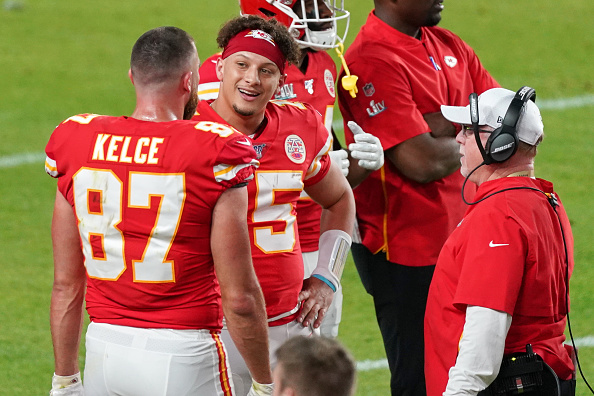 Make no mistake about it, the AFC West top five players list will be led by Patrick Mahomes just as the AFC West is led by the Chiefs. The interesting part of my job is determining the order for the rest of the top five players. This division is immensely talented, and that talent ranges from young guns to old veterans. The AFC West is up there for the most talented division in football, which means some extremely talented players will be left off this list.
AFC West Top Five Players
AFC West Top Five Honorable Mentions
Chris Harris – CB, Los Angeles Chargers
Keenan Allen – WR, Los Angeles Chargers
Casey Hayward – CB, Los Angeles Chargers
Tyreek Hill – WR, Kansas City Chiefs
Chris Jones – DT, Kansas City Cheifs
Tyrann Mathieu – DB, Kansas City Chiefs
Justin Simmons – S, Denver Broncos
5.) Travis Kelce – TE, Kansas City Chiefs
Travis Kelce is arguably the best TE in the NFL. His production over the last 4 seasons has never been matched in NFL history. 1,000 yards receiving is typically a milestone for NFL tight ends, Kelce does that with regularity. In 2019 he became the first tight end in league history to have four consecutive 1,000 yard receiving seasons. Being paired with the leagues best quarterback certainly isn't hurting his receiving stats, but Kelce has been wildly productive and consistent before Mahomes got there and will continue to do the same as long as Mahomes remains the starting QB.
4.) Derwin James – S, Los Angeles Chargers
Derwin James is the best piece of one of, if not the most talented secondary in the league. His teammates Casey Hayward and Chris Harris are seen in the honorable mention category, and that doesn't even mention Desmond King. Derwin is the best of the bunch looking for a chance to lead this secondary to the playoffs in 2020. James was a first-team all-pro and a pro-bowler during his rookie season in 2018. Injuries limited him to five games during the 2019 season but he will be back with a vengeance to lead one of the most talented rosters in the league.
3.) Joey Bosa – EDGE, Los Angeles Chargers
Joey Bosa has been nothing short of excellent since coming into the NFL in 2016. He has 40 sacks over that time while playing only two full seasons. He is also a two-time pro-bowler and the winner of the 2016 Defensive Rookie of the Year. Bosa had a big name coming into the NFL and he has done everything in his power to live up to that name with the Chargers.
2.) Von Miller – EDGE, Denver Broncos
The Denver Broncos have a very talented young roster, many of whom will see themselves on this list in future years. At the moment, however, the roster's most talented player is still Von Miller. Von Miller has been a pro-bowler in every season in which he played more than 10 games. He is a surefire hall-of-famer if he was to retire today, and he leads a Broncos defense that has the possibility to be special with new additions of Jurrell Casey and A.J. Bouye. Miller is as good as it gets when you consider the EDGE rusher position in the NFL today.
1.) Patrick Mahomes – QB, Kansas City Chiefs
You cannot start a career better than Patrick Mahomes. After sitting out his first year he won MVP as a sophomore throwing for 5,000 yards and 50 touchdowns. He followed that campaign up by winning the Super Bowl and Super Bowl MVP. So in a span of two years as a starting QB Mahomes has won league MVP, Super Bowl MVP, and signed the largest contract in NFL history. There is a reason many believe that he is the best overall player in the league. He deserves all the praise he has received, and the AFC West is in for a very long decade.
Main Image: Embed from Getty Images