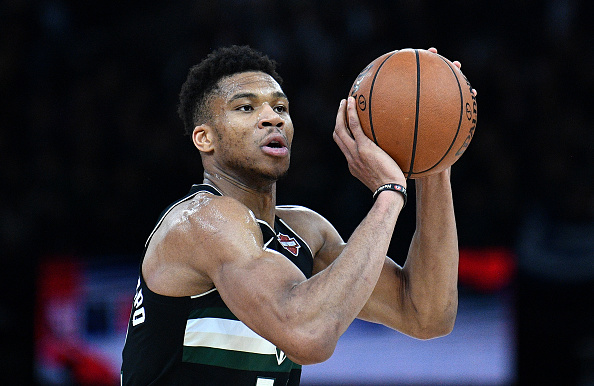 As we push towards the end of the eight-game regular-season restart, the NBA playoffs are inching closer and closer. As playoff time rolls around every year, the pressure for nearly every NBA athlete involved goes up. But there are a few stars every season that have a bit more to prove. Whether it be Kawhi Leonard in his first run with the Toronto Raptors or Kyrie Irving's "put up or shut up" year with the Boston Celtics, certain players have a bit more riding on their playoff runs. Aside from the notables like Lebron James, I'd like to look at some key NBA stars that have the most to prove in the NBA playoffs.
Who Has the Most to Prove in the NBA Playoffs?
One of the most high-powered and energetic players in the league is also one of the most over-analyzed as well. Ever since the departure of Kevin Durant, Westbrook has been scrutinized for his subpar playoff performances. He has yet to make it out of the first round since his partner in crime left OKC.
Westbrook now finds himself alongside another former MVP and teammate, James Harden. His move to Houston has turned the Rockets into an instant title contender, words Russell Westbrook hasn't heard since 2016. There is no doubt Westbrook will go down as one of the most talented and dynamic players the game has ever seen. But ask any NBA fan about what Westbrook has lacked in his post-Durant career, and they'll tell you a deep playoff run.
Westbrook has now become the player no one can win with. Whether I agree with that statement or not, that's the image he has grown into. He's now got an MVP-caliber player in James Harden to his left, with key role players like Robert Covington, P.J. Tucker, and Eric Gordon to his right. It is the most talented roster he has been a member of in nearly five years, and the excuses need to be extinguished.
Russell Westbrook needs to prove that he can become a consistent and efficient scorer in the NBA playoffs, because it's a major black mark on his historic career.
This is who I believe has the most to prove in the NBA playoffs. The presumptive 2020 MVP has dominated the NBA this season. He has led the Milwaukee Bucks to the best record in the league and has had one of the best MVP seasons in recent years. But this is where the rubber meets the road.
The Greek Freak has now been featured in four playoff runs. Most recently his runs ended in a heartbreaking game seven loss to the Kyrie-less Boston Celtics and just last season was stomped out by the eventual NBA champion Toronto Raptors. No matter how you spin it, Giannis hasn't exactly impressed many in the NBA playoffs.
The MVP of the league hasn't been able to prove it when it matters. His numbers normally see a decent drop-off due to his one-dimensional playstyle on offense, most notably during his series against Kawhi Leonard last year. His playoff series wins haven't exactly been impressive either. They consist of a beat down upon an abysmal Detroit Pistons team in the first round last season, followed by a five-game series win against quite possibly the most dysfunctional team the NBA has seen in decades. Not to mention, his inability to activate that "MVP mode" in the final minutes of the game cost the Bucks numerous games against the Raptors who they would eventually fall too.
There is a major disparity between the other top players in the NBA and Giannis. Lebron James has proven many times that he can achieve playoff success on any given team, even at a young age. Kawhi Leonard was able to secure a Finals MVP just three years into his career, not to mention his immediate success with Toronto last season. Kevin Durant checks all the boxes as well.
Antetokoumpo will now enter his fifth playoff run with numerous scoring options to help him succeed. For me, this is NBA Finals or bust for the Greek Freak.
Davis has brought life back to the city of LA. He is leading the LA Lakers in both points and rebounds, positioning himself for a top-three MVP finish this season. There's no doubt AD has proven his worth as the best big man in the league. But in terms of playoff respect, it is something he lacks.
Now, there is no doubt Davis has had some unfortunate bad luck when it comes to matchups in the playoffs. In 2015, Davis at just 21-years-old ran into the 67-win Warriors team, where he couldn't even manage a win. Fast forward three years later and Davis would achieve his first playoff series win, dominating the Portland Trail Blazers. But yet again, he would run into the best roster in the league, falling to the Golden State Warriors for a second time.
Davis' problem doesn't lie in his inability to perform in the playoffs. One look at his post-season numbers proves that. But AD does have some major pressure creeping upon him this playoff season. Much of the NBA felt that the Davis to LA trade had some underlying issues to it. Whether it be Davis' distrust in the Pelicans front office or Lebron's distrust in his own team, this trade didn't go over smoothly. With this heavy of a trade comes some form of risk. The Lakers gave up their entire future for a shot at an NBA title. We know that Lebron is nearing the end of his competitive career. Everyone knows that the Lakers are in championship or bust mode at this point. So with the success and recognition Davis has seen over the past year, comes some immense pressure to perform well.
The pressure on Lebron James is well known. The pressure on Anthony Davis is a bit new. But a pairing of the best player in the NBA and the best big man in the NBA needs to result in an NBA championship. Furthermore, Davis needs to hold up his end of the deal. Lebron James will turn into that monster that we know and hate. But can Davis keep pace like he has all season?
Career-Altering Playoff Runs are Incoming
While these three players all have the most to prove in the NBA playoffs, they also have the most to gain. With immense pressure comes immense reward waiting in the shadows. Not all three of these players will have success in this year's postseason. But I'd put money on at least one of them having some notable success in the coming months. Will Westbrook finally gain that coveted first ring? Can Giannis prove why he is the best player in the NBA? Will Anthony Davis prove that he can help lead a team to an NBA title? We'll have to wait and see.
Main Image: Embed from Getty Images