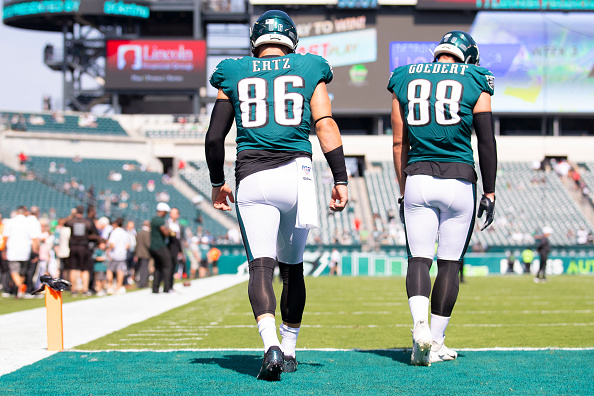 The success of many offenses is accredited to the quarterbacks, wide receivers, or even the offensive line. Though it may be true, tight ends are underappreciated by many. Tight Ends are the utility players on offense. They can catch the football, run routes, and block. A handful of teams have an elite tight end, but an even smaller number of teams are lucky enough to have two very solid tight ends. Here are the top five current tight ends duos in the National Football League going in order from five to one.
It was hard to choose which duos are the five best in the league. I based my decisions on the statistics, the duo's impact on their teams, and their abilities compared to others. Duos that I didn't include in my top five that I considered, were the duos of the Minnesota Vikings, New York Jets, New York Giants, and Los Angeles Chargers. Anyway, here are the top five current tight end duos.
Top Five Current Tight End Duos in the NFL
The Los Angeles Rams are known for their defense. While on offense it is their quarterback and running back, but what people forget is that they have a very solid tight end duo. It is a duo that emerged last year and it consists of the starter Tyler Higbee and backup Gerald Everett. Last year, Higbee had a breakout season in which he caught 69 receptions for 734 receiving yards and three touchdowns. Those receiving yards ranked seventh among all tight ends. Additionally, he was able to put up those numbers with the Rams great wide receiver corps. His catching ability puts his great run and pass blocking skills in the shadows.
The other half of this duo is Gerald Everett. Everett also had a great season in which he had a career-high 408 receiving yards. Everett is more of a big wide receiver than a tight end. He is very fast compared to other tight ends and has decent hands. I expect their production to go up, with the loss of their number one receiver Brandin Cooks and their superstar pass-catching back, Todd Gurley. Look for this duo to combine for over 1,000 receiving yards.
Unlike other teams, the Baltimore Ravens are not known for their tight ends since they run the football a lot. However, they have one of the best tight ends in the business in Mark Andrews. Andrews caught 64 receptions for 852 receiving yards which was fifth among tight ends, but most importantly he had ten receiving touchdowns which were first among all tight ends and second in the entire league. Additionally, he was also the highest-graded tight end in the slot and he had the second-most deep receiving yards by a tight end. He is a huge red zone threat that many defenses fear. His size is what makes him a threat, but it also helps him be one of the best vertical catchers. He rarely loses or drops the ball on vertical contested catches.
Though the Ravens have an elite tight end, they also have a very solid backup in Nick Boyle. Boyle isn't known for being a pass-catching tight end even though he caught 321 receiving yards last season. His best attribute and ability is his run blocking. He is one of the best run-blocking tight ends in the game. He was a huge reason why the ravens had the best rushing offense in the league. The Ravens have a good mix in the duo, with having a good pass-catching tight end and a very good run-blocking tight end. Expect Boyle and Andrews to be key factors in the Ravens playoff and super bowl contention.
The Tampa Bay Buccaneers offense will be sensational this year. Yes, they have Tom Brady at the helm, two top-ten receivers, but they also have one of the best tight end duos in the league. This duo consists of the second-best tight end in NFL History, Rob Gronkowski, and one of the most promising young tight ends in O.J. Howard. This duo would have been higher, but I am worried about Gronkowski's health and how he will play after a long absence.
Speaking of Gronkowski, the last season in which he played was 2018. In that season, he caught 47 receptions for 682 yards. In his nine NFL seasons, Gronk has crossed over 1,000 receiving yards four times, which is mind-blowing for a tight end. Most importantly, he achieved these stats with Tom Brady, who is his quarterback again, but now in Tampa Bay. Besides catching, he also has a fantastic run-blocking ability.
Gronkowski's partner is the young O.J. Howard. Howard had himself a decent season, in which he totaled 459 receiving yards. He isn't known for being a blocking tight end, but he is fast compared to other tight ends and has a fantastic catching ability. This duo will have great success in a fiery offense, and I expected big production from both especially, with Tom Brady throwing to them, as he is known to like his tight ends. The success and production of this duo will be a great help in Tampa Bay's push for the playoffs.
Last season, a high-powered Cleveland Browns offense was focused on its running backs and wide receivers. The Browns didn't have great tight ends, but over the offseason, they added the young and elite Austin Hooper. Hooper will pair up with the also young David Njoku. With these two, the Browns have a bright future. Shifting back to Austin Hooper, he had 787 receiving yards which was sixth among all tight ends and he also racked up six touchdowns. Most importantly, is that he is one of the best contested-catching tight ends in the league. In fact, he had a 66.7% contested catch rate, which led all tight ends. Besides catching, Hooper is a very good pass-blocking tight end which the Browns desperately needed.
His counterpart is the 24-year old, David Njoku. Njoku only had 41 receiving yards last season, but that's because he missed most of last season due to injury. Looking at his previous two seasons, he caught 1,025 receiving yards and eight touchdowns. This shows Njoku has had success and has been productive throughout his career. I believe his and Hooper's production will greatly rise because I believe the Browns will run a lot of two tight-end sets this year, due to the lack of a solid enough wide receiver number three. Their play will have a huge impact if the Browns make the playoffs or if they don't.
The Philadelphia Eagles have two tight ends that could be productive and successful starters on other teams. This duo and Carson Wentz helped carry the Eagles offense that was full of injuries, especially at the wide receiver position, into the playoffs. Let's start with super bowl champion Zach Ertz who is regarded as the third-best tight end in the league. Ertz caught 88 receptions for 916 receiving yards which was fourth among all tight ends and he also brought in six receiving touchdowns. Throughout his career, Ertz has consistently gotten over 800 receiving yards in almost every season. Even though Ertz isn't a great run blocker, he is a fantastic pass blocker.
The run blocking job on the Eagles goes to Dallas Goedert, who has developed into one of the best run-blocking tight ends in the league. On the receiving side, Goedert brought in 607 receiving yards and five receiving touchdowns last season. Opposing defenses have a hard time covering both of these tight ends. They should have great production again this year since the Eagles run a lot of two tight-end sets meaning lots of receiving opportunities for these two. I predict that this duo combines for over 1,500 receiving yards and over 10 receiving touchdowns in this upcoming season.
Five Best Tight End Duos Recap
As I stated before, tight ends are very valuable on offense because of their many abilities. They can catch, run routes, run block, and pass block. Some teams are very lucky, and they have a great tight end duo. The teams that have the best tight end duos going from five to one are the Rams, Ravens, Buccaneers, Browns, and Eagles. Most importantly, the tight end duos listed above play a huge part in their offense's success and are key factors in their team's playoff contention.
Main Photo:
Embed from Getty Images