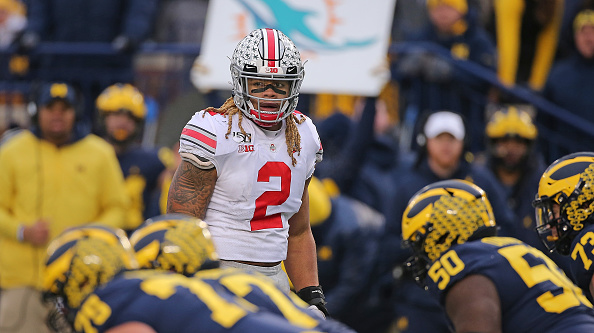 While some teams in the 2020 NFL draft decided to add players on offense, while others took the opportunity to improve their defense. These young players will look to help improve their team immediately and some will find more success than others. While not every rookie will become an instant starter for their team, some may get the chance in year one. Here are five NFL defensive rookies who will make an immediate impact.
NFL Defensive Rookies Who Will Make an Immediate Impact
Chase Young is a clear addition to this list. His improvement and development during his college days were exciting enough to get him drafted second overall. Young finished his last season on Ohio State with 16.5 sacks and 21 tackles for loss. Washington was already tenth in the NFL in sacks last season and the addition of Young could put them in the top five this season. That combined with an improved secondary could make for a top defense in Washington for 2020. Washington will hope that Young can contribute in his rookie season the way Nick Bosa did last season for the San Francisco 49ers.
The Detroit Lions saddened fans this off-season by trading star cornerback Darius Slay to the Philadelphia Eagles. They signed veteran cornerback Desmond Trufant during that same off-season and drafted Okudah third overall. Okudah is a true man corner and will be able to shadow a team's top receiver at the NFL level. This is always useful for a defense when a corner can take away an offense's top threat. While Okudah may not dominate the likes of Julio Jones or Davante Adams in his first season, he will be able to compete with them on every play. Okudah shined at Ohio State and should help Lions fans forget about the loss of Slay in the secondary.
The Chargers' draft shined with the highlight being the selection of their future franchise quarterback Justin Herbert. However, their other first-round pick should make a much bigger contribution in year one. Kenneth Murray is an outstanding linebacker and should compete for the starting job on day one. Murray had 257 tackles and 8.5 sacks in his last two seasons at Oklahoma combined. This includes a 155-tackle season. He also had more than 12 tackles for loss in both seasons. Murray has elite tracking ability and can finish any tackle. His power and speed allow him to make plays in the backfield or in the open field. While Herbert may sit and learn in the early days of his NFL career, Murray should be contributing to a Chargers' defense that needs a spark at linebacker immediately.
Queen, much like Murray, landed with a team that desperately needs an upgrade at linebacker. The Ravens are one of the favorites to win the Super Bowl this season and the addition of Queen is a big reason. Queen performed well for the national champion LSU Tigers putting up 85 tackles and three sacks along with 12 tackles for loss. Queen should be an anchor in the middle for Baltimore early in his career. With the loss of Patrick Onwuasor in free agency, Queen should have an easy time seeing the field.
The Bills have a top defense in the NFL and they ranked 12th in sacks last season. Despite being in the top half of the league in sacks, they do not generate sacks from their end position as much as they would like. As a result, Buffalo selected Epenesa with their top pick in the 2020 NFL draft. Buffalo's second-round pick could see playing time early with his ability to rush the passer. Epenesa had 10 or more sacks in each of his last two seasons at Iowa. This level of production would put Buffalo in an elite tier of defenses in terms of pass-rushing ability. Luckily for Epenesa, Buffalo has always been good with rotating through their depth on the defensive line.
Main Photo:
Embed from Getty Images