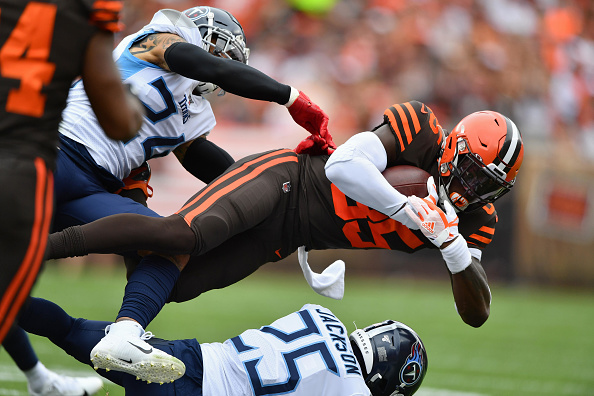 Tight end David Njoku has requested a trade from the Cleveland Browns. The signing of Austin Hooper has left Njoku worried about his role with the organization and wants to be able to feature his skills as a starter. There are many teams in the NFL who lack a tight end with the talent and potential of Njoku. He is also entering a contract year and should be looking to have a career season heading into free agency. Here are five teams that should trade for David Njoku.
Five Teams That Should Trade for David Njoku
The Bills have lacked a tight end with a lot of talent for many seasons. They seem to have found one in former third-round pick Dawson Knox. Knox's potential is high, but he is only entering his sophomore season in the NFL. Also, Buffalo lacks much at the position after Knox. Njoku would be able to add needed depth to Buffalo's tight end group and take the pressure off of Knox to shoulder the load of receiving tight end by himself. Njoku and Knox are similar in age, but Njoku is entering his fourth season in the NFL and has the experience to lead the position group for Buffalo. With Buffalo rising up the ranks of the AFC, acquiring a talented tight end with something to prove would be a great addition for the 2020 NFL season.
The Bengals once believed they had a franchise tight end in Tyler Eifert after they drafted him in the 2013 NFL draft. After multiple injuries kept him off the field throughout his time in Cincinnati, Eifert left the Bengals to join the Jacksonville Jaguars. The Bengals' best tight end is currently C.J. Uzomah. Uzomah has been with the Bengals for five seasons but has only surpassed 250 receiving yards once. This leaves the Bengals with a big need for a tight end. Acquiring Njoku would be a bit tough for Cincinnati as they are division rivals with Cleveland, but if they offer the right deal, they could acquire another talented player for Joe Burrow to throw to. 
New England has always utilized the tight end position in their offense. Despite the departure of Tom Brady, this should continue going forward. Greg Olsen often found success with Cam Newton as his quarterback. The Patriots' tight end group is currently lacking the talent that they have had at the position for the previous decade. They are currently relying on Matt LaCosse to be their starting tight end in 2020. They drafted several tight ends in the 2020 NFL draft, but Njoku would be an incredible upgrade for them. The Patriots are always willing to move players and draft picks so whatever it would take to acquire Njoku is something New England could afford. Njoku would offer a reliable target for Newton in an offense that lacks weapons outside of Julian Edelman. 
Houston has an interesting group of tight ends. Starter Darren Fells is 6-foot-7 and a reliable target with his size. They also have Jordan Akins and Jordan Thomas who contribute to the Texans' offense. However, Njoku is a step above these players and would increase Deshaun Watson's weapon pool. Watson is a crafty quarterback who often uses his running backs and tight ends in the passing offense to extend plays and drives.
Njoku would offer Watson the ability to rely on his tight end even more than he already does. Watson likes to target tight ends in the red zone. The departure of DeAndre Hopkins opens up a ton of targets that need to be allocated elsewhere. Adding Njoku to a team that also brought in David Johnson and Brandin Cooks would give the Texans an impressive offense despite the loss of their top target.
Carolina is going through a transformation that will result in a brand-new offense from the previous group that featured Cam Newton. Now, the Panthers' offense features their running back, Christian McCaffrey, and former first-round pick Teddy Bridgewater. Bridgewater is looking to revitalize his career in Carolina after backing up Drew Brees in New Orleans. The Panthers' new offense will not have Greg Olsen on it as they also moved on from the long-time Panther. Without Olsen, the Panthers need more depth at tight end. Njoku could easily step in and grab the starting role for Carolina, allowing Ian Thomas to keep his role as a second option at the position. Njoku would join D.J. Moore and Robby Anderson as Bridgewater's top options on this new Panthers offense.
Main Image: Embed from Getty Images