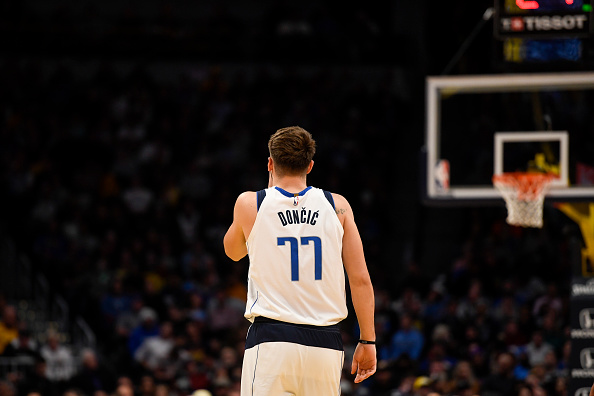 We wrap up this three-part of the NBA's top 25 under 25 blog series by counting down the top 10 players in the NBA under the age of 25.
All 10 of these players had already greatly impacted their respective teams in just a short period of time, so it's safe to assume that each of them will continue to get better as the years go on.
To see which players ranked #25-18, click here.
To see which players ranked #17-11, click here.
NBA's Top 25 Under 25 – #10-1
BI is starting to make true on his pre-draft KD comparisons this season.
Kicking off the top ten in this countdown of the NBA's top 25 under 25 is Pelicans' forward Brandon Ingram.
Brandon Ingram, much like I mentioned with Lonzo Ball, has finally been able to play to his strengths in his new role with the New Orleans Pelicans. He wasn't going to reach his ceiling playing henchman for LeBron James. He needed a fresh start on a team that needed his scoring, or in other words, on a team where Ingram could showcase his talents. 
New Orleans expected that Zion Williamson would be at the forefront of NOLA's rebuild post-Anthony Davis. Although that's still true, now he has a true running mate with Brandon Ingram making as great a leap in his progression as he did this year.
What made Ingram such an intriguing prospect was his offense. He drew many Kevin Durant comparisons, both for his scoring and his wiry frame, which was just a happy coincidence. Not to say his breakout season was of Durant's prestige level, but it was a nice flash of what Ingram's potential in this league looks like.
Bam's development into an All-Star this year speaks to how Miami has been able to utilize their young talent.
Another Miami Heat player who's benefitted from the arrival of Jimmy Butler is Bam Adebayo. Bam is finally the team's starting big man after the departure of Hassan Whiteside this past offseason, and he's finally playing to his potential. He was selected to his first all-star team this past season, with plenty more in sight. In addition, he's been among the best defenders around the rim this season.
As stated before, the Miami Heat continue to hit singles when acquiring new talent. While Bam is obviously more than a single, his playstyle has allowed his teammates to grow in a multitude of facets. Bam is an old-school prototype big who plays around the rim on both ends at a nearly elite level. He won't stretch the floor and shoot behind the arc, but that's not his strong suit. Miami has plenty of players who will take those shots because Bam's the one who will be collecting their misses down low.
The first-time All-Star finally got the recognition he deserves.
One could easily convince me that Devin Booker has been in the NBA for at least a decade now.
As one of the youngest members of his draft class, Booker came into the league at the age of 18 and has only been in the league for five years now. So, by that math, at age 23, Booker qualifies for the NBA's top 25 under 25.
Despite falling under a technicality, Booker finally made his first All-Star Game selection this past year, having been Damian Lillard's replacement. Booker is one of the league's most electrifying scorers who is a ton of fun to watch when his shots are falling early and often.
Booker's already made his mark on the history books at such a young age. Who could forget him dropping 70 points in a game against the Celtics in 2017, the most since Kobe's 81 points in 2006, at just 20 years old? 
Booker's one flaw in his game would have to be his defense. Although he is among the NBA's elite on offense, oftentimes he gives those points back on the defensive end. If Booker can even become a league-average defender, then it may kick him up a few pedestals in this league. If that can happen, perhaps the Phoenix Suns could start seeing some success under his tenure.
Utah's young star continued to round out his game this season as the franchise superstar.
This section of the rankings is where many will certainly argue. Donovan Mitchell and Devin Booker are both so young, and do many things similar to each other, but are still completely different as players for good and bad reasons. Which is what will force me to put Mitchell above Booker.
Mitchell is a more all-around complete player. When Mitchell first arrived on the scene in Utah in 2017, Gordon Hayward had just departed to sign with Boston. Fans didn't expect him to make such an immediate impact for the Jazz and allow them to remain competitive in the upper half of a stacked Western Conference. 
Mitchell's game is very reminiscent of Dwayne Wade, in terms of his explosiveness and quickness. His signature dunk is also extremely picturesque. Despite Utah's internal struggles during the league's hiatus, fans should be looking forward to watching Spida return to the court come summertime.
The next Steph Curry, or the first Trae Young?
While many look at Trae Young and only see a sort of Walmart off-branded Steph Curry, that couldn't be much farther from the truth. Besides, that shouldn't be taken as a knock for a player like Trae, as Steph is only the best shooter the game has ever seen. 
While Young and Curry are both very good shooters, what Young might have over Curry is his passing ability and court vision. While Curry is predominantly a scorer, Young has evolved into an elite distributor in this league, as he averaged 9.3 assists per contest this season, only trailing LeBron James.
The Atlanta Hawks are about to look very different next season. With the addition of Clint Capela, Young now has another weapon in his arsenal to bail him out when he is looking to distribute. His shooting is also bound to take another leap. For a team that has been undergoing a slow rebuild, the Hawks finally look ready to take off next year with a rearmed Young out in front.
Despite outright refusing the shoot an open three-pointer, Simmons still manages to play at an all-star level.
Ben Simmons is one of the NBA's most disrespected players and for obvious reasons, number one being his refusal to shoot beyond the three-point line. Spinzone, is he a coward for it, or is he a genius?
While many knock Simmons for not expanding his range out to the three-point line, Simmons is still an all-star level talent, mainly for his defense and his court vision/passing. His strong suit is obviously not three-point shooting, so maybe, if you think about it, he's been super smart and staying away from his weaknesses and only playing to his strengths.
No? Ok. I just wanted to see what it was like to be a Sixers fan and having to try to defend him for this weird element (or lack thereof) of Simmons' game.
Nonetheless, Simmons is one of the league's best defenders, and at 6'10, he can defend any position on the floor while playing guard. Many like to point to Philly's struggles this season to the poor fit between Simmons and Joel Embiid, but if Philly fans had an actual brain, they would see that it is head coach Brett Brown and that Simmons is far from the problem.
If Simmons isn't willing to expand his arsenal and develop even a mediocre three-point shot, then his game is going to be very limited and opponents aren't going to bite at him.
The league's best shooting big man continues to be disrespected due to Minnesota's struggles.
Because he's been on such a poorly constructed organization like the Minnesota Timberwolves, there are a handful of NBA fans who have no idea just how good Karl-Anthony Towns really is. 
Despite playing only 35 games this season, Towns still put up a career-high 26.5 PPG along with just under 11 boards a night, also demonstrating why he is the best three-point shooting big man in today's game, shooting 41% from beyond the arc. 
Towns never received much help from his teammates this season, but that will surely change with longtime friend D'Angelo Russell in tow now, a partnership that has been long-awaited by NBA fans. Couple those two with their 2020 lottery pick, and Minnesota may finally have something in the works as Towns continues to evolve into one of the league's top centers.
Zion Williamson
Despite only playing 19 games, the Zion hype train is very real.
In just 19 games, Zion Williamson showed everyone that the hype surrounding him is very much real. In his shortened season, he made a legitimate case for 2020 Rookie of the Year before the league shut down. That would have never been done before by a rookie who missed over half the season.
At this very moment in time, Zion is still just 19 years old, and is looking like the future of the NBA. Despite only playing a mere fraction of the season for the New Orleans Pelicans, Zion has already written himself in the NBA history books, as he became the first teenager in NBA history to score 20+ points for 13 straight games. 
His physicality combined with his scary athleticism draw comparables to a young Shaq, who was a unique specimen himself. Aside from his physical abilities, Zion is a pure talent and NBA fans should be chomping at the bit for his return come July.
Rookie of the year last year, most improved this year?
Luka Doncic is the face of the future of the NBA at age 21, so no question he would fall under the NBA's top 25 under 25.
Doncic is a walking triple-double waiting to happen, and what he does on the court is so unique that it makes it difficult to pinpoint what his strong suit truly is. His offense is already elite, as he can shoot from deep, see the floor, distribute at a high level, go grab a board, and be the commanding floor general he is. While he isn't the most athletic player in the league, or anywhere close, his size and basketball IQ make up for it. 
No one could have pictured this Dallas Mavericks team being ready to compete for a playoff seed for a multitude of reasons. Their lack of a contending roster, Kristaps Porzingis having not played in over a year, and Luka's age. However, Luka built off his previous season with an even more impressive sophomore season and led them to the West's top eight standings.
A future MVP in the making, Doncic's game is bound to evolve. Doncic is going to help carry this league into the next decade, long past the playing days of LeBron, KD, Curry, and Harden. If anything is clear or certain about the future of the NBA, it's that it is in great hands. 
Very few players his age have had more big moment experience (and success) than Jayson Tatum.
Never mind being on the NBA's top 25 under 25, Jayson Tatum without question belongs on the NBA's top 25. Plain and simple.
Easily the best all-around skilled player on this list, Tatum took quite a substantial leap from young star to franchise superstar this season, which is why he'll surely receive a max extension from the Boston Celtics this offseason.
Tatum already demonstrated tremendous growth and maturity from the get-go back in 2017-18, when he carried the load offensively in the Celtics playoff run without Kyrie Irving and Gordon Hayward. Flash forward a year later and Tatum went through the typical "sophomore slump", mainly because he struggled to find his consistency. Not to mention having to deal with all the other backstage drama surrounding that team.
But this year was different. Tatum took on a bigger role alongside Jaylen Brown and Kemba Walker, and he stepped up. Not only did he find his consistency on offense at an all-star level, but he also became a legit all-defense contender.
With the season set to resume in a little over a month, Tatum has an opportunity to cement his status as the future of Boston. At age 22, Tatum's already been through more high stakes moments than most vets, and he wasn't just a part of them, he thrived in them.
Main Image: Embed from Getty Images