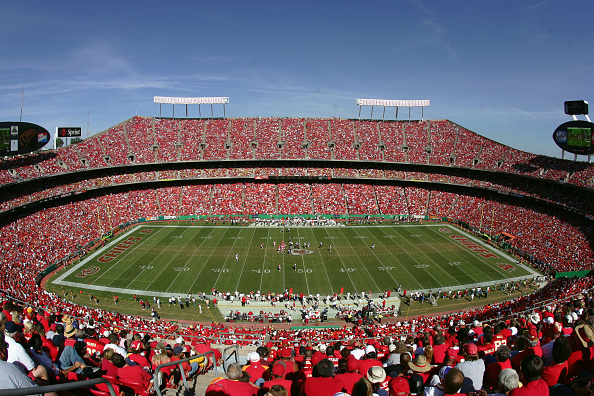 The NFL is just roughly four months from its proposed opening day, but the looming virus may very well put a damper on that. Nonetheless, if week 1 does occur on time, it most certainly won't be without restrictions. One of the main restrictions becoming more and more likely for week 1 is the absence of fans. If you're like most Americans, you can't wait to get back to betting on Sports Betting Dime, one of the premier betting websites. But, we may see a drastic change in the week one NFL betting odds if the league plans on having no fans. Here are two games that could be most affected by this change.
Week One NFL Betting Odds Will Change With No Fans
The season will kick off with an AFC battle between the Texans and the Chiefs, with Kansas City being heavy favorites (-10).
Patrick Mahomes will look to continue the dominance he illuminated last season, which culminated in a super bowl victory. The Chiefs team has kept the core group together and another exciting season is ahead for them, starting with the Houston Texans matchup.
But, one of the intriguing traits of this newly formed Kansas City squad is the stadium in which they play in. More importantly, it's who fills that stadium. Arrowhead Stadium is one of the loudest (if not the loudest) stadiums in the NFL today. It is an enormous advantage for Mahomes and the company. But what happens if you take this away?
The Texans ended their season against the Chiefs in the NFL Divisional round last season. Houston is now without top wide receiver Deandre Hopkins and could use every advantage they could get.
An absence of fans would have an enormous impact on this game. It would theoretically neutralize the site of competition and would give the Texans some much-needed help. Kansas City truly has this game wrapped up before it's even started, but Arrowhead minus the fans creates a much different dynamic for week one NFL betting odds. Look for the Texans to lower the spread to anywhere from -6 to -7.5 if fans are banned from NFL stadiums in week one.
Yet another interesting week one game to open the season up. Right now, the 49ers are 7.5 point favorites. But, fans are so important for San Francisco, especially in their first game back from a super bowl loss. Without them, a newly emerging Cardinals team could steal one on the road.
The Cardinals have a young and developing offense, highlighted by Kyler Murray and newly acquired Deandre Hopkins. They are certainly looking for a playoff birth this season and maybe even something more. That can start with a week one win.
The 49ers are coming off of a devastating super bowl loss to the Chiefs, and could certainly use a jumpstart to the 2020-21 season. But, no fans could greatly hinder their season as a whole, starting with this game against the Cardinals.
The 49ers have regained a fantastic following in the past few years and Jimmy G has certainly been the main reason why. But, an absence of fans could provide a huge swing in week one NFL betting odds in favor of the Cardinals.
No Fans, No Fun?
A season or even a week without fans would be something the NFL has never seen before. Betting is an enormous part of sports in the modern era. This would have an enormous impact on betting odds. Home field advantage would be theoretically demolished and games would be more up in the air every single week. Some think an NFL without fans may result in a boring season. But, I think it could add some interesting and new betting aspects that we have never seen before.
Main Image: Embed from Getty Images