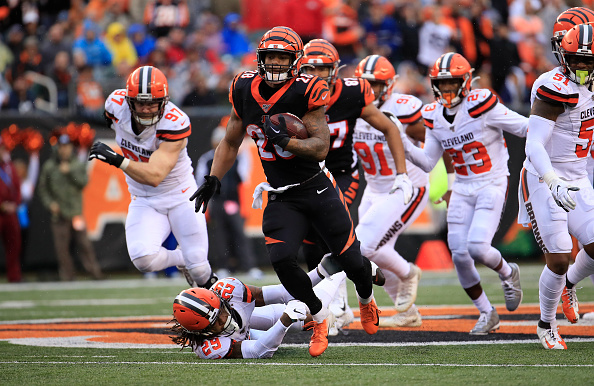 The latest NFL schedule has been released! The 2020 Cincinnati Bengals schedule is full of winnable games, but will they be able to drastically improve from last year's 2-14 mark? As of now, the Bengals only have two primetime games, which is reasonable. There's always a possibility of one of the later games getting flexed to Sunday Night if the matchup looks tasty. Let's dive into the 2020 Cincinnati Bengals schedule and what we can expect.
2020 Cincinnati Bengals Schedule: Who Dey Gonna Beat?
Barring an offseason catastrophe, the Bengals will start a rookie in a home opener for the first time since 1969. As the number-one overall pick, Joe Burrow is going to have his work cut out for him. The Chargers' defense is legit. Joey Bosa and Melvin Ingram are going to test that offensive line. Nick Vigil will likely make his return to Cincinnati to play the team that drafted him. First-round linebacker Kenneth Murray will have his first chance to prove that he was worth the pick. Derwin James is always dangerous.
On offense, will it be Justin Herbert or Tyrod Taylor at quarterback? Either way, they will be set with weapons in running back Austin Ekeler and a wide receiver corps consisting of Mike Williams, Keenan Allen, and the potential steal of the draft, K.J. Hill. Additionally, they added Bryan Bulaga and traded for Trai Turner, so they made upgrades to that line. This game is a toss-up, however. The question at quarterback is too big, so will the Chargers be able to rely on their defense to propel them to a win? The Bengals will have an arsenal of weapons (hopefully) fully healthy and looking to prove themselves. Cincinnati will have an exciting start to the season.
The first of the two primetime games on the 2020 Cincinnati Bengals schedule is on Thursday night in Cleveland for a divisional battle for Ohio. Historically, the Bengals have the edge with a 51-42 record but lost three of the last four matchups. Offensively, the Browns are absolutely loaded. The offensive line is stout. The Bengals made a conscious effort to improve their rush defense to stop Nick Chubb. Between Odell Beckham, Jr., Jarvis Landry, newly acquired Austin Hooper, and draftees Donovan Peoples-Jones and Harrison Bryant, good luck. I'm not sure there's an offense with nearly as much talent.
Defensively, the Browns might even be better. They'll be led by Myles Garrett, who has since been reinstated. Denzel Ward is a lockdown corner and Mack Wilson is certainly turning into a solid linebacker. Jordan Elliott, Jacob Phillips, and Grant Delpit should be reliable rookies. As much as I'd love to see the Bengals take this, the Browns are very, very talented. The only thing, outside of a competitive division, to keep the Browns from success will be themselves. Let's see if Baker Mayfield can take a step forward in 2020 (I just hope he doesn't in his two matchups against Cincinnati).
The Bengals' first NFC East opponent in 2020 will be a test in Philadelphia. The front four is very good. It's not going to be easy blocking three former first-round selections and a solid Javon Hargrave. The secondary got better when they traded for the Detriot Lions' Darius Slay. The Eagles also used two of their draft picks on linebackers Davion Taylor and Shaun Bradley to provide depth behind solidified starters, T.J. Edwards and Duke Riley. Last year, they sported the third-best rush defense. Joe Mixon might have a hard time gaining steam.
Wide receiver was a major issue last year. So, to go with Alshon Jeffery and an aging DeSean Jackson, the Eagles traded for Marquise Goodwin and drafted Jalen Reagor and John Hightower. Carson Wentz should feel better about those weapons. Miles Sanders has grown into a solid running back, but only accounted for 818 rushing yards and three touchdowns on the ground in 2019. The tight end room is as good as its been between established veteran Zach Ertz and Dallas Goedert. Honestly, this is also a winnable game for Cincinnati. It will depend on if the Bengals can get the run game established and whether or not they can contain the Eagles' speed outside.
This week could be considered "the calm before the storm." The Jaguars are in the full of a full rebuild and are likely tanking. Despite that, the team does have talent. Josh Allen had a strong rookie campaign, but will Yannick Ngakoue play under his franchise tag? The strength of this defense lies within their linebackers Myles Jack, free agent Joe Schobert, and draft picks K'Lavon Chaisson and Shaquille Quarterman. They also used their first-round pick to replace Jalen Ramsey with C.J. Henderson.
Gardner Minshew will lead the offense after beating Nick Foles for the job last season. However, who is he going to hand the ball off to? Leonard Fournette has been reported to be on the trade block and he's the only established back. Out wide, Dede Westbrook and D.J. Chark have emerged as solid receivers. Cincinnati will get to see their long-time tight end again when Tyler Eifert suits up. Hopefully, Eifert can get to do what he can and stay healthy. Week four is usually when a team can start to see what they have. After this, the Bengals could be 2-2. The next stretch of the 2020 Cincinnati Bengals schedule is going to be tough.
The 2020 Baltimore Ravens will travel the fewest miles and won't face anyone off a bye. By winning percentage, the Ravens have the easiest schedule. Considering they went 14-2 last year, this just isn't fair. Lamar Jackson has shown that he can play. He absolutely torched the Bengals in Cincinnati last year. Marquise Brown earned his "Hollywood" nickname, but look for Miles Boykin to emerge as a solid second receiver. Another reason the Bengals re-tooled their defense was because of Jackson, Mark Ingram, and the heir-apparent J.K. Dobbins. Many Ohio State/Bengals fans are going to have some serious issues for the foreseeable future.
The Ravens defense also experienced an overhaul. Signing Derek Wolfe and trading for Calais Campbell was just the begging. They drafted Justin Madubuike for the future. At linebacker, franchise-tagged Matt Judon will lead draftees Patrick Queen and Malik Harrison. Both Queen and Harrison were viewed as top linebacker prospects, so this Baltimore defense isn't going anywhere. Optimistic Bengals fans will hope the team can at least just cover the spread. Baltimore is going to be good, again. Very good.
The second of the AFC South foes will be the Bengal's pseudo-rival in the Colts. One of the biggest splashes of the free agency period was the signing of 38-year-old Philip Rivers. For the future, the Colts used their fourth-round pick on Jacob Eason. Rivers will have plenty of weapons with T.Y. Hilton, Parris Campbell, and second-rounder Michael Pittman, Jr. The question going forward will be Marlon Mack vs Jonathan Taylor. Mack has been the workhorse for the last few years, but Taylor will be a force. It will have to be a committee at least because no sane coach would keep Taylor off of the field.
The defense is led by Darius Leonard. The defensive line was re-tooled by the trade of Deforest Buckner and the free-agent signing of Justin Houston. Recently, the team declined the fifth-year option of safety Malik Hooker, so it will be interesting to see how that is handled. Ultimately, Indianapolis will be interesting to watch. Can Rivers thrive outside of the Chargers' organization? Either way, this game might be closer than people may think.
Week 7: vs Cleveland Browns
Round two of the Battle of Ohio takes place only five weeks after the first. After six weeks, each of these teams should be hitting their stride. There is a very real chance that we know what each of these teams is made of. Historical data is fun to look at, but they have little to no bearing on the current season. Despite that, the Bengals are 13-3 at home vs the Browns since 2004.
The final game of the first half of the season (and this article) is against the potentially overachieving Tennessee Titans. Last year's playoff run by the Titans was magical, but can they keep it up for 2020? Ryan Tannehill took the job from Marcus Mariota and never looked back. Will he regress to his Miami Dolphins self or will he continue to be a legitimate franchise quarterback for the Titans? It does help when you have A.J. Brown and Corey Davis to throw to and a defensive-end-masquerading-as-a-running-back Derrick Henry to hand the ball. Henry will be difficult to stop, which could be another reason the Bengals re-tooled their rush defense.
Overall, the Titans' defense is middle-of-the-road. The strength has been the secondary with Kenny Vaccaro, Malcolm Butler, and Adoree Jackson. Even then, they gave up the ninth-most passing yards in 2019. Rashaan Evans and Vic Beasley will be solid linebackers in this defense. Will Cincinnati be able to win this game? It all depends on whether or not Tannehill continues to play well. If the Bengals wide receivers in A.J. Green, John Ross, Tyler Boyd, and draftee Tee Higgins can play well together and stay healthy, they might be able to take advantage of an up-and-down defense.
Time For Half-Time Adjustments
Half of the season has passed. Thankfully, the 2020 Cincinnati Bengals schedule has a bye in week nine. Last season, the Bengals played better after their bye week and began to really make strides on the offensive line and defense. 2020 will be a great opportunity for the Zac Taylor offense to really make strides. We will get to see whether or not the defense will truly become a 3-4 base. After eight games, the Bengals will see if the free-agent investments in D.J. Reader, Mackensie Alexander, Vonn Bell, or Trae Waynes begin to pay off.
Stay tuned for the second half analysis! This is an exciting time in Cincinnati and this 2020 Cincinnati Bengals schedule could be the start of something great.
Main Photo:
Embed from Getty Images