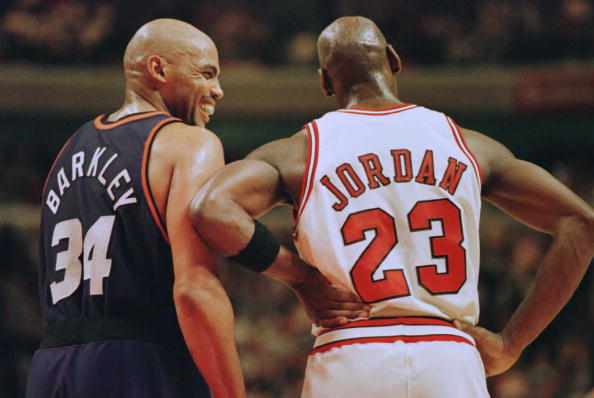 It's no secret that the NBA is home to the top basketball talent on the planet. Players such as LeBron James, Kevin Durant, Kawhi Leonard, and Anthony Davis are regarded as some of the top players in the game of basketball today. Apart from players today, there have been many legendary players from all different eras. For some reason, one of the media (and every other basketball fan alive) loves to compare the greatness of the top players in history. There have been many lists before, but here are my top 10 NBA Players of all-time.
Top 10 NBA Players Of All Time
"The Dream" is one of the greatest nicknames of all time, and it is fitting for one of the top five big men that this game has ever seen. Olajuwon played in one of the greatest eras in basketball history. He was able to dominate the league on both ends of the floor, winning the NBA defensive player of the year twice, and the MVP award in one of those two years as well. The only reason that Hakeem didn't win three rings was the Boston Celtics and their leader, Larry Bird.
Championships: 2
MVP's: 1
All-Star Appearances: 12
Although I put Larry Bird at number nine on this list, I believe people tend to place him too high on this list. Bird was an absolute legend and he definitely belongs in this discussion for a top 10 of all time, but people tend to put him above players that they shouldn't. Going up against Magic Johnson time and time again was great for him as a player as it improved him greatly, but he does not match the talent that Johnson holds.
Championships: 3
MVP's: 3
All-Star Appearances: 12
This may be a heavily controversial pick for some people. Some lists have "Shaq" as a top 10, others have him sitting in the 15th spot. Shaq is arguably the most dominant force in NBA history. He has played for so many teams and has brought joy to so many cities. While his prime run was with the LA Lakers, he was able to capture three NBA Championships in Los Angeles, as well as grabbing one in 2006 with Dwyane Wade with the Miami Heat. He was arguably one of the most fun to watch players in the game as well, grabbing three All-Star Game MVPs to go alongside his 15 appearances. People like to say that Kobe Bryant and Shaq didn't have the greatest relationship and whatnot. However, it might have been this hostile relationship that allowed these two dominant forces to win a total of three finals together.
Championships: 4
MVP's: 1
All-Star Appearances: 15
Magic Johnson was the best player on one of the greatest teams in sporting history. The Showtime Lakers won five NBA Championships in nine Finals appearances in just 12 years. People continue to compare Magic Johnson and Larry Bird to each other, some even go as far as putting Larry Bird ahead of Magic on their top 10 lists. However, it is Johnson's Finals wins and the fact that he was the best player on the showtime Lakers that puts him ahead of Larry Legend for me.
Championships: 5
MVP's: 3
All-Star Appearances: 12
Wilt Chamberlain has the most points scored out of anybody in a single NBA game. We all know about his 100-point game. Truth be told however, it would be impossible for him to do the same thing in today's NBA, or even the NBA 30 years ago. This is why I do not have him cracking the top five, but he is still one of the greatest big men of all time nonetheless. He won seven scoring titles throughout the entirety of his career and is the only player to average over 50 points in a single season. Although he played in a much different era of basketball, it is hard to ignore greatness such as himself.
Championships: 2
MVP's: 4
All-Star Appearances: 13
Apart from Michael Jordan, Kobe is arguably the only player on this list who can take over a game whenever they feel like it. The Mamba Mentality is real and is the reason why Bryant was as great as he was. He is the closest thing we have had and ever will get to Jordan. Despite Kobe only winning a single MVP award in 2008, he deserved at least 2 more after being robbed by Steve Nash two years in a row. You could also argue he should have won it over Tim Duncan in the 2002-03 season. However, Nash was never able to win a championship in his career, while Kobe won five.
Championships: 5
MVP's: 1
All-Star Appearances: 18 
When people discuss greatness, a popular part of the conversation is always the number of rings a player has. The player with the most rings doesn't even have enough fingers for all of them. Russell won more NBA championships than anybody in NBA history. This is why he is considered one of the greatest to ever pick up a basketball. Despite winning five NBA MVP awards, he somehow only made the All-NBA First Team three times. He is also a four-time rebounding champion, and, just like Kobe, he only played for one team his entire career. This is another very important aspect when it comes to judging a player's greatness, the sheer loyalty of them.
Championships: 11
MVPs: 5
All-Star Appearances: 12
As the most dominant big man of all time, Abdul-Jabaar was a two-time scoring champion, four-time blocks leader, and even led the NBA in rebounds in 1976. He was able to dominate both ends of the floor. He made you terrified to drive to the lane on offense and nervous to guard the powerhouse on defense. Abdul-Jabaar has the most MVPs in league history winning a total of six. Michael Jordan wasn't even able to catch him in that regard. He won six rings and was on the All-NBA First Team 10 different times. There is dominance, and then there is Kareem Abdul-Jabaar.
Championships: 6
MVP's: 6
All-Star Appearances: 19
2. LeBron James
Lebron James: the greatest player of this generation. We can argue that Kevin Durant, Giannis Antetokounmpo, Kawhi Leonard match James, but the truth is we're just tricking ourselves. Lebron James is undoubtedly the best and has been the best player in the NBA for over 10 years now. He is a four-time MVP, and you could argue that he should have at least eight. He has received All-NBA First Team honors 12 times, won the scoring title in 2008, and has been on the NBA All-Defensive First Team five times as well. The one thing that puts down Lebron's Legacy, is the fact that he is 3-6 in the NBA Finals.
You could argue that no one could have beat the Warriors in 2017 and 2018, and that in the 2007 NBA Finals even Michael Jordan would have no shot with the players that he was surrounded by. However, that would still put him at 3-3 in the Finals, or .500. Lebron James does not have the killer instinct that Michael Jordan or even Kobe had when it comes to taking over games. This is the reason that Lebron will never move up past this number two spot, even if he were to win three NBA titles in Los Angeles and tie Jordan's record.
Championships: 3
MVP's: 4
All-Star Appearances: 16
1. Michael Jordan
The greatest player of all time to ever pick up a basketball, Michael Jordan was dominant from the moment he entered the league. Michael Jordan was a perfect six for six in the NBA Finals in one of the most competitive eras in NBA History. He also won all six of the Finals MVP awards, never even going to a game seven in all six series. He was a three-time steals leader and a 10-time scoring leader. This means he was one of the scariest players of all time, not only as an offensive threat but on the defensive end as well. He won the NBA defensive player of the year in 1988 and was on the NBA All-Defensive First Team nine times. He won the MVP award five times, but much like Lebron, you could argue that he should have more than he does.
Apart from the achievements, trophies, and statistics, there isn't, and probably never will be, a player that can take over a game single-handedly in crunch time like Michael Jordan can. On top of this, he played during an era of legal hand-checking and the roughest and toughest basketball we have and will ever see. Michael Jordan is hands down, undisputed, the greatest player to ever walk this Earth.
Championships: 6
MVP's: 5
All-Star Appearances: 14
Let The Debate Rage
In conclusion, there have been thousands and thousands of NBA Players to step foot on a professional court. There are hundreds and hundreds of all-stars, hundreds of Hall of Famers. However, the most elite company are those that are considered for a Top 10 of all time, while some lists vary, it is quite the honor to even be mentioned in the conversation.
Main Photo:
Embed from Getty Images