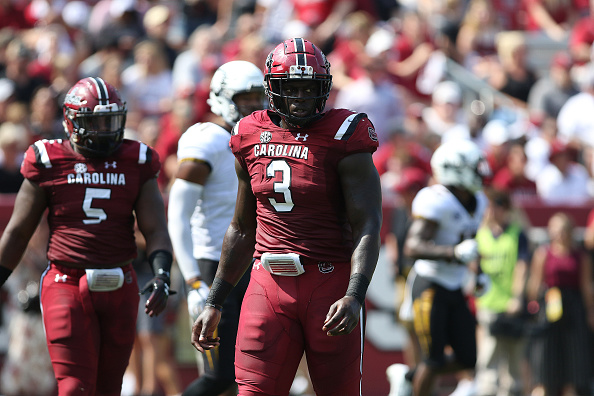 The NFL draft is nearly here and the last versions of mock drafts are being released. The NFL offseason has been an interesting time for all with the COVID-19 pandemic being at the center of it all. While it has been more difficult than ever to predict where players will land this year, it is still interesting to see where people believe the top prospects will go. Here is my final 2020 NFL mock draft.
Derek Borycki's 2020 NFL Mock Draft 2.0
There is no other option for Cincinnati at number one than Joe Burrow. Burrow dominated college football this season and solidified himself as the best quarterback in this draft. The Bengals need to re-boot their franchise and that starts at the quarterback position.
The easy choice here for Washington is Chase Young. Young is an elite pass rusher who can dominate on the edge immediately and will provide a huge spark to the Redskins defense and overall roster.
The Lions traded star cornerback Darius Slay this offseason and are now in need of a long-term option at cornerback. Okudah is easily the best cornerback in the draft and will provide Detroit with lockdown man coverage skills from day one.
The Giants could do many things in this draft but getting an anchor offensive tackle is too important to pass up. Wills is an incredible talent and will provide much-needed protection for Daniel Jones and Saquon Barkley.
The Dolphins are in need of their next face of the franchise. There is a debate on who they will go after in this draft and Herbert could easily be the choice. Herbert is a talented quarterback with less injury risk. Herbert and Tua Tagovailoa both have high ceilings, and both will be great NFL quarterbacks, but Herbert lands with Miami here.
The Chargers moved on from long time quarterback Philip Rivers this offseason and will roll with Tyrod Taylor in 2020. They are a prime target to draft a quarterback and Tagovailoa is an incredible get here at six for a team that needs to solidify their future.
The Panthers take advantage of the need for quarterbacks and land an incredible defensive talent. Simmons is a modern defender who can play multiple positions of defense effectively. Simmons could play linebacker for Carolina and replace the hole created by Luke Kuechly's retirement. He could also play safety and would fill a need in either role for the Panthers.
The Cardinals have had a draft crush on Brown since the beginning and they have the chance to get him here with the quarterbacks dominating the top of the draft. Arizona would get a huge upgrade on defense to match the huge upgrade they got on offense with the trade for Deandre Hopkins this offseason.
The Jaguars need help on the offensive line. Specifically, at the tackle position. This draft has a few extremely talented tackles and they get one in Wirfs. Wirfs can contribute quickly to the Jaguars offense as they attempt to find their identity with Gardner Minshew at quarterback.
The Browns have been linked to Kinlaw a lot during the offseason. They are in need of a strong talented presence in the middle of their defense and Kinlaw can provide that. Cleveland has a talented roster and hopefully, the addition of Kinlaw can provide a spark to their defense in 2020.
The Jets take the first receiver of the draft with CeeDee Lamb. Lamb is a talented receiver who had the pleasure of playing with Baker Mayfield, Kyler Murray, and Jalen Hurts during his college career. He contributed to these quarterbacks' success in a big way. Lamb had at least 1,100 yards and 11 touchdowns in each of his last two seasons at Oklahoma. Lamb will be the focal point of the Jets' offense and will provide Sam Darnold with a true top receiving option.
The Raiders also take a receiver in the first round and they add Henry Ruggs to their roster. The Raiders lack speed on offense and Ruggs is easily the fastest player in this draft. His 40-yard dash time of 4.27 is incredible and will help the Raiders' offense in 2020.
The 49ers traded stud defensive tackle Deforest Buckner to the Colts to acquire this pick. It seems that the 49ers did this to add another weapon to their offense. Wide receiver has become a big need after the loss of Emmanuel Sanders this offseason. Jeudy is an incredible talent and would transcend the 49ers offense into a top unit.
The Buccaneers have had a major change in philosophy now that they have Tom Brady at quarterback. Brady is not going to want to be a mediocre team that misses the playoffs. Brady will also want to have solid protection upfront to avoid taking heavy damage late in his career. Becton is a powerful offensive tackle that will help significantly in that area.
The Broncos want to add weapons for young quarterback Drew Lock. They have Courtland Sutton, but Denver could use another explosive receiver. Jefferson is a talented receiver who had 111 receptions this past season for LSU. That level of production would be a great help for Denver's offense and Drew Lock's development.
The Falcons have been linked to Henderson for most of the offseason. The Falcons lost long-time cornerback Desmond Trufant to the Lions this offseason. They are in need of a cornerback now and Henderson would be a nice addition to their defense.
The Cowboys have seemingly been big fans of Ruiz throughout the draft process. The Cowboys have prided themselves on having a top offensive line for a long time. Ruiz would be a great addition to replace Travis Frederick following his retirement.
18. Miami Dolphins – Andrew Thomas, Offensive Tackle, Georgia
The Dolphins continue their first round with an upgrade on the offensive line. Thomas is a fantastic lineman who can start on day one. He will develop with rookie quarterback Justin Herbert from day one and lead Miami into a new era of offense.
19. Las Vegas Raiders – Neville Gallimore, Defensive Tackle, Oklahoma
Gallimore is a talented defensive tackle who fits the Raiders' scheme well. The Raiders have put a lot into their defense and Gallimore is another piece to their ideal defense.
20. Jacksonville Jaguars – Kristian Fulton, Cornerback, LSU
The Jaguars have a few needs that they have recently created with the trading of some key players. Jacksonville is in need of a cornerback after trading away Jalen Ramsey and A.J. Bouye. Fulton would be a nice addition to the new Jacksonville defense.
The Eagles' 2019 season showed that there are a few holes on the roster. The biggest hole for the Eagles is Wide Receiver. The Eagles let go of former first-round selection Nelson Agholor and are looking to move on from Alshon Jeffery. Mims would be a nice addition to an Eagles offense that is desperate for new weapons for Carson Wentz.
The Vikings released Everson Griffen in the offseason and need a replacement for him. Chaisson is one of the best edge rushers in this draft and would be a great replacement for Griffen. Playing with Danielle Hunter sill help Chaisson get into opponents' backfields.
One of the Patriots' biggest needs is weapons on offense. With the loss of Tom Brady, the Patriots need to re-shape their offense. Reagor would be a great addition to the future Patriots offense. Reagor and N'Keal Harry could lead the Patriots' receivers for the foreseeable future regardless of who is at quarterback.
The Saints have a well-rounded roster with minimal needs. One thing they do need as young talented linebackers. The Saints currently use Kiko Alonso in the middle and Queen would be a significant upgrade in the front seven. Queen excels at run defense and his ability to get in the backfield is much needed in New Orleans.
25. Minnesota Vikings – A.J. Terrell, Cornerback, Clemson
The Vikings love their first-round cornerbacks. Terrell would have a big role with the Vikings after they lost multiple cornerbacks this offseason including Xavier Rhodes and Mackensie Alexander.
26. Miami Dolphins – Noah Igbinoghene, Cornerback, Auburn
The Dolphins' defense has some talented players and Igbinohene would add to that talent pool. He would pair up with Xavien Howard to make a very strong secondary.
The Seahawks still haven't committed to Jadeveon Clowney and so they need a pass rusher. Epenesa did a great job of that while at Iowa. Seattle would get a great addition to their defensive line here.
The Ravens don't need much this offseason, but an improvement at linebacker is one of them. Murray is a great addition to the Ravens' defense with his skills against the run and pass. Murray should round out the Ravens' front seven nicely for 2020.
Gladney has been a fan favorite for Titans fans. The Titans drafted a solid cornerback a few years ago with Adoree' Jackson. Now, with the free agency having taken a few corners off their roster, they could take another great cornerback in Gladney.
The Packers have been rumored to be setting up their future with this year's quarterback class. Love has been on their radar and would be a great fit in Green Bay. Much like Rodgers' early career, Love could sit behind a hall of fame quarterback for a few years before taking the reins in Green Bay.
31. San Francisco 49ers – Ross Blacklock, Defensive Tackle, TCU
The 49ers traded Deforest Buckner to the Colts this off-season for the Colts' first-round pick. This creates a need for a defensive tackle in San Francisco. Blacklock is a disruptive tackle who can play immediately.
The Chiefs have a need for a running back and they also may take the best player available approach to this pick. In both scenarios, they take D'Andre Swift. Swift is a talented back who can excel immediately in both the run and pass game. Swift comes from Georgia where many talented running backs have come from in recent years. This includes Todd Gurley, Nick Chubb, and Sony Michel.
Main Photo:
Embed from Getty Images