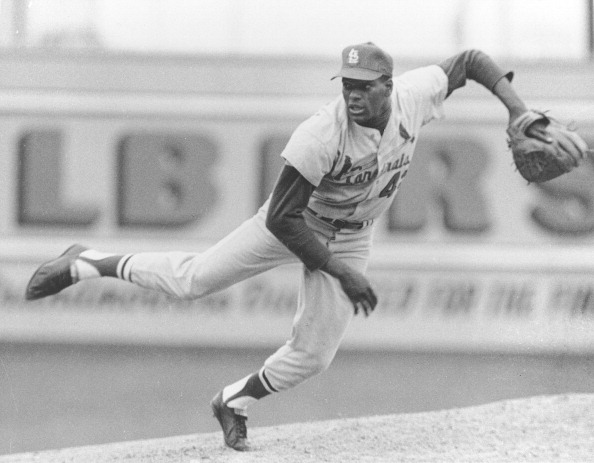 Over the years, the St. Louis Cardinals have had the pitching to contend at a high level. To take the mound every fifth day for the Cardinals is a great privilege. There were so many great pitchers in history for this team. There are five pitchers with over 150 career wins for the Cardinals. These players are considered one of the best in team history. As we focus on one of the best organizations in baseball, let's take a look at their top five pitchers in career wins.
St. Louis Cardinals Top Five Pitchers In Career Wins
Bob Gibson (251)
Bob Gibson, arguably the best pitcher in Cardinals history, is leading the way in wins by a large margin with 251. He had an outstanding career from 1959 to 1975. Gibson not only led the team in wins but he also led in a lot of other categories. He leads the team in games started, innings pitched, WAR, complete games, strikeouts, and shutouts. He also had a career 2.91 ERA. The baseball Hall Of Famer made nine all-star games, won a regular-season MVP and two World Series MVPs, and two Cy Young awards. That's just the start of his accomplishments. Gibson was dominating in his time and on every fifth day, the Cardinals were confident they would get a great outing.
Jesse Haines (210)
From 1920 to 1937, Jesse Haines won 210 games for the Cardinals. His best year came in 1927 when he finished first in complete games/shutouts, fifth in WAR, fourth in ERA, and second in overall wins. Haines went 24-10 with a 2.72 ERA that year. He helped the Cardinals win two championships and was eventually voted into the Hall Of Fame by the Veterans Committee. He was a knuckleball specialist that found his footing in St. Louis.
Bob Forsch (163)
Bob Forsch was loved by many Cardinals fans and many say he was underrated during his time. He played the majority of his career in St. Louis before moving onto the Houston Astros for two years. In his time with the Cardinals from 1974 to 1988, he gathered the third-most wins in team history with 163. Forsch didn't have the all-star games or the numbers as these other pitchers but he was an important part of the Cardinals pitching staff.
Adam Wainwright (162)
Old Uncle Charlie is still going strong at age 38. Adam Wainwright started as a closer and he was a pretty good one. In 2006, Wainwright famously froze New York Mets outfielder Carlos Beltran on a curveball to send the Cardinals to the World Series where they eventually won their tenth championship. He transitioned into a starting role and succeeded very well. He is 162-95 with a career 3.39 ERA and 1776 strikeouts.
In the early part of the 2010s, he was considered one of the best pitchers in the game and was going head-to-head with the best. Injuries and age had been a concern as of late but he still is valued in this Cardinals rotation. He's humble and a fan favorite that will one day be in the Cardinals Hall Of Fame. In this upcoming season, Wainwright should pass Forsch for third in all-time wins as a Cardinal.
Bill Sherdel (153)
Bill Sherdel might not be top-ten in a lot of pitching statistics, but he meant a lot to this Cardinals staff. With the birds on the bats, Sherdel fifth all-time in wins with 153 and a 3.64 ERA in 2450.2 innings pitched, which was fourth all-time in team history. He was considered one of the best left-handers in the game and was a tough, hard-nosed pitcher who wasn't too pleasant to go up against.
Birds On The Bat
All five of these pitchers are among the best in Cardinals' history. The Cardinals offense over the years has been great but without a strong pitching staff, that doesn't matter and this has had that. There's one young pitcher to watch out for that could be on this list some day and that's Jack Flaherty. A lot of teams have been lucky over the years to have great pitching and St. Louis is one of them.
Main Photo:
Embed from Getty Imageswindow.gie=window.gie||function(c){(gie.q=gie.q||[]).push(c)};gie(function(){gie.widgets.load({id:'zJZJqE8zQ0lmjeVHFLTaLQ',sig:'EIiO_SEjUN8I3HQvyJJobFkS3RpYwZszEJ2KfR9BH5w=',w:'594px',h:'463px',items:'110322139′,caption: true ,tld:'com',is360: false })});