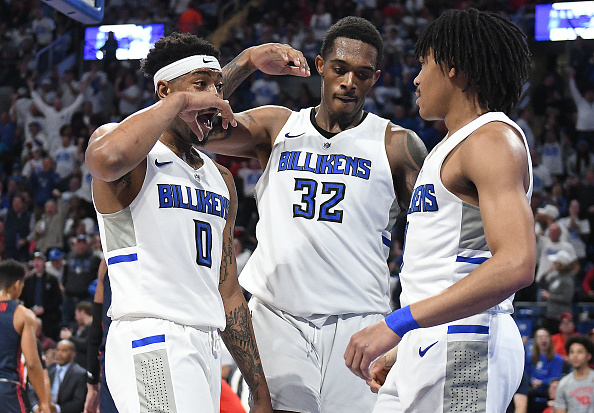 The St. Louis Billikens finished fourth in the Atlantic-10 with a conference record of 12-6 and an overall record of 21-9. St. Louis is getting hot at the right time heading into the Atlantic-10 tournament. They've won five straight games and six of seven to end the season. Not only are the Billikens red hot, but they've been getting stellar performances all year from their players and three of them got recognized for all-conference teams.
St. Louis Billikens: Atlantic-10 All-Conference Players
Jordan Goodwin (First-Team and All-Defensive)
Coming into his third season, Jordan Goodwin wanted to come out and prove he can lead this team and be better than his previous years and he did that. He averaged a double-double for the season as he had a career-best 15.5 points per game and 10.4 rebounds a game. Goodwin also shot 47 percent from the field in the most minutes he'd played in his three years. His offensive game wasn't the only thing going for him last season. 
Goodwin also made the all-defensive team for the Atlantic-10. This shows you that he has been an all-around great player for the Billikens this season. He's been at or near the top of every defensive category for the conference. He led the Atlantic-10 in defensive rebounds with seven and finished third in steals with 2.1 a game. If these numbers aren't enough, he's first in defensive win shares with 2.6 and fourth in defensive rating with a 90.3. Goodwin is a very important part of this team and they'll need him to continue his great play moving forward.
Hasahn French (Second-Team and All-Defensive)
Hasahn French has gotten better every year and in his third year, he's had his best. He also averaged a double-double for the season as he averaged 12.4 points with 10.4 rebounds. French finished fifth in field goal percentage and second in offensive rebounds. He can drive down the lane with power and flush it down more times than not. He's played the most games of all players in the Atlantic-10 and maintained the level of play in both sides of the ball.
French also can play defense to go along with his offensive game. You can argue that he is more important on defense than offense on this team. He has been the Billikens' most important player on defense and he has shown why. French finished second in defensive rebounds with 209 and finished third in blocks with 2.6 a game. He also finished second in both defensive win shares and defensive rebounds. This is the second year in a row that French as been on the all-defensive team.
Javonte Perkins (Third-Team and Sixth Man of the Year)
Javonte Perkins is going to a huge part of the Billikens' future moving forward. In his first year, he is averaging 15.0 points per game. In a year where this team is heavily struggling at the line, Perkins is eighth in free throw percentage in the conference and is seventh in points with 465. He has come off the bench and has been more than what the Billikens expected. Winning Sixth Man of the Year will give him a huge boost and get him more looks for a starting role in the future.
Yuri Collins (All-Rookie)
Yuri Collins is another freshman that will be a huge part of this team moving forward. This honor is well deserved for Collins. He averaged under six points a game but other areas of the game have been very impressive. Collins broke the schools' record for assists by a freshman with 171 (5.5 per game). He also ranks third all-time in school history in assists for a season. He's impressed a lot of people and he can do it even more if he does this and more moving forward.
Final Shot
The Billikens have a very bright future ahead. They've had two really good seasons these past two years and they are just getting started. St. Louis will have an even better lineup in the coming years. Head coach Travis Ford took over and ever since he has this team turning some heads. They are the fourth seed in the Atlantic-10 tournament and will play their first game on Thursday. This team made a great run through the conference tournament last year and made the NCAA Tournament. They can make some noise once again this year and no one would be shocked if they made another run.
Main Photo:
Embed from Getty Images