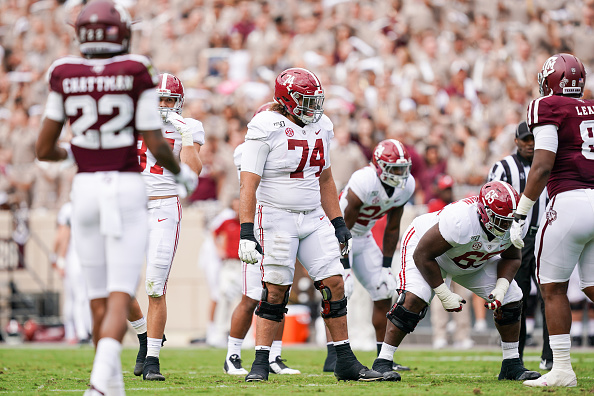 The NFL draft is quickly approaching and the New York Giants will once again be selecting towards the top of the draft. The Giants have seven selections in this draft. These include three inside the top 100 selections. Adding quality talent that can develop into starters is crucial for a young team like the Giants. Setting themselves up for success in the near future would be a great way to transition from the Eli Manning era into the Daniel Jones era. With every selection being important for the Giants' future, here is my 2020 New York Giants mock draft.
New York Giants 2020 Mock Draft:
Round 1 – Jedrick Wills, Offensive Tackle, Alabama
The Giants have a huge need for offensive linemen. The Giants fill that huge need early in round one with Jedrick Wills. Wills has emerged as the best offensive line prospect in this draft class and hast the best shot of being a dominant tackle in the NFL. Wills can be a day one starter and should help increase the production from the offense including Daniel Jones and Saquon Barkley. The Alabama product excels in pass protection with his elite frame of 6'5″ and 320 lbs. Wills is a ferocious blocker who should dominate NFL lines of scrimmage immediately.
Round 2 – Julian Okwara, EDGE, Notre Dame
Another big need for the Giants is pass rush. The Giants recently hired Patrick Graham as their defensive coordinator, so expect to see 3-4 sets on defense. Okwara is an impressive 3-4 pass-rushing outside linebacker. He had 19.5 tackles for loss and 13 sacks through his last two seasons as Notre Dame. Okwara sustained an injury in 2019 that may worry some teams, but Okwara is a big physical linebacker who should be able to produce right away. Okwara even has the potential to develop into a top player at his position in three or four years.
Round 4 – Evan Weaver, Linebacker, California
The Giants clearly commit to re-shaping their linebackers with another linebacker in round four. Weaver is an excellent tackler who could easily play in early-down and goal-line situations. Weaver struggles in pass coverage, limiting his three-down capability. However, with time, he could develop into a true starting linebacker for the Giants' defense.
Round 5 – Logan Stenberg, Offensive Guard, Kentucky
Stenberg is another strong offensive lineman lacking proper technique needed to be a dominant offensive lineman. His pass protection skills are sound due simply to his size. Comparatively, his effectiveness in running situations is less than stellar. Stenberg could be impactful early in his career in pass protection and develop into a full starter by his third season with the Giants. Developing these linemen early is crucial for the Giants' offense overall. Building chemistry with the other young players on the Giants' offense could set them up for success in the years to come.
Round 6 – Levonta Taylor, Cornerback, Florida State
Levonta Taylor is a former five-star recruit for the Seminoles. He is a very talented cornerback who didn't see much action his way due to the respect opposing offenses had for him. Due to the lack of action and his undersized frame at 5'10", Taylor is projected as a day three player. This could be a huge steal for the Giants who are in need of a cornerback now that Janoris Jenkins is off the roster. Taylor could emerge as a solid player in the NFL if his size doesn't hinder his success.
Round 7 – Brian Cole, Safety, Mississippi State
Cole is a project safety who transitioned to safety from wide receiver in college. Cole is an effective tackler and obviously has an advantage as a former receiver in the secondary. He is still developing as a defensive back and can often get too aggressive on defense, resulting in missed opportunities. Cole could be developed into a full-time NFL defender, but only if the team that drafts him is willing to put the time into him.
Round 7 (via New Orleans Saints) – Calvin Throckmorton, Offensive Tackle, Oregon
Throckmorton is a talented lineman who possesses great strength. He has a strong ability to sense pressure and maneuver to defend outside of his own gap. Throckmorton struggles with technique and his footwork overall is questionable. However, with time in an NFL system, Throckmorton could blossom into a starting-caliber offensive lineman. Throckmorton would be a great piece for a young Giants offense who will likely be at the top of the NFC in a few years if their current pieces develop properly.
Draft Review
Overall, this draft does wonders for the Giants' biggest needs. They obtain a dominant offensive tackle and add great depth to the offensive line with three drafted in seven selections. Okwara and Weaver are both key pieces to their defense and can lead their linebacker group for the next decade. Cole and Taylor are developmental pieces who could bolster their defense with time. If New York can complete a draft like this, they have the opportunity to find success in the NFC East as early as this year. This New York Giants mock draft has a focus on offense and defense, but do you think they should shift their focus somewhere else?
Main Photo: Embed from Getty Images