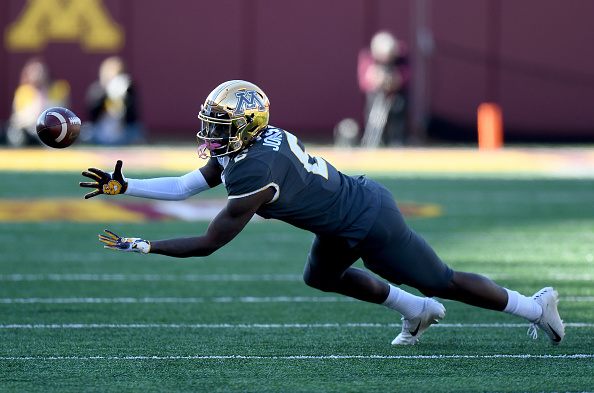 The NFL draft is important for adding talent to NFL rosters without breaking the salary cap. Some positions are crucial to a team and require multiple starters at that one position. Wide receiver is one of these positions. While there are several talented receivers who will be drafted on day one, there are also several day-two wide receivers that could make an immediate impact on an NFL roster. Here are five day-two wide receivers that could make an immediate impact.
Day-Two Receivers Who Can Make an Immediate Impact
Jefferson is a dangerous receiver with great field vision. His ability to read the play as it happens and adjust his route makes him a fantastic second option for any franchise. Jefferson would a great compliment to any of the league's top receivers. The Green Bay Packers would be a great fit for a receiver like Jefferson. Matching up opposite of Davante Adams would give Jefferson space to create with his route running and getting passes from Aaron Rodgers would be great for his early development. Jefferson lacks great speed, but his football IQ makes him a worthwhile pick for any NFL franchise.
Jalen Reagor is another talented receiver who could even find himself being taken on day one. Reagor is different from Jefferson in regards to athleticism. Reagor is fast and he can accelerate quickly to get past defenders on deep routes. He has question marks around his ability to limit drops and secure catches. Despite those concerns, he will certainly give quarterbacks the chance to test his hands with his ability to create space with his speed and footwork. A good fit for Reagor would be the Kansas City Chiefs who have built their offense around having fast wide receivers. The Chiefs may lose Sammy Watkins this off-season and Reagor would make a great replacement for Watkins.
Collin Johnson is a different type of receiver that isn't found too often in today's NFL. Johnson is a 6'6″ receiver from Texas who can use his height and jumping ability to make any contested catch. Johnson returned to school this season hoping to improve his draft stock, but a loaded class has him projected to be drafted on day-two. His height is rare and he could provide great production for a team who struggles in the red zone. A team for Johnson would be the Pittsburgh Steelers. The Steelers were one of the worst red-zone offenses in football this past season and could use a big-bodied receiver like Johnson to help their offense. Johnson could even make a move to tight end if he wanted to at the NFL level.
Peoples-Jones came to Michigan as a five-star recruit and found himself underperforming on a lackluster offense. He fits best in the slot and has a lot to prove at the next level after his career at Michigan. He has strong competitiveness and it will help him succeed in the NFL. A team that could use Peoples-Jones would be the New England Patriots. New England loves their slot receivers and they always have high usage in their offense. It is uncertain if Tom Brady will be the quarterback for New England, but regardless of that, Peoples-Jones could thrive in the Patriots system.
Tyler Johnson is one of the slot-type, day-two wide receivers who has excellent release. His ability to win at the line of scrimmage allows him to create space at the second level. Johnson would thrive in a pass-heavy offense that likes to air the football. He has secure hands and can get yards after the catch. Johnson would fit well on the Atlanta Falcons' offense. With Julio Jones and Calvin Ridley on the Falcons already, Johnson could fit into the slot and play well with quarterback Matt Ryan feeding him passes. Atlanta has had underwhelming performances from their running backs and uses them in the passing offense to keep them involved. Getting Johnson and committing to an air raid offense could help Atlanta return to the playoffs in 2020.
Main Photo:
Embed from Getty Images