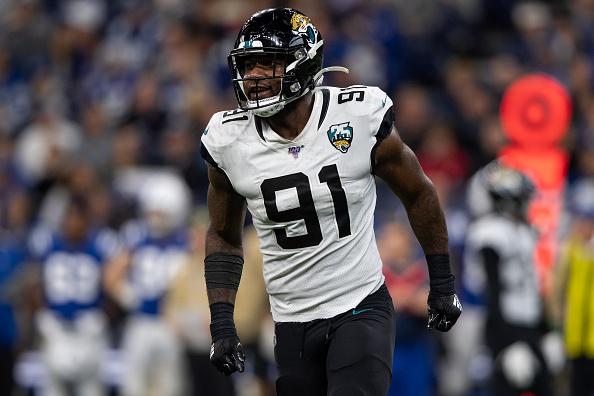 Jacksonville Jaguars defensive end Yannick Ngakoue is set to become an unrestricted free agent when free agency opens on March 18. Ngakoue was the 69th overall pick in the 2016 Draft and played collegiately at Maryland. The former third-round pick has tallied 37.5 sacks in his career, the second-most in team history.
Yannick Ngakoue Free Agent Profile
Ngakoue entered the 2019 season looking to sign an extension before playing. He held out of training camp and threatened to not show up unless a deal was struck. The Jaguars held firm in their position, and Ngakoue finally showed up before the season without an extension. Yannick went on to have a stellar 2019 campaign, recording 41 tackles, 8.0 sacks, four forced fumbles, and an interception returned for a touchdown. After declining to give him an extension prior to the season, Jacksonville has likely squandered any chance of Ngakoue giving the franchise a "home town discount".
Free Agent Landing Spots
Having elite pass rushers is the cornerstone for a good defense in today's NFL. While Ngakoue will have plenty of suitors come March, here are three that stand out above the rest.
Jacksonville Jaguars
Thanks to the Nick Foles deal last offseason, the Jaguars don't have much cap room this free agency. Although Jacksonville could franchise tag Ngakoue, it is risky to assume that he would play under a one-year deal. Given this, the team will have to make some roster cuts in order to free up space for a deal. A few names that have been floated as cap casualties are A.J. Bouye, Marcell Dareus and even Calais Campbell. Dareus and Bouye seem like the most logical cuts, with Bouye coming off a disappointing season and Dareus coming off an injury. Both players can also be quickly replaced this year by means of the draft.
The Indianapolis Colts will enter free agency with a plethora of cap space. The Colts are in need of pass-rush help, and Ngakoue would provide an instant boost. Ngakoue has been as consistent as they come, recording at least 8.0 sacks in all four years of his career. Veteran Justin Houston is in the final year of his deal, and adding another veteran could help the development of young guys such as Ben Banogu.
The Giants will have plenty of money to spend this offseason as they enter the post-Eli Manning life. One spot they will look to add pieces is on the defensive side of the ball. In the 2019 season, the Giants had one of the worst defenses in the league. A big part of this was a lack of defensive talent. The Giants traded for Leonard Williams in an attempt to bolster their defensive line but didn't see the improvement they had hoped for. In addition, Williams was in the last year of his deal and is set to be a free agent this summer. Ngakoue would instantly boost the New York pass rush, and help cover some of the other holes in the Giants defense.
Last Word
Jacksonville has made it clear this offseason that signing Ngakoue is a top priority. After rookie defensive end Josh Allen set a franchise record for sacks, the team will be more willing to overpay Ngakoue to keep the two young premier rushers together. For this to happen, some players will have to become cap casualties in order to free up money.
Prediction
Marcell Dareus becomes a cap casualty, and the Jaguars sign Ngakoue to a long-term deal
Main Photo:
Embed from Getty Images