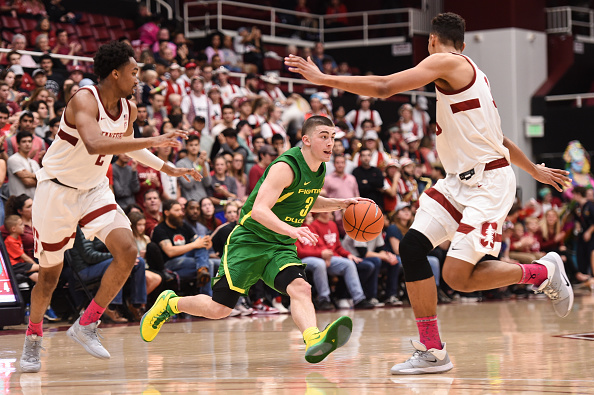 Nine ranked teams go down in yet another crazy Saturday in college basketball. Ranked teams in the SEC, Big Ten, AAC, and Big East went down. The Big East was impacted the most as they had three teams go down. March Madness starts next month yet it seems like it's going on right now. Teams have to take this time to figure out who they are heading into the tournament. 
Nine Ranked Teams Go Down Saturday
#17 Auburn Knocks Off #13 Kentucky
Two ranked teams faced off this past Saturday so at least one ranked team had to go down. Kentucky was the team to lose as Auburn won 75-66. Each team has at least two big performances. Auburn's Samir Doughty and Austin Wiley had great nights. Wiley had a double-double with 12 points and ten rebounds. Doughty didn't shoot particularly well but he got it done at the free-throw line as he knocked down 14-15 from the line. They also had two more starters in double digits. 
Kentucky had two players with 20+ points. Tyrese Maxey had 22 while Immanuel Quickley had 23. This wasn't enough as no other player reached double-digits. It was tough to beat Auburn at home as they proved. Kentucky had a one-point lead going into halftime but Aubrun turned on the jets and pulled away. Kentucky falls to 16-5 while Auburn is 19-2.
Xavier Beats #10 Seton Hall
It was an interesting day in the Big East as the chaos started with Seton Hall going down. Xavier showed their power and the potential they possess to make a run. Xavier was explosive and had two starters with double-doubles in a 74-72 win. Naji Marshall had 19 points with 10 rebounds and Tyrique Jones had 19 points and an impressive 18 rebounds. They also got 14 points from KyKy Tandy off the bench. All three combined to go an impressive 21 for 29 from the field.
Seton Hall didn't have quite the same success. Their best player, Myles Powell, didn't step up at all. He only had nine points with two rebounds and four assists. If he couldn't do it, no one could. Xavier kept their feet on the gas and never slowed down. This is a huge win for Xavier as they hope to gain back the respect that they lost.
Creighton Upsets #8 Villanova
Villanova fell asleep in the first half. They had an awful start as they were down by 12 at the half. Nova rallied in the second half but it wasn't enough as Creighton won 76-61. They got a double-double from Ty-Shon Alexander but the bench, Denzel Mahoney in particular, came through with 21 points. Alexander made five of ten from the field while Mahoney went 8-12. Creighton is a dangerous team as they improve to 17-5 while Villanova falls to 17-4 after a bad performance from most of their starters.
Other Ranked Teams To Go Down
Stanford over #11 Oregon
Wisconsin over #14 Michigan State
Providence over #16 Butler
Cincinnati over #21 Houston
Tulsa over #23 Wichita State
Michigan over #25 Rutgers
Last Shot
There's going to be a lot of turnover when the rankings come out. None of these teams have time to rest as they get back at it against tough opponents and try to redeem themselves. Next Saturday should be even more fun as well with these teams playing really good opponents. It'll be interesting to see where these teams end up.
Main Photo: Embed from Getty Imageswindow.gie=window.gie||function(c){(gie.q=gie.q||[]).push(c)};gie(function(){gie.widgets.load({id:'CGHW_powSuBM8x_nq3xwRA',sig:'r_0gZ1jyteDd-uIBxja9o8c_W_e2HE8zs4PCb–xeOM=',w:'594px',h:'395px',items:'1197968681′,caption: true ,tld:'com',is360: false })});