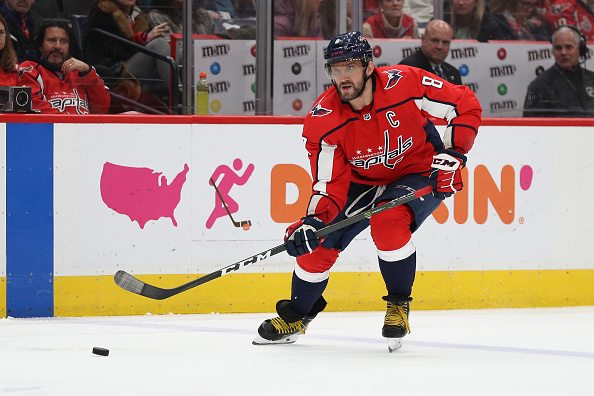 What a week it has been for the great eight. Alex Ovechkin joins elite company throughout the week as he proves why he's one of the best to ever do it. A historic week groups him with guys like Mario Lemieux and Jaromir Jagr. He also ties a great player is a certain category that has everyone talking. Here are the accolades that Ovi has reached.
Alex Ovechkin Joins Elite Company
Getting To The 30-Goal Mark
Ovechkin has been doing his thing for a while now as he hits yet another milestone this week. Actually, he has hit a few this week. Ovi has ten goals in the last six games, including two hat-tricks in a row. His scoring outburst over the past week gets him to the 30-goal mark for the 15th time in his career. He joins the great Jagr and Mike Gartner as the only three players to have 15 straight 30-goal seasons. Ovi wants yet another 50-goal season and if he does, that'll be the ninth of his career. That would be an amazing feat if he gets there and it very well may happen.
Ovi Passes Lemieux And Ties Yzerman
Ovechkin had a hat-trick in a 6-4 comeback win against the New York Islanders on Saturday. He opened the game with a goal and tied Lemieux with 690 goals. With two more goals after that, he passes Lemieux to go into ninth all-time in goals with 692, tying Steve Yzerman. This one is obviously one of the biggest milestones in his career and will soon pass Yzerman into eighth all-time. Before this, in a 2-0 win on Monday against the Carolina Hurricanes, he passed Teemu Selanne for 11th on the all-time goals list so he already experienced something like this earlier in the week. We knew it was a matter of time before he climbed up the list but the question was just when? The answer to that question was answered just five days later.
Who Will He Pass Next?
As long as he keeps playing, he will be chasing records. He still has a lot to catch but he's doing in every season. The next milestone he can reach is Mark Messier's 694 career goals, which will obviously put him seventh all-time. He will have to wait until January 27th when he faces the Montreal Canadiens to continue his quest. With him not playing in the All-Star game, he has plenty of time to rest up for his next game and more.
The Great Eight
To add, Ovi has 25 hat-tricks in his career, tying Maurice Richard for eighth all-time. The weeks he has had are truly amazing. He has had an amazing career and this all coming after a year in 2017 where he won him and the Washington Capitals first Stanley Cup. Ovechkin is still playing at an elite level so it might be a few seasons before he hangs it up. Nobody knows how long he will continue playing but however long he has left, he will keep climbing the ranks in multiple categories.
Main Photo:
Embed from Getty Images