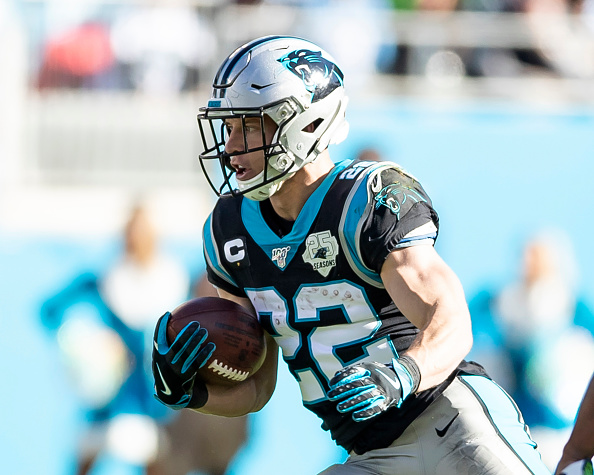 What can't he do? Christian McCaffrey is the third running back in history to get 1,000 receiving and 1,000 rushing yards in a single season. Don't let the lack of a Super Bowl take away from the running back's most successful season (so far). Building a team around McCaffrey could prove to be vital to the Panthers. It seems far-fetched but could be something special.
Marshall Faulk rushed and received for 1,000 yards back in 1999.  He had 1,381 rushing yards along with 1,048 reception yards. Roger Craig, played with the San Francisco 49ers in 1985 when he rushed for 1,050 yards and caught 1,016 more. Neither he nor McCaffrey won a Super Bowl the year they reached the 1,000 receiving 1,000 rushing yard club. But maybe building a team around McCaffrey will elevate him to an MVP-caliber season.
Building a Team Around Christian McCaffrey
Strengthen The Offensive Line
There are three offensive linemen on the Panthers who have made the pro bowl the last 10 seasons. Ryan Kalil was the Carolina Panthers starting center from 2007 until last year when he temporarily retired before joining the New York Jets. Perhaps most of the issues stem from there being a lack of familiarity due to so many changes. It could also be that the guys who were upfront this season weren't the right fit for the Panthers.
McCaffrey, with his 2,392 total yards this season, has made a case for MVP next season if the Panthers can string together the type of roster and number of wins that would warrant him that title. His love and respect for Bruce Lee allow him to "be water" on the field; shapeless and formless flowing or crashing. With a strong offensive line, he could be a record-breaking running back again next season.
Key Players Are A Must
For McCaffrey to be successful, Carolina has to place good players–key players– around him so he only appears as one cog in well-oiled football machine. This allows McCaffrey the freedom to run wheel routes, to fool defenses into thinking he's running wheel routes and to block for the Panthers' receivers as well as he's been known to do.
Curtis Samuel has been up and down since coming to Carolina in 2017 but the Panthers have consistently tried to get him more involved each year. He had just 26 targets in 2017. That jumped a considerable amount in 2018 — to 65 targets. He then had a career-best 105 in 2019. Not to mention the rushing abilities that have allowed him almost 300 more yards on the ground, a welcomed distraction on their offense. But can he sustain for 16 games? He's only had one full season of games played in his short career. To be part of McCaffrey's team, he has to be healthy. But the numbers are there.
Two Wide Receivers Who Could Make A Difference
Building a team around McCaffrey means putting wide receivers around him who are capable of being great distractions.
When you talk about D.J. Moore, you're talking about a player who has mirrored Steve Smith Sr.'s career so far, albeit with turning the ball over a ton, or not. He capped off his second season with the Panthers by adding another 387 yards (788 in 2018/1175 in 2019) to his rookie total. When you look at what he's done in his short stint, you could make a case for him as a consistent target for any quarterback he's given. Give him credit too because he's cleaned up his fumbles as well with just two in 2019.
Right now it's looking like the Panthers are going to pick a defensive tackle or offensive linemen with their seventh pick. Both are dire needs for the team but it shouldn't if they do decide to pick a wide receiver. Moore and Samuel are both viable options for building a team around McCaffrey but they could use some young speed as well. Jerry Jeudy would be a nice addition. The receiver from Alabama would create an extra level of offense though he wouldn't be effective until year two. Possibly the best route runner in the nation right now, he would serve as a distraction for McCaffrey. Now that Matt Rhule is the new head coach, according to multiple sources, he could be just what Jeudy needs coming into this new situation.
The Quarterback Situation Must Be Addressed Soon
Building a team around McCaffrey means making sure the right guy is giving him the ball. Rhule coming to the NFL from the college arena presents a number of different scenarios for the Panthers heading into the 2020-21 season and beyond.
The option that makes the most sense to Cam Newton lovers all around the world are the ones where he assumes the role of starting quarterback next season. He possesses the ability to work within the pocket. His issue, however, is that right now is that he's more successful running. That may not be something Rhule wants out of his franchise quarterback. David Tepper may see things differently. The best thing for Rhule to do is stay true to who he was in college and try to build something with this team. If Newton isn't the answer at quarterback, perhaps they can look at the 2020 draft for a suitor?
Assuming Tua Tagovailova doesn't get picked up before the Panthers pick at number seven, they could be looking at their new quarterback. The injury that ended the 2019 football season for him might raise flags. Having just come off three consecutive seasons of Newton struggling with injury might make them gunshy. Still, Tagovailova is a great prospect even though he probably won't be on the board past the fifth pick.
Panthers Need To Buy-In To McCaffrey
McCaffrey is special but no player can sustain for very long if they are their entire team's offense. This is something he has dealt with for more than half of two seasons. If the Panthers somehow found a way to build a team around him they could be prepping themselves for one of the best careers for a running back this franchise has ever seen
Image Credit:
Embed from Getty Images