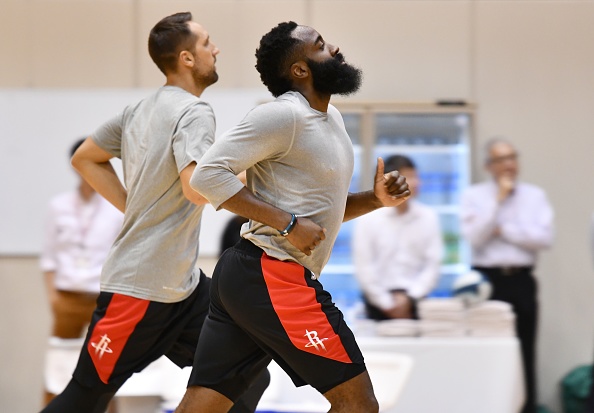 James Harden makes history twice in Friday's win over the 76ers. He has put himself in the MVP conversation year after year and this season is no different. Every year we say he's having his best season but this year truly may be his best. He is averaging an amazing 38.2 points per game, 7.5 assists, 5.8 rebounds, and is averaging 1.9 steals per game for the Houston Rockets. His game tonight was nothing short of amazing yet again. Harden is one of the best if not the best scorer of all time. He is a great player to watch and will continue to shine throughout the season.
James Harden Makes History Twice On Friday
History From Down Town
Harden loves to shoot the three, especially if it's his classic step-back three. He became the eighth player in NBA history with 2,200 three-pointers made. The next player he will need to catch is Jamal Crawford at number seven with 2,220 three-pointers made. Vince Carter, who is still playing with the Atlanta Hawks, is sixth with 2,258 three-pointers made and counting. Harden went 6-12 tonight which isn't bad. When he gets hot at the three-point line, he is very hard to stop. In his past 11 games, he has shot 49.6% from three. If he keeps doing what he's doing, he could very well be top five in that category by the end of the year.
Triple-doubles
Harden has made history when it comes to triple-doubles on Friday. He's not only making history with triple-doubles, but he's also making history with 40-point triple-doubles. Harden now has 12 career 40-point triple-doubles which is second to Oscar Robertson who has 22. He had an amazing night as he scores 44 points with 11 rebounds and 11 assists in a 118-108 win over the Philadelphia 76ers. Harden has always been able to score a lot of points but now he is adding to his game with assists and rebounds. 
Last 11 games
Over his last 11 games, Harden is averaging 39.3 points per game with 5.8 rebounds and 7.7 assists per game. He's hitting 49.6 three-pointers as mentioned earlier and an overall shooting percentage of 52.3. The Beard has also made at least half of his shots in a career-high seven consecutive games. James is cooking and nobody can stop him right now.
MVP
Harden is making a very good case for MVP this season and if he keeps this up, he could very well win it. Headed into tonight, NBA.Com posted their updated MVP ladder. Harden was third behind "The Greek Freak" Giannis Antetokounmpo and Luka Doncic. All three of these players are very deserving of the MVP right now if they all played like this for the rest of the year.
Harden has been runner up for the MVP for the past several years and finally won it for the 2017-18 season. He was close last year and could very well win it this year. He is at the point where he has been unguardable. He's getting double-teamed more than anyone he is so dangerous. Even with that, he is still getting to the rim with consistency. He became the leading scorer in this past decade which says a lot about him as a player. He is one of the greats for sure and people get to see it a night in and night out.
Main Photo:
Embed from Getty Images