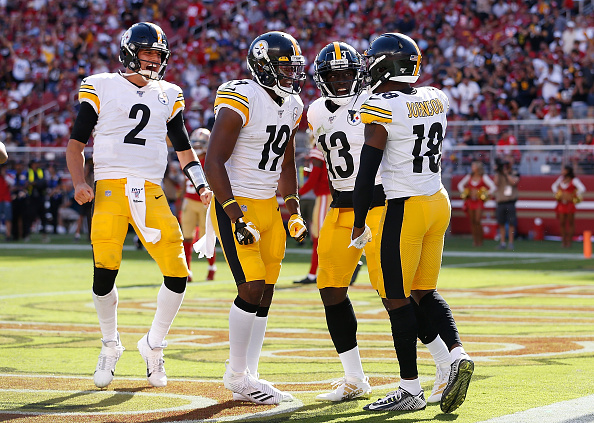 Coming into the 2019 NFL season, the Pittsburgh Steelers were prepared to embark on a new journey; a season without potential Hall of Famers Antonio Brown and Le'Veon Bell. The Killer B's had unfortunately split up, leaving much uncertainty throughout the offseason and question marks about winning the AFC North. Mike Tomlin and company embraced their new culture and remained confident that they would return to the playoffs. Despite coming one game short a season ago.
Led by their new star trio, Ben Roethlisberger, James Conner, and JuJu Smith-Schuster, Pittsburgh had their eyes set on dethroning the former AFC North title champs—the Baltimore Ravens—and reclaiming the division for themselves once again.
The Downfall
After being massacred opening week on Sunday Night Football by the New England Patriots, the team dealt with more devastating news after their week two loss to Seattle. Big Ben injured his right elbow in the second quarter and, ultimately, required season-ending surgery. Backup quarterback Mason Rudolph finished out the game completing 12-19 passes with two touchdowns and one interception in a 28-26 loss. A relatively understandable performance due to the fact that Rudolph had no intention of playing a snap.
With the injury to Roethlisberger, all members of the Killer B's now cease to exist in Pittsburgh—for the remainder of this season.
The Steelers failed to win the following week on the road against the undefeated San Francisco 49ers. The run game was abysmal and despite a 76-yard touchdown from Smith-Schuster, he was also held in check throughout the game, finishing with 3 catches for 81 yards. Conner had struggled thus far looking like a shell of himself from the year prior, currently averaging 3.2 yards per carry. He coughed up the football late in the fourth quarter which led to the game-winning five-yard touchdown pass from Jimmy Garroppolo to Dante Pettis.
Pittsburgh lost 20-24 in another close one and fell to 0-3.
The Uprise
Their next matchup was against their division rivals and neighbors at the bottom of the division, the Cincinnati Bengals. The two 0-3 clubs faced off on Monday Night football. The Steelers won this game convincingly 27-3. More importantly, they showcased a new style of football while improving to 1-3.
This game featured an offensive game plan that catered to Mason Rudolph's skill set. A few crossing plays, a new wildcat scheme, screenplays, and numerous hitches. It was apparent that the offense was built to get Rudolph comfortable and into a rhythm early with quick and decisive plays.
In years past, when Roethlisberger would encounter an injury, Mike Tomlin would simply plug in a new quarter to replicate his production. Meanwhile, maintaining his traditional Steelers offense. The next man up mentality. Quarterbacks like Charlie Batch, Byron Leftwich, and Dennis Dixon all had success in replacing Big Ben.
However, we're in a new era of football. A generation that relies heavily on your ability to pass the ball and generate offense. Tomlin wisely realized that changing his game plan and playing off of the quarterback's strengths will give his team a greater chance to win. As opposed to depending on these young skill position players to elevate Rudolph's play.
The quarterback did not disappoint. He finished the game 24-28 passing, throwing for 229 yards with a passer rating of 124.6. James Conner rebounded with 10 carries for 42 yards while catching eight passes for 83 yards and a touchdown. Other players stepped up as well, Jaylen Samuels compiled 83 yards from scrimmage and Diontae Johnson hauled in a 43-yard pass leading to a score. I expect this trend to continue.
Defense Stepping Up
But, most importantly, the defense stepped up and displayed the talent that they possess with their eight first-round picks.
Over the last two games, the Steelers have a combined nine sacks, three interceptions, and four fumble recoveries. It appears that they have finally sorted out their issues and found some chemistry. I firmly believe that their defense suffered in large part due to the ineffectiveness and inconsistencies from the Pittsburgh offense.
Those issues should disappear if the Steelers continue to maximize Mason Rudolph's talents.
Looking Forward in the AFC North
With their victory, they currently place only one game out of the division lead held by the 2-2 Cleveland Browns. Despite all of their unfortunate mishaps, this team is in a good position to steal the title after blowing out Cincinnati and losing two close ones against Seattle and San Francisco.
This week they host the Ravens in a division altering game. The Cleveland Browns will travel on the road to face the undefeated 49ers. So, when all is said and done, this unlucky Pittsburgh club could wind up leading the division.
The Ravens suspect defense and the Browns horrible offensive line will give the Steelers a chance to snag the AFC North title. The NFL season is a long and grueling one and many things can happen.
Big Ben is out but Pittsburgh isn't. Mike Tomlin has never posted a negative record and don't expect that to change this season. Being the historic and storied franchise that Pittsburgh is, they'll reassuringly find a way to reclaim the AFC North title.
Main PhotoEmbed from Getty Images