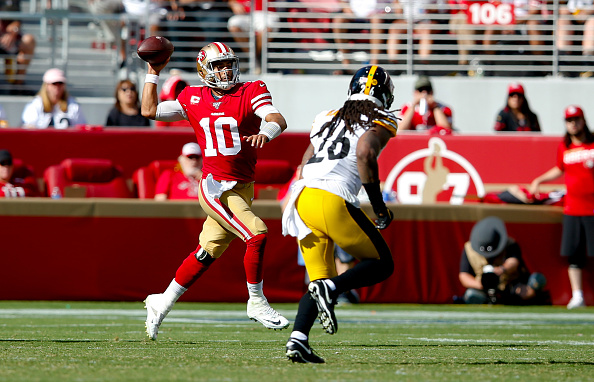 Week 3 in the NFL was one for quarterbacks; holding true for the Pittsburgh Steelers vs. San Francisco 49ers game. More specifically which quarterbacks are still here and which are out for multiple reasons. All of that aside, one of these teams is running strong and the other is still trying to find their footing. Here are three takeaways from the Week 3 matchup between the Steelers and 49ers.
Week 3 Takeaways: Pittsburgh Steelers vs San Francisco 49ers
Moving on Without Big Ben
Not one team wants to have to deal with the fact that their future Hall of Famer and franchise quarterback is out for the rest of the season, but here we are. Ben Roethlisberger had surgery on his elbow this week, while successful, will keep him out for the entire season. The Steelers, can pack in their entire season or get up off the dirt and move forward.
Of course, they are moving on, but those are some big shoes for young Mason Rudolph to fill. So is he up to the job? Those who want instant results or are very nervous without Big Ben on the field are saying no. However, one needs to look at the whole package. This week was only Rudolph's first start and as a whole, he did well. Rudolph is going to need at least another game or two to develop his style of leadership over the team.
To quote Richard Sherman of the 49ers, "They weren't in sync. Ben makes a lot happen off schedule by running around & being creative. People think it's bad, but it's a big thing for them, & they were missing it. I'll say this: you don't understand what you've got till it's gone." Every team that is scheduled to play the Steelers this year sees this and thinks it is their weakness. Until Rudolph fully takes the reigns and leads the team into battle, it will be a fault that will lose games.
The Era of Garoppolo?
Is Jimmy Garoppolo the real deal? In a week of so many quarterback questions, he shouldn't be ignored. His career hit a bump when he was out for the season with an injury, but now he has a chance to cement his place in 49ers history. A 3-0 start is certainly a great way to start his year. He is getting the chance in San Francisco that he never would have gotten with the New England Patriots. The team is melding around him and becoming a well-oiled machine.
Next week is only the fourth week of the season and the 49ers have an early bye this year. The bye week can sometimes make or break a team. An early bye week can sometimes cool off a hot start, so head coach Kyle Shanahan will have to keep the train on the track to keep the momentum going by week five.
Week 4 Expectations
While Garoppolo will be resting, many eyes will turn to Pittsburgh to see Rudolph in his home stadium debut as a starter. Even though he hasn't come up with a win yet, he has shown talent that can be honed. While the quarterback position is very important, some are putting the losses on Coach Tomlin. One of the strengths of the Steelers is the fact they have had only three head coaches in 50 years. While some may throw the blame at Tomlin, odds are here is here for many years to come.
Image credit:
Embed from Getty Images