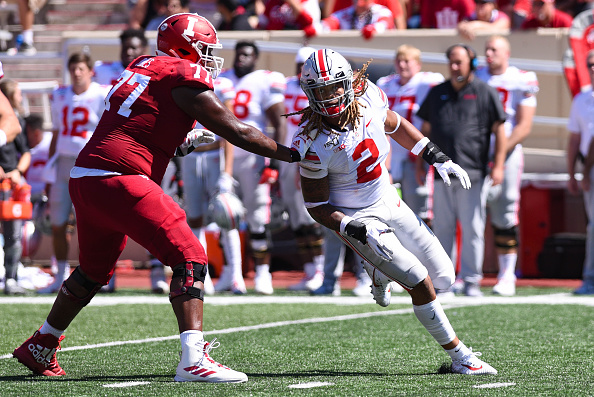 The college football season is flying by as week four has just ended. There were some great games on Saturday, we saw some upsets and thrilling games. Pittsburgh upset Central Flordia 35-34, UCLA rallied back after being down 32 points to beat Washington State 67-63 on the road. No, that's not a typo. Notre Dame lost another game against a top 10 opponent, this time against Georgia on the road. Joe Burrow continues to raise his draft stock with another stellar performance and Chase Young has shown why he's the best defensive prospect in the 2020 NFL Draft. Here's a look at some takeaways from college football week 4.
College Football Week Four Takeaways
Chase Young Is Sitting Pretty at the Top of the Draft Board
Chase Young has dominated this season with seven sacks so far and 10 sacks in his last six games. There isn't a prospect in the 2020 class playing better than him right now. He's been a man on a mission and it looks as if he's gotten better. His rare combination of size, speed, and athleticism has been on display through just four weeks. It shouldn't be surprising if we hear his name called first overall in next year's draft.
It's Time We Take Joe Burrow Serious as an NFL Prospect
Every year there's always one prospect that rises up draft boards with elevating play. In 2019 that has been Joe Burrow. This new LSU offense has done incredible things for Burrow. He set a record versus Vanderbilt with six passing touchdowns. Burrow looked great all game as he went 25-34 for 398 yards, averaging 11.7 yards per attempt. Through four games he has 17 passing touchdowns and 1,520 passing yards. Don't look now but Joe Burrow could be Heisman front runner. Burrow has the tigers at 4-0 and ranked sixth in the country heading into week five.
UCF Winning Streak Comes to an End
UCF lost a close game on the road to Pittsburgh on Saturday and I'm sure people are letting them hear about it. The Knights had won 27 games in a row before this loss. Some thought this could be the year they could make the College Football Playoff had the streak continued. With a fairly easy schedule for the remainder of the season, it's possible they could win out and make a New Year's Six bowl game. Assuming of course that they are the highest-ranked Group of Five Team. Boise State might have something to say about that but we'll see.
California Leading the Pac 12-North
The Golden Bears are leading their division with a 4-0 record to start the season. They haven't had too tough of a schedule out, so the jury is still out on this team. With their next two games coming against Arizona State and Oregon on the road we will see if this team is the real deal.
Final Take
We have a lot to look forward to next weekend in the college football world. Mississippi State goes on the road for a tough test against Auburn, Ohio State has an away game against Nebraska, Washington State will face Utah on the road, and USC also has a road game against Washington. It feels great to say that college football is back.
Main Photo:
Embed from Getty Images