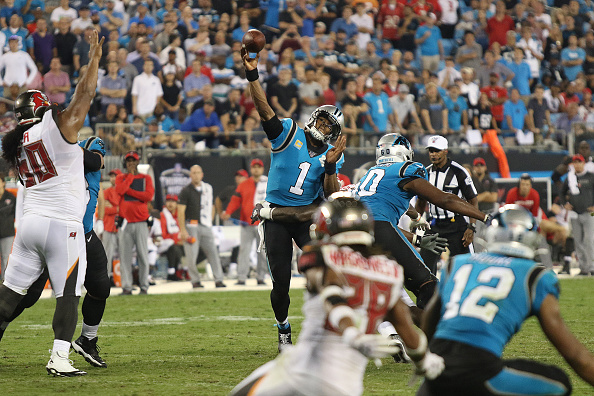 This isn't the first time the Carolina Panthers face an 0-2 start, yet fans are already calling for Cam Newton and Ron Rivera's jobs. Simmer down everyone it isn't over just yet. Obviously, there are plenty of factors that the Panthers must overcome to avoid an 0-3 start. Let's take a look at three of them.
Three Factors Carolina Panthers Overcome to Avoid 0-3 Start
Panthers' fans' worst fears are coming true as the Atlantic's Jourdan Rodrigue reported that Newton re-aggravated his foot sprain from three weeks ago. Rivera is optimistic about his recovery but in the meantime is looking for Allen to step up and be the go-to number two. Although his sample size is small, Allen won the only game in the second half of the Panthers 2018 season. His stat line was 16/27 completions for 228 yards, two touchdowns, and even one rushing touchdown. Not sure of the timetable for when Newton will return–and if he and the franchise is smart they will shut him down for the season–so the team will be in Allen's hands. Now would be the prime time to show them what he can do.
Rivera told Charlotte Observer's Brendan Marks he thinks Allen did some things last year to prove that he. was ready to run this team in the event that Newton would not be able to go. Well, looks like Allen will get the chance on Sunday. If the Panthers want to avoid an 0-3 start, Allen will have to step up for sure.
The Defense Has to Be Suffocating
It's no mystery that the defense has been the most vital part of the team over the last decade (maybe more) with its bullish front line and ball-hawking linebackers. You could even sprinkle in some high flying secondary at times. The Carolina Panthers need to Overcome a lot but one thing for certain, the defense has to suffocate the Arizona Cardinals on Sunday. It's going to be tough because Kyler Murray, Arizona's rookie quarterback, though short, can move quickly and has learned how to get the ball out quick. The one thing the Panthers have going for them is that Arizona's offensive line has struggled so far in the first two games.
Carolina's defense has done a lot the first two games trying to help their team out. James Bradberry has the lone interception so far this year, and Brian Burns is working those hands upfront getting to the quarterbacks. They have to do more though if the Panthers hope to come away with the win.
Special Teams a Welcome Surprise
One part of the football team that is seldom talked about but that is also vital to the team's success is special teams. Punters get the least respect of any of the players on the team but Michael Palardy is known for punts pinning players within their own five-yard line. Joey Slye will be another important factor in this game. He has taken over since Graham Gano went on injured reserve and is perfect in extra point made and near-perfect in field goals made (only missing one). His leg is big and the Panthers may need it in this game against the Cardinals who are looking to improve from last season so they will not be pushovers.
How do the Panthers overcome the obstacles?
Carolina has to figure out who they are as a team. Now that Newton is out, at least for this week, it's time for them to step up as a team. This is no small task for this battered up team. It will be interesting to see how this team will respond to this diversity.
Christian McCaffrey will need help from his team if he hopes to be an important part of their offense without Newton. Sunday will be the biggest test of the Panthers' season. How do they respond?
Main Photo:
Embed from Getty Images