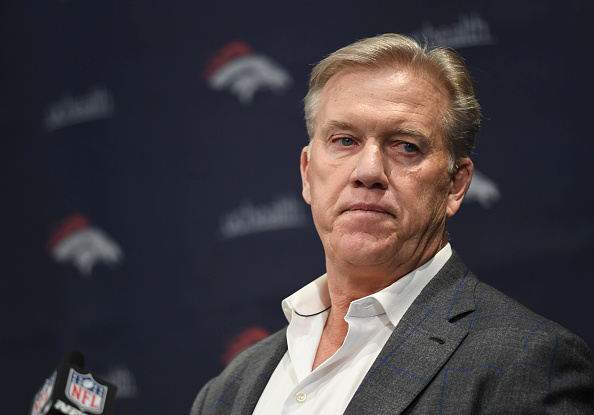 John Elway the player is a Hall of Fame legend to the entire NFL. John Elway the executive, on the other hand, has experienced peaks and valleys which reached its apex in 2015.
Since Peyton Manning retired, the Denver Broncos have seen a significant decrease in success. After losing to the Chicago Bears Sunday, the Broncos have gone 20-30 since winning Super Bowl 50 and have missed the playoffs each season. Conversely, Denver went 50-14 during Peyton Manning's tenure.
Evaluating John Elway the Executive
Built Up Equity
When Elway was hired as Director of Player Personnel, he inherited Tim Tebow and Kyle Orton. Everyone who paid attention to the team knew Elway wasn't thrilled about the quarterback situation. The Hall of Famer had equity in evaluating quarterback talent in essence because of his own talent level. Two super bowl rings for the organization certainly added value to Elway's name. The first order of business was to cut ties with Tim Tebow. It didn't matter that Tebow was a young player who had just defeated the Pittsburgh Steelers in the playoffs, Elway wanted a legit quarterback.
When the Indianapolis Colts decided to move on from Peyton Manning, John Elway was there to scoop him up. This was the legit quarterback that would lead the team to the Promised Land. However, Manning was a shell of himself and Denver's super bowl victory wasn't due to Manning's arm, but rather the defensive performance.  Nevertheless, Elway was once again hailed as the Broncos' savior.
John Elway Can't Find a Franchise Quarterback
Since 2016, Broncos fans have rooted for five starting quarterbacks in four seasons.
Seventh-round pick Trevor Siemian won the starting job in 2016 and helped lead the team to a 9-7 record. Don't be fooled, his output wasn't great. Siemian finished the season with 18 touchdowns and 10 interceptions and a completion percentage of only 59.5%.  While Siemian outperformed the shell of Manning, he wasn't the answer at the position. Siemian was benched and eventually traded to the Minnesota Vikings for a draft pick.
Brock Osweiler returned to the Broncos in 2017 due to injuries and performance issues at the position. Osweiler put up a donut going 0-4 in his starting duties.
Paxton Lynch was a certified backup who was forced into action due to injuries to Brock Osweiler and Trevor Siemian. After appearances in a total of five games with four touchdowns and four interceptions, Lynch was cut in 2018.
Case Keenum saw success in Minnesota in 2017, posting an impressive 11-3 record as a starter. Keenum put up solid numbers passing for 3547 yards and 22 touchdowns. Not a jump off the charts numbers, but enough to satisfy the need for a game manager, or so Elway thought. Keenum's record was 6-10 and threw for 18 touchdowns and 15 interceptions.
Enter Joe Flacco. Flacco was traded to the Broncos so that the Baltimore Ravens could usher in Lamar Jackson. Elway figured to have another Peyton Manning situation fall right into his lap. A former super bowl MVP who still has some gas in the tank. After two weeks, the Broncos are 0-2 and Flacco has only thrown two touchdowns in a pass-heavy league.  Maybe the kinks need to be worked out, but this has the writings of an all too familiar story.
Summation of Evaluation
I'm going to give John Elway the executive a C- and only because he managed to seek out a super bowl. John Elway is the Michael Jordan of the NFL. Great playing careers, but both have been notably poor in their current roles. Elway's sole responsibility is finding the franchise quarterback for the next decade and has failed miserably. The question now is how long will that built up equity last with the Broncos and fans.
Main Photo:
Embed from Getty Images