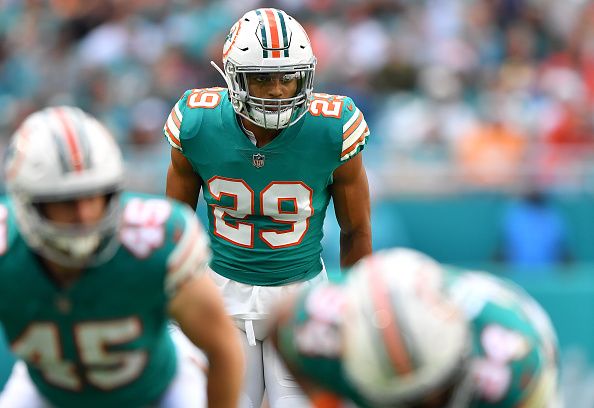 A Minkah Fitzpatrick trade has been granted permission to seek a trade with a new team and it appears there are quite a few teams that are interested in the second-year player. Fitzpatrick is a versatile player who can line up at multiple positions on the field. He's able to play safety, corner, nickel corner, and linebacker. However, he may be best suited to play safety or slot cornerback going forward. Fitzpatrick has a special set of skills that every team in the NFL can use. No, every team will not attempt to trade for him but they should. The kid is just that good. I'm not sure what the Miami Dolphins asking price is for Fitzpatrick but I'm sure they are going to want a first-round pick.
5 Potential Minkah Fitzpatrick Trade Partners
Philadelphia Eagles
The Philadelphia Eagles need more depth in their secondary and Fitzpatrick would be a great fit. He would be an immediate upgrade for the Eagles who could use another slot corner or safety. The Eagles are a legit Super Bowl contender and making this move would solidify the backend of the defense. It would be a good move for Fitzpatrick as well and potentially a match made in heaven.
Pittsburgh Steelers
The Pittsburgh Steelers got lit up through the air in Week 1 and I expect that trend to continue against high powered offenses. The secondary could use a versatile player like Fitzpatrick to come in and boost this defense. Morgan Burnett didn't work out and Sean Davis has dealt with some injuries. Fitzpatrick could answer the depth questions for the Steelers at safety and corner.
New York Giants
The New York Giants are great for a player like Fitzpatrick. This defense needs a slot corner who can handle multiple responsibilities. The Giants look to be in rebuilding mode and Fitzpatrick would be a good centerpiece to build around on defense. Adding him to this secondary that already has some solid talent would be huge.
Kansas City Chiefs
The Kansas City Chiefs are also another team that is in win-now mode. They spent money on a huge signing in Tyrann Mathieu and Morris Claiborne. The secondary has been the glaring weakness for this team and it still needs to be addressed. Imagine this Chiefs secondary with Mathieu playing safety and Fitzpatrick at the slot corner. Claiborne will return from suspension and this secondary could not be so weak after all. The Chiefs are a legit Super Bowl contender and adding a young talent like Patrick could get them even closer to their goals.
Los Angeles Chargers
Once again the Los Angeles Chargers are bitten by the injury bug to begin this season. Derwin James will miss six to eight weeks with a foot injury and Trevor Williams was also placed on injured reserve. As you can see the secondary is a tad bit thin. When and if James returns from injury, the pairing of him and Fitzpatrick would be deadly. Let's not forget Adrian Phillips, Nasir Adderley, and Casey Hayward. This would easily be the best secondary in football.
Final Take
Fitzpatrick is a young stud who is primed to have a great career. Teams are ready to make a trade for the young star, it's just a matter of the asking price. He has a rare set of skills that will fit any defensive scheme right away. Now that a trade deal is granted, it is a case of waiting to see just which team will snap him up and make use of his burgeoning talent in the NFL.
Image Credit:
Embed from Getty Images