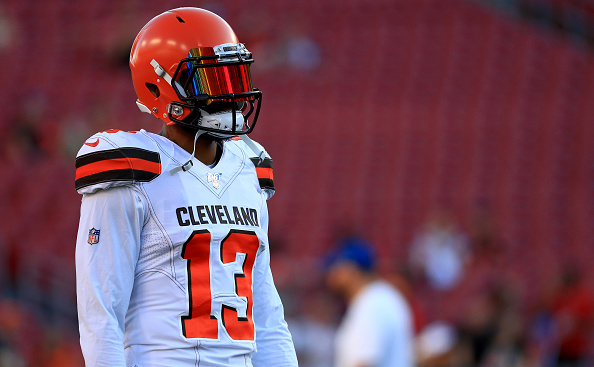 We are finally coming up on the first week in the National Football League and there is so much to unpack. But let's start with who will be playing in different uniforms. There are plenty of players to watch. Let's look at the top five new team debuts to look forward to in week one that is highlighted by Odell Beckham and his highly anticipated debut with the Browns.
Odell Beckham Highlights New Team Debuts For Week One
Formerly of the New York Giants, Beckham will now be the new starting wide receiver for the Cleveland Browns. He had just signed a mega-contract with the Giants in 2018 for five years, $95 million, with $65 million guaranteed before being traded. And what was supposed to be a new start for he and the Giants, came to an abrupt halt at the end of the 2018 season.
Now, as a new target for Baker Mayfield, Beckham adds another layer to an already dynamic offense. Lining up across from Jarvis Landry gives Mayfield an entire field to look at. There's also Kareem Hunt coming out of the backfield and Nick Chubb among other players featured on defense. The Browns should win at least seven games this season, if not more, with the updated roster.
Brown was traded to the Oakland Raiders earlier this year. The trade was for two 2019 draft picks in the third and fifth rounds. Conversely, Brown will receive $50 million of which $30 million will be guaranteed.
It was not an amicable breakup between Brown and his former quarterback. Toward the end of the season, they argued to the point of Brown skipping practice and ultimately being ruled inactive for the game against the Cincinnati Bengals, according to the report.
It seems as though he has already caused quite a stir since coming to the Raiders. First was the report of "extreme frostbite" from his Cryotherapy treatments. Once it seemed like he was over that, came his helmet grievance that lasted for a few weeks.
Now that it seems to be behind him, he can focus on performing for his new team. The Raiders seem to be behind him as a franchise and it definitely seems like he has something to prove to the Pittsburgh Steelers. What better way to do it than on Monday night against the Denver Broncos?
The other half of Pittsburgh's former one-two punch was Bell. He amassed over 5,000 yards while with the Steelers including back to 1,000-yard seasons in 2016 and 2017. In 2018, he sat out the entire season (which disappointed a lot of fantasy teams) and left him unpaid. When he was finally able to, he signed with the New York Jets.
This is a good move for Bell because he essentially gets to come up with a young quarterback who will lean on him while he's trying to get settled behind his offensive line. Bell still has a few years until he's 30 and still has a lot to prove. Maybe he gets a chance to do that with the Jets.
In probably one of the more surprising moves, Shady McCoy was released by the Buffalo Bills after four years as their running back. And though it was shocking, he soon found a home with the Kansas City Chiefs and his former coach, Andy Reid. Shady was not without his problems in Buffalo which some suspect was the ultimate reason for them releasing him. That on top of the fact that he didn't score a touchdown in 2018.
McCoy hasn't had a fair shake since the Chip Kelly saga of 2014. He had a few decent seasons with the Bills but now he gets to replace what was a major hole in the Chiefs roster. Filling Kareem Hunt's spot will be the confidence boost shady needs. Plus, Patrick Mahomes isn't too bad of an addition either. The Chiefs won't see the Bills or Philadelphia Eagles during the regular season but if the postseason is played right, either team could see their former running back.
This was another surprise move but at least he got to go where he wanted. Clowney was traded to the Seattle Seahawks, as first reported by ESPN's Adam Schefter. He was up and down with the Houston Texans during his five seasons there and only played one full season. That didn't stop him from having pro bowl seasons in 2016, 2017 and 2018.
Now, as a member of the Seahawks, Clowney gets the opportunity to play for a new coach and bring a dominance that the team has been lacking. He's joining defensive ends Ziggy Ansah and L.J. Collier who hope to revive the pass rush they may have been lacking. This is definitely a welcome sight for Seahawks fans and sportswriters alike.
Same Stars, Different Uniforms
While we are likely to still recognize these guys, the truth of the matter is that they will be playing on different teams come week one. This might be a fresh start for some guys, while it may be the last chance for others. Either way, week one will make for some exciting football. Welcome to week one of the NFL.
Main Photo:
Embed from Getty Images