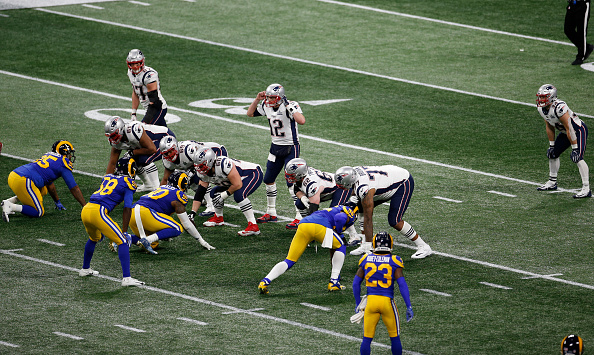 With the 2019 season on the horizon, NFL predictions are common across the internet. Looking back at my predictions from last year made me want to try again. This should be another exciting season and a fitting way to celebrate the NFL's 100th anniversary. Here are my predictions for the upcoming season, concluding with the playoffs and Super Bowl.
2019 NFL Predictions Part Three: Playoffs
NFC: When The Saints Come Marching In
New Orleans Saints (13-3)
2. Los Angeles Rams (11-5)
3. Green Bay Packers (10-6)
4. Philadelphia Eagles (9-7)
5. Seattle Seahawks (10-6)
6. Atlanta Falcons (9-7)
Wildcard:
Packers vs Falcons, Packers Win
Eagles vs Seahawks, Seahawks Win
Packers get home-field advantage and use it wisely: the Falcons can't handle the Frozen Tundra. Rodgers has proven to be dangerous when it matters and ends Atlanta's season. Seattle has what it takes to upset the Eagles in Philadelphia, and the Eagles aren't as strong as they were in 2017. Upsets usually happen during Wildcard weekend, and this is a great example.
Divisional:
Saints vs Packers, Saints Win
Rams vs Seahawks, Rams win
The Saints are the favorites for a trip to Miami and prove it by cruising past Green Bay. If this was five years ago it would be closer, but New Orleans roster has more depth and it's the difference. In their final game in the Coliseum, Los Angeles ends it on a high note. The Rams will be motivated to reach the Super Bowl again and should beat their division rival rather easily.
NFC Championship:
Saints vs Rams, Saints Win
In a rematch of last year's NFC Championship, the Saints use the missed call as motivation and get revenge. This time, however, a blown call isn't the difference in the game, the Saints come to play for four quarters.
AFC: When In Doubt, Play It Safe
New England Patriots (13-3)
2. Indianapolis Colts (11-5)
3. Los Angeles Chargers (11-5)
4. Pittsburgh Steelers (10-6)
5. Kansas City Chiefs (10-6)
6. Houston Texans (10-6)
Wildcard:
Chargers vs Texans, Chargers Win
Steelers vs Chiefs, Steelers Win
If Los Angeles is going to get Rivers a championship, it's now or never. They have a lot of talent on both sides, more so than Houston right now. This could be a close game, but the experience of Rivers is the difference. Kansas City should be a tough opponent for Pittsburgh. However, home-field advantage makes the difference. I trust the Steelers offense to make a big play more than the Chiefs defense, and that's what gives them the edge. Try and find NFL predictions that don't have Kansas City winning this matchup.
Divisional:
Patriots vs Steelers, Patriots Win
Colts vs Chargers, Colts Win
The Patriots don't lose at home in the playoffs often, and the Steelers don't appear to be an exception. New England is 3-0 in the Brady era vs Pittsburgh in the playoffs, and I would be shocked if it doesn't improve to 4-0. If Luck is healthy the Colts have what it takes to win the AFC. This game could go either way but Indianapolis gets a close win. There is no one in the NFL besides Larry Fitzgerald who deserves a championship more than Philip Rivers. Unfortunately, he will have to wait another year.
AFC Championship: Deflate or Not Deflate, That Is The Question
Patriots vs Colts, Patriots Win
In a rematch of the infamous Deflategate game, the Patriots show why they rule the NFL. This time, however, the Colts can't use deflated footballs as an excuse. New England won the 2014 game 45-7 so imagine what they can do with inflated footballs. This is an example of no Gronk, no problem as the Patriots advance to their fifth Super Bowl in six years. These are the most conservative NFL predictions, but it's as safe as any there is. After Super Bowl 51, I learned to never doubt the Patriots and have picked them without a doubt ever since.
Super Bowl LIV
Saints vs Patriots, Saints Win
New Orleans is going to celebrate the 10th anniversary of Super Bowl 44 in style. Drew Brees matches up against Tom Brady in the best quarterback matchup in Super Bowl history. This should be an exciting game with two great offenses. However, the defense becomes the difference. While the Saints secondary struggled last season, they will rebound and make a play when it matters. New England can be beaten and has lost recently in this game. If Nick Foles can beat them there's no reason that Brees can't do the same. I believe the Saints win this game in the fourth quarter and win another championship.
Who Dat: The Champs
If this becomes a reality, what a year for New Orleans. After the infamous blown no-call a year prior this would be a great redemption story. Add the fact that their NBA franchise has Zion Williamson, one of the biggest names in sports and the city will be partying for a long time. This should be an exciting NFL season, and will hopefully be a great way to celebrate the NFL's 100th anniversary.
Main Photo:
Embed from Getty Images