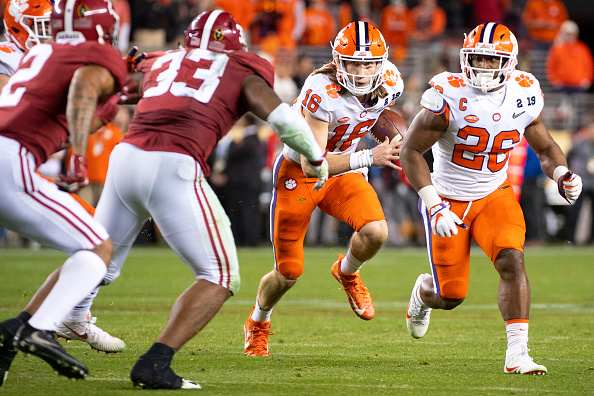 College Football is upon us and it's time to take one last look at who has the best odds to win the National Championship. There are some usual suspects at the top of the list like Clemson and Alabama but which teams are after those two? The three teams after the big dogs are not surprising and have the talent but again, can they beat Clemson or Alabama? Here are the teams who have the best odds.
Five Best Odds To Win The College Football Playoff
Ohio State (14/1)
The Urban Meyer era has ended at Ohio St but they are still top-five favorites to win the National Championship. They still have some great talent displayed on the field led by Chase Young and Jordan Fuller on defense. On offense, they have running back J.K. Dobbins who rushed for over 1,000 yards in his first two seasons and ran for ten touchdowns a season ago. They also have transfer quarterback Justin Fields from Georgia. He wasn't going to get a lot of looks at Georgia because of quarterback Jake Fromm. Fields isn't a lock to be great but if he can do what many project him to do then Ohio State can contend for that National Championship.
Michigan (12/1)
Ohio State's rival Michigan is just ahead of them with the best odds to win the National Championship. Head coach Jim Harbaugh and Michigan need to get something done this year. They have been good every year under Harbaugh but they never have transitioned into a National Championship contender. When people talk about them and have high hopes they just can't get it done when it matters. Michigan has a great offensive line and with quarterback Shea Patterson under center, this team could be a contender. We all know about the defense. It will probably yet again come down the Ohio St and Michigan for the Big Ten Championship and whoever wins that just might get into the playoffs.
Georgia (6/1)
The Georgia Bulldogs are the number three team to start the season and have the third-best odds to win the National Championship. Georgia has a chip on their shoulder after losing out of the playoffs last season. Jake Fromm is entering his junior year and seems to be getting better. Running back D'Andre Swift looks like a force in that backfield and J.R Reed and the rest of the Georgia defense looks to lock opponents down yet again. They have what it takes to get past Alabama but they finally need to show it.
Clemson (9/4)
The defending champions look to go back-to-back this year and they have a pretty good chance. Quarterback Trevor Lawrence is in another world. He is probably the best at his position and if somehow he didn't prove it last year as a freshman, he will again this year as a sophomore. He has great talent at wide receiver to throw to like Tee Higgins and Justyn Ross. They have a top ten Heisman candidate at running back in Travis Etienne. They have a lot of weapons and very well could be the best yet again.
Alabama (9/4)
Alabama is tied with Clemson for the best odds to win the National Championship. There's no surprise here as these two are the top dogs in College Football. With the connection of quarterback Tua Tagovailoa and receiver Jerry Jeudy, this team is a dangerous one. Their running game with Najee Harris should dominate once again. Their front seven led by Dylan Moses and Anfernee Jennings should terrorize teams. Clemson and Alabama both have skill at every position and it would be surprising if these two teams don't meet up again for the National Championship.
Other Teams With The Best Odds
Oklahoma (16/1)
Texas (25/1)
Auburn, Nebraska (30/1)
Florida, Oregon (40/1)
Notre Dame, Washington (50/1)
Texas A&M (60/1)
Main Photo:
Embed from Getty Images