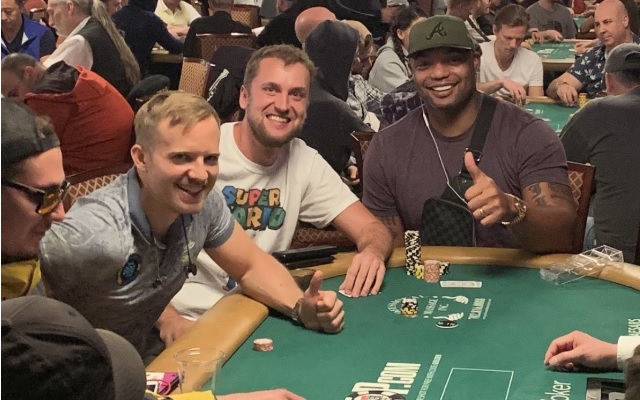 Richard Seymour needs no introduction to NFL fans. At 6'6″ and a weight of 317 lbs, this NFL star enjoyed the limelight for 12 seasons. He began his career in 2001 with the New England Patriots and stayed with the team through 2008. In 2009 he transferred to the Oakland Raiders where he played for four seasons. By the end of his illustrious career, he made 496 tackles, 57.5 sacks, four forced fumbles, and two interceptions. Celebrity Net Worth lists his personal fortune of $21.6 million, thanks in large part to his $30 million contract with the Oakland Raiders in 2011. At his peak, he was the most valuable defensive player in the NFL. Many football fans regard him as one of the finest defensive linemen in the game.
Heads Up – Here Comes the Switch!
It is somewhat surprising therefore that this NFL superstar decided to hang up his boots and switch to professional poker of all things. Such is his poker pedigree that he competed in the 2019 World Series of Poker (WSOP) – an annual event hosted at the Rio All-Suites Hotel and Casino, in fabulous Las Vegas Nevada. With 8569 players competing for their share of $80 million, Richard Seymour finished at #131 with a sizeable payday of $59,295. His experience with poker began years earlier with his father. Mr. Seymour Sr. was an avid video poker enthusiast. After getting a feel for the game, the young Seymour decided to crank it up a notch in competitive poker. Since he already has a knack for high-stakes competitions, he decided to put his energy into the mental game where his true strength lies.
In his own words: '… Once you're done playing football you still have a competitive drive… Poker is an outlet for me where I have a competitive drive, you have to be very cerebral. It requires a lot like it did for me in football – I have to be patient…'.   What's particularly impressive about his recent run at the WSOP was how quickly he built up his chip stack. Everyone starts the contest with 60,000 chips. Seymour managed to build his stack up to an impressive 3.6 million chips in double-quick time. He believes that the mental aspect of poker is where your true strength needs to lie. It's about whittling down your opponent's stack, while biding your time for a good run. He tends to agree that poker is a mind game with mental acuity accounting for much of your success in the tournament.
Seymour Scoops up $375,000 at a Poker Tournament in the Bahamas
Many amateurs tend to forget that the most experienced poker players sit out more hands than they play. The golden rule of poker is to play premium hands only, and if you are going to bluff do so sparingly. The decision-making processes are largely responsible for the outcomes of every hand. Of course, there's always a wildcard in poker and that is lady luck. As Richard Seymour points out – even if you do everything right in poker, you can still lose – that's the fall of the cards. His mental state also helped him to perform well in the contest. He described himself as naturally reserved; a reference to having a poker face. His ability to perform under pressure is already evident given his superstar status as a pro footballer. Strangely enough, Seymour describes his switch from football to poker as a natural progression.
This Hall of Famer has three Super Bowl championships to his credit, and now he's competing at the highest level of poker competition – the WSOP. After dropping $10,000 for the buy-in, he quickly turned up the heat at the tables. He believes that poker strategy is essential to succeeding in this competitive game. With several years of competitive poker experience to his credit, he finally plucked up the courage to play at WSOP. He admits that it's important to watch the behavior of fellow competitors in the game as much as it is to play your cards right. In 2018, he competed in a poker tournament in Spain, and in the same year, he finished third in a tournament at the Bahamas. That he won $375,000 is no laughing matter, making this second career choice extremely lucrative for the former NFL great.