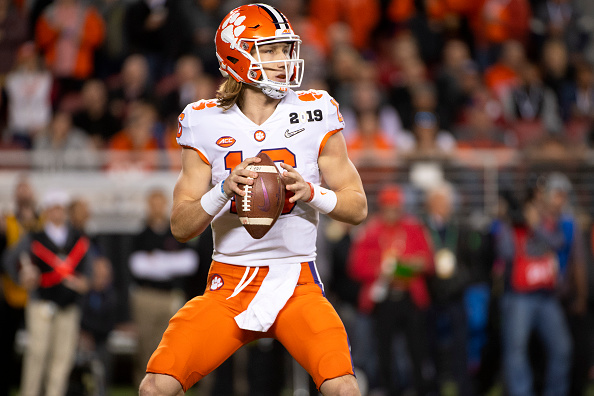 The college football season is just under a month away and many are getting prepared for the season. One of the biggest stories of the season is yet again who can take down Alabama and Clemson. One of the other big stories of the season is who will be crowned at the Heisman Trophy winner. There is a big race to the top and there are also some clear cut candidates this season. There are a plethora of Heisman Trophy candidates at the quarterback position but there's also a strong candidate at another position on this list.
2019 Heisman Trophy Candidates
Trevor Lawrence, Quarterback, Clemson
Trevor Lawrence took the starting position from Kelly Bryant as a freshman last year and it was a great choice. Lawrence led the Clemson Tigers to a national championship and proved that he is one of the best players in the country. Already with experience at the position as a freshman, he can be even better and the offense can be a lot more explosive. He has a great arm and has a very high player IQ. In 15 games– which includes the post-season– Lawrence had a 62.5 completion percentage, threw for over 3,280 yards, and had a 30/4 touchdown to interception ratio.
Clemson is slated to go undefeated again and Lawrence is the favorite in many betting books to win the Heisman.
Tua Tagovailoa, Quarterback, Alabama
Tua Tagovailoa was in a great position to win the Heisman last year but fell short. He's in position to make yet another run at the trophy at maybe even win it. He dealt with a little injury last season but still played at a high level.
Tagovailoa had a completion percentage of 69 percent and passed for 3,966 yards with a 43/6 touchdown to interception ratio last season with Alabama. He can easily throw for over 50 touchdowns and if he does then he can finally take home the Heisman.
Jalen Hurts, Quarterback, Oklahoma
Jalen Hurts is yet another quarterback on this list. He transferred from Alabama to Oklahoma this offseason after taking a backseat to Tua Tagovailoa. Oklahoma was a great choice for Hurts. This will surely put him in the conversation for a Heisman. He is a talented runner who has improved his throwing ability and being at Oklahoma with certainly maximize his talent. Hurts played in 13 games last season. He came into games in the fourth quarter when Alabama ran away with games and when they didn't want to risk injury with Tagovailoa. Hurts didn't attempt a lot of passes but he completed 51 out of 70 passes and threw for 765 yards with eight touchdowns to only two interceptions.
Oklahoma had won two Heisman's over the past two seasons at the quarterback position. Baker Mayfield won it in 2017 and Kyler Murray won it in 2018. Head coach Lincoln Riley would love to have a Heisman three-peat.
Jonathan Taylor, Running Back, Wisconsin
Jonathan Taylor is the first player that is not a quarterback on this list. This means he will have a lot of eyes set on him. He is the driving force to that Wisconsin offense and might even top his numbers from last season. Taylor rushed for over 2,000 yards and had 16 touchdowns. If he can carry this Wisconsin team to a conference championship or even the playoffs then he will surely break the long streak of quarterbacks winning the Heisman.
Sam Ehlinger, Quarterback, Texas
The Texas Longhorns are slated to have a great year and are on many people's radar to be a sleeper to make the playoffs. One of the main reason is because of Sam Ehlinger. He can beat teams with his arm and legs. Last season, he had a sluggish opener by throwing two interceptions but after that, he went ten consecutive games without throwing a pick. He threw for 3,292 yards and had a touchdown to interception ratio of 25/5. He has a great chance to improve his numbers and get into the race. If the longhorns make the playoffs, he will get a long look for the trophy.
Honorable Mentions
Justin Fields (Quarterback, Ohio State)
Travis Etienne (Running back, Clemson)
Jake Fromm (Quarterback, Georgia)
Justin Herbert (Quaterback, Oregon)
Main Photo:
Embed from Getty Images