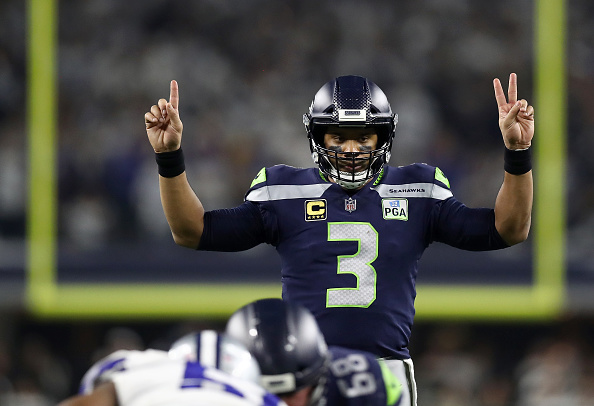 In this part of the divisional quarterback rankings series, we dive deep into the NFC West quarterback rankings for the 2019 season. These are the Arizona Cardinals, the Los Angeles Rams, the San Francisco 49ers and the Seattle Seahawks. Let's see how their quarterbacks rank going into the new season.
2019 NFC West Quarterback Rankings
4. Kyler Murray
In a way, the fourth spot doesn't seem fair to Kyler Murray who did very well in his last year of college, throwing for 4361 yards in 14 games with an impressive 42 touchdowns and only seven picks. But as it has been shown many times, college doesn't always translate to the NFL. Also, there is a natural period of time when a brand new member of any team needs to get used to those around him. If Murray can settle in and win the other members to his side showing good leadership he should be able to show us what he can do to match his college play.
3. Jimmy Garoppolo
While Jimmy Garoppolo is in third place in his division, we more than likely haven't seen his full potential yet. We saw very little of him when he was on the New England Patriots. Of course, to be truthful, we were never going to see a lot of him unless Tom Brady retired or had a career-ending injury.
When he first got to San Francisco he obviously wanted to prove his worth and was excited to play. He came out of the gate flying high with more than fifteen hundred yards in only six games. Winning all five games that he started. He only got to play in three games last year before an ACL tear ended his season. Now that he is back, will having to sit out most of 2018 effect his play, or make him hungrier than ever to prove his worth?
2. Jared Goff
The second best NFC west quarterback is young and rising star, Jared Goff. With 2018 being the first year he played all 16 games, he is improving every year. Though towards the end of the season he showed some signs of a loss of stamina. However, he still had clutch passes in the NFC championship game.
With two and a half seasons of play under his belt, now is the time for him to step forward more fully and secure his place not only on his team but in NFC history. The first month of play should let fans know if he kept himself in shape mentally and physically to be able to step up again.
1. Russell Wilson.
The number one NFC West Quarterback is Russell Wilson, a logical choice for many reasons. In the off-season, he was made the highest-paid player in the league. Surely placing him on the list of quarterbacks that will stay with their team for the long haul. Any team willing to pay $86.7 million for a four-year extension, will not be looking to trade him anytime soon.
His numbers are not the only thing that makes him a valuable asset to his team. Of course, averaging four thousand yards a season is a highlight. But Wilson also has great leadership skills, helping to mold rookies and make big players to assist him on the field. As has been seen, injuries are the biggest threat to the best of the best. As long as Wilson can stay healthy, fans should be able to look forward to another big year in Seattle.
Wrapping it Up
All four of the NFC West Quarterbacks have a lot of potential to do big things in this season as much, if not more than, they have in others. As long as the players surrounding them stay healthy and productive, there will be a lot of air battles in the NFC games.
Main Photo:
Embed from Getty Images