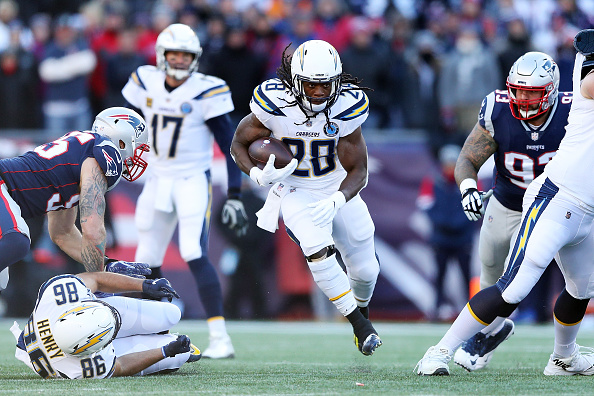 Star running back Melvin Gordon has recently come out and stated that if the Los Angeles Chargers do not offer him an adequate extension he will not report to camp and he will also demand a trade. Opinions and thoughts could vary on this subject. Some people believe Gordon is one of the best running backs in the NFL and some believe the Chargers shouldn't pay him at all. Both of these opinions can be true. Melvin Gordon clearly deserves a new deal, but what is his worth?
Will the Chargers Replace Melvin Gordon?
Melvin Gordon is a very important piece to the Chargers offense. In 2018 only three running backs averaged 70 plus rushing yards per game and 40 plus receiving yards per game. Those running backs were Todd Gurley, Saquon Barkley, and Melvin Gordon. Gordon has also been one of the most productive running backs since 2016. In the past three seasons, Melvin Gordon has totaled 38 touchdowns from scrimmage. That's good for second-best in the NFL. 28 of those touchdowns were rushing touchdowns and ten of them were receiving touchdowns. You can clearly see the versatility that Gordon brings to any NFL offense. The biggest issue with Gordon has been injuries. He's played a full 16 game season just once in his four-year career.
Keeping Melvin Gordon
Keeping Melvin Gordon is the clear cut option for the Chargers, there are other options that they may be willing to explore. If you pay Gordon the money he desires, the offense will have their star on the field and the super bowl window will remain open. Also, it will be harder to pay upcoming free agents on the roster if Gordon does get a new deal. According to Gordon's agent Damarius Bilbo, Gordon is not asking to be the highest-paid player at his position. However, he wants to be paid market value. Negotiations between the two can become a little easier with that type of request.
Trade Melvin Gordon
Trading Melvin Gordon is probably the last thing that Los Angeles wants to do. Gordon is a focal point for one of the best offenses in the NFL. If these two are not able to agree on an extension a trade could become a very realistic option. Gordon would obviously have some trade value as there are teams with a need at running back. What would the Chargers be asking for in exchange for Gordon? Could we see teams give up a first-round pick for a 26-year-old running back who's only played a full 16 game season just once in four seasons? That seems highly unlikely considering those circumstances. A second-round pick would be more likely.
What They Should Do
Lastly, it would be in the Chargers' best interest to find a respectable extension for Melvin Gordon. Don't overpay or break the bank because you could end up in the same situation that the Los Angeles Rams are in with Todd Gurley. The Rams are paying Gurley a four year $60 million dollar deal with $45 million guaranteed. Gurley has a mysterious knee injury that is worrying the Rams. The deal looks like a bad decision as the Rams are stuck paying this huge contract to Gurley while his days in the NFL seem to be numbered. If Los Angeles truly wants Gordon on their team in the future they must find a deal that makes sense for both sides.
Main Photo:
Embed from Getty Images