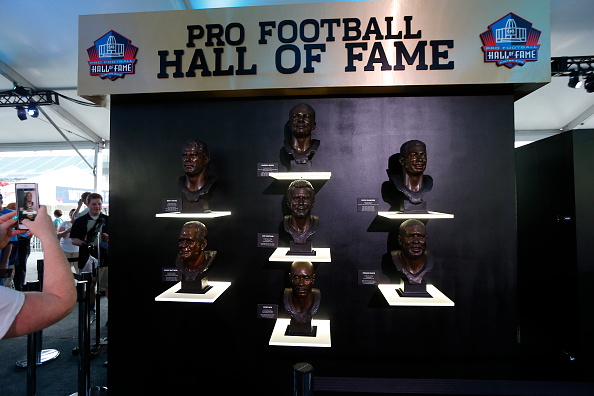 The Pro Football Hall of Fame could potentially induct 20 members in 2020 to celebrate the NFL's 100th Anniversary. Normally, five modern era players are inducted so using that rule I gave the names of which players deserve induction. Those players were Troy Polamalu, John Lynch, Tony Boselli, Isaac Bruce, and London Fletcher. Who should be in Canton? Part two of this article discusses why Bruce and Fletcher deserve gold jackets as members of the class of 2020.
Five Players Who Should Be In Canton Part 2
Isaac Bruce: Greatest Show In Canton
The St. Louis Rams had one of the greatest offenses in NFL history during the Greatest Show on Turf era. With Hall of Fame players such as Kurt Warner, Marshall Faulk, and Orlando Pace the Rams were able to score 500 points three consecutive years and make up three of the 22 teams to score 500 points in a season. Bruce was a key contributor to this offense and in 1995 had the fifth most receiving yards in a season all-time with 1,781. He is fifth all-time in receiving yards and retired second only to Jerry Rice with 15,208. Comparing his career to 2018 inductee Terrell Owens, Bruce has about 700 fewer yards and 50 fewer receptions yet have been overlooked three times as a finalist.
Bruce made plays when it mattered the most, he caught the game-winning touchdown in Super Bowl 34 and contributed six receptions for 162 yards in the game. Like many of the other nominees, he earned the respect of his peers. Pace played with him for ten seasons and said "I think this year's his year," Pace said. "He's the consummate pro, from day one when I stepped in the locker room, he led by example. Not a vocal guy, but he's one of those guys that his work ethic and everything he put into the game, and the type of man that he is, he's more than deserving to be a Hall of Famer.
One of the most underappreciated players of all-time, he was never a first-team All-Pro despite his record-breaking 1995 season and only made four Pro Bowls. He was the second receiver with 15,000 yards after Rice and had eight seasons with 1,000 yards. After a recent increase in receivers getting in, he is more than deserving to be next.
London Fletcher: The Legendary Story That Ends In Canton
It's hard enough to make the NFL from a college powerhouse such as Alabama or Ohio State. It's almost impossible to make it from a small Division Three college such as John Carroll. Fletcher has been underrated his entire life and is finally beginning to receive well-deserved recognition. He is the definition of consistency and reliability having started 215 consecutive games, sixth all-time and the most for a linebacker. His numbers match up very close to Ray Lewis who is considered the greatest middle linebacker ever. Fletcher has about 200 fewer solo tackles with 1,380 to Lewis's 1,562. However only trails Lewis by two sacks (41.5 to 39.0) and both have 19 forced fumbles.
With a Super Bowl championship along with Bruce and the Rams in 1999 as well as four Pro Bowls and two All-Pro selections, Fletcher has the resume worthy of Canton. He also has the respect of the football community including Dick Vermeil his head coach with the Rams who said "London had very good speed and quickness supported by outstanding instincts," Vermeil said. "That got him to the ball quicker than anyone I've ever coached. He had the ability to maintain the discipline of the scheme, then go on and make plays a teammate should have made."
Fletcher was as consistent as you can get, posting ten seasons with 90 or more tackles. He also posted 12 consecutive seasons with at least 87 tackles. From 2005-2007 he posted 100 tackles each season with the Bills and Redskins. He was a great player but a better person who was a finalist three times for the Walter Payton Man of the Year Award for working with various causes and starting a foundation to help underprivileged children in multiple cities. Fletcher is a Hall of Fame player and person, and it's time the voters recognized it.
Canton Awaits: A Matter Of Time
All but Polamalu and Fletcher have been finalists for induction. Polamalu will likely be one in his first year of eligibility. Once you make it this far it's clear the voters believe you deserve a gold jacket. It simply becomes a matter of when. For the five players mentioned, it should sooner rather than later. All five of the players left their mark on the game and are some of the greatest to ever play. Each of them are Hall of Fame players and it's only a matter of time until they're officially in Canton.
Main Photo:
Embed from Getty Images