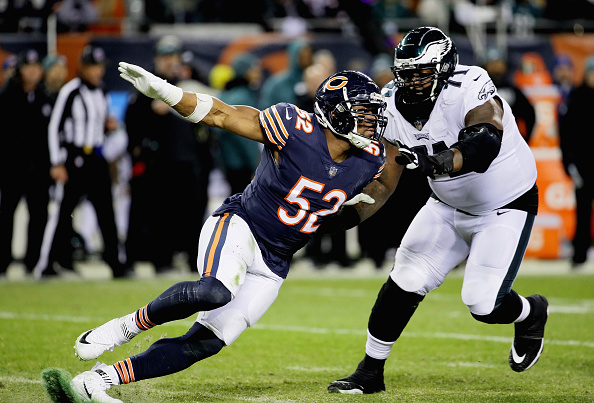 The 2019 season is going to be a competitive one. The top 10 NFL players list consists of the stars who will have the most impact on the league. Every year, NFL Network releases its own NFL Top 100 list. This year, its list releases on July 22. We'll have to wait until then to see how our lists match-up, but until then, here are the top 10 NFL players of 2019:
2019's Top 10 NFL Players
10. Tom Brady, QB
Every year, Tom Brady lands at the top of this list. And he should, considering how consistent he's been in his 19 seasons in the league. But this year he takes a bit of a drop for various reasons. For one, his big man on offense, Rob Gronkowski, decided to retire and two, the Patriots are putting more emphasis on the run with the new tandem, Sony Michel and Damien Harris.
9. Alvin Kamara, RB
Alvin Kamara's talent is undeniable and he's put up good numbers in his first two seasons, but the opportunity to be the star of the backfield has been a bit diminished since a lot of his snaps were split with Mark Ingram. Even between split-carries, the Saints knew they had their running back of the future with Kamara. Running for six more touchdowns between his rookie and sophomore years, and averaging 805 yards, there is a lot of anticipation to see what he can do as the featured back with Ingram gone.
The Saints got a steal in Alvin Kamara! pic.twitter.com/DvBHvAZESd

— PFF (@PFF) March 24, 2018
8.Travis Kelce, TE
Travis Kelce could see a big year with the possibility of a Tyreek Hill suspension. Kelce, a four-time Pro Bowler and two-time All-Pro, has been one of the leagues leading tight ends for the past few years and it's easy to assume he'll be at the top again.
7. Le'Veon Bell, RB
Le'Veon Bell is a little high on this list for one reason; He has a lot of expectations riding on him after sitting out the entire 2018 season. His move from the AFC North to the AFC East likely gives him an advantage based solely on divisional talent. The major concern with Bell going into 2019 is the risk of injury. Hopefully, the Jets off-season workouts prepare him well for the season ahead.
6. DeAndre Hopkins, WR
DeAndre Hopkins is easily one of the best wide receivers in the NFL, yet it still seems like he's underrated. It wasn't until his fifth season in the NFL that he finally got a decent quarterback in Deshaun Watson to throw to him. In 2018, Pro Football Focus credited Hopkins with the most catchable targets without a drop at 115.
Hopkins could see an even better 2019 if the improved offensive line can avoid making Watson the most sacked quarterback in the league again.
Deandre Hopkins shattered the PFF record for most catchable targets without a drop in 2018 pic.twitter.com/lCrwL9btim

— PFF (@PFF) April 22, 2019
5. Drew Brees, QB
Drew Brees is a hall of fame quarterback. He's been elected to the Pro Bowl 12 times out of his 18-year career and has thrown for over 74,000 yards, the most by a quarterback ever. He also holds the record for most career completions as well as the highest career completion percentage, among others.
Brees' years as an NFL quarterback are definitely winding down. We could even see him play his final game in 2019, which gives him the opportunity to separate himself from the rest of the quarterbacks in NFL history and break even more records.
4. Odell Beckham Jr., WR
Odell Beckham Jr. has had a pretty incredible career considering he's had Eli Manning as his quarterback. Don't get me wrong, Manning is a two-time super bowl champion, but he just isn't the quarterback that he used to be. It'll be exciting to see what Beckham can do with a quarterback like Baker Mayfield.
Beckham is a highly productive player because of his ability to dominate the defense at all levels of the field. While Cleveland clearly showed that they were a different and improved team last year, the addition of Beckham certainly makes pushes the Browns to be playoff contenders in 2019.
3. Khalil Mack, LB/DE
Khalil Mack is one scary edge rusher. When he was traded to Chicago before the 2018 season, he immediately made the Bears super bowl contenders. In 2018, Mack had 12.5 sacks on 47 combined tackles in 14 games, which was the lowest tackle count of his career. Imagine if he had played the full season. Looking forward to a healthy 16-game season in 2019, Mack has the opportunity to become even better and inch his way towards the hall of fame.
Chicago did lose defensive coordinator Vic Fangio to the Broncos heading coaching job this off-season, but considering the player that Mack is, it shouldn't affect his dominance on the field.
Khalil Mack was worth the investment for Chicago this season pic.twitter.com/ZHF8JpIl0p

— PFF (@PFF) February 9, 2019
2. Aaron Donald, DT
Aaron Donald is the most dominant player on any NFL defense and he is already being regarded as one of the best interior linemen of all-time. In his first five seasons, he's had 263 combined tackles and 59.5 sacks. As a five-time Pro Bowler and four-time All-Pro, Donald has won NFL Defensive Player of the Year two years in a row and could easily win a third in 2019.
1. Patrick Mahomes, QB
It's kind of hard not to put the 2018 passing touchdown leader and reigning MVP at the top of this list. Patrick Mahomes was the single most exciting player to watch in 2018 and it'll be interesting to see how he follows it up in 2019. Now, we probably won't see him put up 5,000 passing yards and 50 touchdowns again but that doesn't he won't put up another stellar performance. It would be really difficult to put any other player above Mahomes on this list right now.
Overall Thoughts
There are so many incredible talents in the NFL that it can be very difficult to decide who is the best of the best. Every year there are some players who rank at the top of this list consistently while others make the big leap to stand out from the rest of the bunch.
Some players who barely missed the top 10 include Antonio Brown, Julio Jones, Von Miller, Ezekiel Elliott, Russell Wilson, Cameron Jordan, and Frank Clark.
Main Photo:
Embed from Getty Images