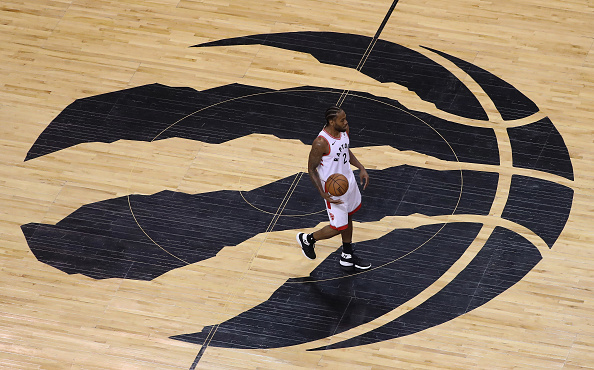 A day after the St. Louis Blues won their first championship, the Toronto Raptors did the same thing and won their first championship. The Raptors were established in 1993. Before this year they didn't even make a finals appearance in their history. Now in their first try, they earn their first NBA championship. After years of falling short and getting knocked out by LeBron James and the Cleveland Cavaliers, they finally got past that and achieved their ultimate goal.
The Toronto Raptors Capture Their First NBA Championship
The Off-season move
The Raptors made a big splash and it was kind of unexpected. They traded long-time Raptor DeMar DeRozan, Jakob Poeltl, and a 2019 first round pick to the San Antonio Spurs for Kawhi Leonard and Danny Green. This is a big-time move for one of the best players in the game. At the time it was a risk because Kawhi is a free agent at the end of the season but no one knew what was about to come to this franchise. On the other hand, the Raptors have always been close and they needed something to put them over the top and Kawhi did that. Let's not forget about Danny Green. He was an important piece to the Spurs and now he is an important piece to the Raptors. There were some other important pieces to this championship team that made it all possible.
Kawhi Leonard
Kawhi Leonard had a great series and put this team on his shoulders. He did what many thought he could do and that was to deliver this team their first championship. He averaged 28.5 points per game, 9.8 rebounds, and 4.2 assists. Leonard had four, 30+ point games including 10+ rebounds in three games. He collected 22 points in game six and was 7-16 from the floor. These performances led him to win to Finals MVP for the second time in his career. This trade at the beginning of the season was one of the best moves in Raptors franchise history.
Supporting Cast
Even though Kawhi Leonard is the star, other players stepped up and helped the Raptors win the championship. Let's start with a long time Raptor Kyle Lowry. Lowry has been here through all of the ups and downs over the years and he finally has what he was looking for. He showed up in a couple of big games. When the Warriors tied the series at one, it was important that the Raptors win game three or they would be in trouble.
Lowry had 23 points, four rebounds, and nine assists. He shot 50 percent from the floor overall and over 50 percent from three. He also showed up big in game six. The Raptors were up 3-2 and Lowry made sure that the series wouldn't go seven. He had 26 points, ten assists, and seven rebounds. He scored the first 11 points for the Raptors and had 21 points at the half.
Candidate for Comeback Player of the Year Pascal Siakam had a great game one. He had 32 points with eight rebounds, shot 14 of 17 from the floor and 2-3 from three. He had 18 points in game three but grabbed nine boards and six assists. Siakam also had a good game six as he had 26 points and ten rebounds. He was 10 of 17 from the floor and 3-6 from three. Many wondered if his regular season would translate to the playoffs and for the most part, it did.
Another big contributor was Fred VanVleet. He was a perfect piece around the stars to lead the team. VanVleet had 15 points in game one, 17 points in game two and he also showed up big in game six. He had 22 points and made five big threes. A theme here is that everybody showed up for game six to capture the championship.
The Warriors
The Warriors had some injuries throughout the series. Kevin Durant was out all series with an injury. In game five he played and had 11 points in the first quarter. Durant would later suffer a ruptured Achilles and not play again. Kevon Looney left in game five to what was a broken collarbone. He came back in game six though and played. Klay Thompson tore his ACL in game six. DeMarcus Cousins is coming off an injury and was playing big minutes for this team. When their big players were healthy and playing, they had great games and made big shots for the most part.
Steph Curry averaged 30.5 points a game but failed to have a field goal percentage over 50 in any of the six games. Curry didn't have the best game six when they needed him though. He only had 21 points and shot three of eleven from three. He also missed a huge shot that would've put the Raptors ahead and possibly forced a game seven.
When Klay Thompson played, he averaged 26 points per game, shot 59.4 from three and 55.3 percent overall. Those are some good numbers for a supporting star but injuries caught up with him. Draymond Green stayed consistent throughout. He only averaged 12.5 points per game but he almost averaged a triple-double with 10.8 rebounds and 9.3 assists per game. For what Draymond Green is, he still produced even at 12 points a game. Many wonder with all these injuries and with free agency if the dynasty in over but Green said they would be back.
They finally did it!
Don't let the injuries of the Warriors distract you from the fact that the Raptors had players step up and play their game. The Raptors have deserved this after all of these years they went through. The championship is going north of the border for the first time ever with the Raptors. Whether Kawhi Leonard is staying or leaving, appreciate what he did for this Raptors team. The Toronto Raptors finally did it!
Main Photo:
Embed from Getty Images