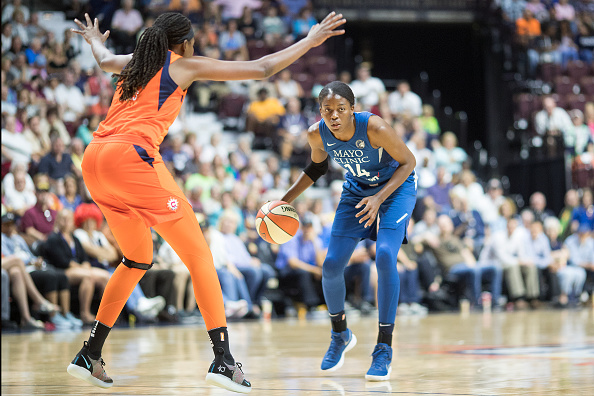 The WNBA faces more and more criticism as so-called fans hate on the league for being inferior to their male counterparts. The lack of dunks and athletic plays draw many fans away and result in these athletes receiving significantly less attention and respect than NBA players. The WNBA is not as bad of a league as it seems, however it's far from perfect. Here are a few ideas on how to improve the league to earn more respect in the basketball community.
How to Make the WNBA a Better League
More Money, Less Problems
When someone says that WNBA players should be paid more, many fans become enraged at the idea. Because the athletes are inferior to NBA players and the games aren't as exciting, they don't deserve more money. What they fail to realize is none of these WNBA players are asking for NBA money. They are realistic enough to realize their league will likely never get to the level the NBA is at.
In 2018 the average WNBA salary was $71,635 and the veteran maximum was $113,500. Meanwhile the NBA the minimum salary was $838,464. While the NBA gets more viewers and higher ratings and attendance, the difference in pay is still stunning and unacceptable. WNBA players work as hard as their male counterparts and because of the lack of pay must play overseas in the offseason to make ends meet. The EuroLeague's minimum salary is $100,000 for their players, which is still about eight times less than the worst NBA player makes. Even NBA officials make $150,000 per season, more than an entire WNBA team.
I'm not saying to give them supermax contracts like Stephen Curry or LeBron James get, but these athletes absolutely deserve to be paid more. The NBA gives 50% of its revenue to the players whereas the WNBA gives 20%. If the WNBA gave more of its revenue to those who earn it for them, it would decrease the pay gap to a fairer wage. The WNBA's revenue is unknown to the public; however, it's estimated to be about $50 million. Giving even 30% to its players (15.6 million) and dividing it by the 144 players in the league and each player would get over $108,000. The roughly $180,000 they would receive including their salary and any sponsorships and endorsement deals could allow many of these athletes to stay home in the offseason instead of playing overseas and risking injury. While it's still significantly lower than the worst NBA player, it would be a step in the right direction to ensuring these athletes get what they deserve.
Basketball Players or Walking Billboards?
Every WNBA jersey has a sponsor similar to soccer jerseys, most across the chest where a team name would be. Out of the 12 teams, only one has a team name and another has a city abbreviation. Some have up to three logos on the front, not including the Nike swoosh. These uniforms aren't about expressing team pride, they're about advertising and promoting a company. These athletes deserve better, and one way to help the WNBA is to promote their players better. Most basketball fans don't know the top WNBA talent such as Brittney Griner or Elena Delle Donne but could recognize Kevin Durant or Anthony Davis in a heartbeat.
In an interview with SBNation, Las Vegas Aces forward Liz Cambage said "Who wants to buy this with a massive American Fidelity sign?" she asked rhetorically. "Where does it even say Dallas Wings on it? How are you meant to market this? Who wants to buy this?" On the jersey she was referencing, the Dallas Wings are not found anywhere on the jersey, instead of ads for American Fidelity and Verizon. I understand a small patch like the NBA has, but to prioritize ads over even putting the team name on seems a bit extreme. If a fan sees a jersey, they should immediately know which team it is, and if you can't say which team wears a jersey it will decrease the odds of someone recognizing the team or wanting to follow them.
Lack of Opportunities
Because most of the WNBA players have to go overseas in the offseason, they can't take advantage of opportunities to promote themselves and the league. Wings guard Skylar Diggins-Smith is one of the few athletes who can stay in America because of deals with Puma and BodyArmor. For most of her peers, however, they can't promote themselves and build a brand since they are only in the States for a few months.
Cambage said that "The rest of us, we disappear for another eight months. We can't be here in the offseason because we go to make our money somewhere else," she added. "I should be turning on the TV seeing more marketing for these girls. More ads. But we don't have time to commit because we aren't here."
The Last Word
The WNBA is a great league, with some of the best basketball players on the planet. Many games are great ones that come down to the final seconds. Of the five games played on June 9th, three were decided by less than ten points. Many critics say that they miss most of their shots, but so do most NBA players. Three-pointers aren't as common in the WNBA, but 2018's three-point leader shot 47% just like the NBA's leader this season. The WNBA also lacks dunks; however, the average player is six feet tall while the average NBA player is 6' 7". Basketball has evolved into a phase where dunks and athletic plays are expected and are almost required by fans. You shouldn't need to see dunks and deep three-pointers to enjoy a basketball game. I went to a Washington Mystics game a few years ago and was shocked at how competitive and talented these athletes are.
Americans lack the respect of female basketball players that international fanbases have shown. Cambage said that "We sign million dollar contracts in Asia and Russia and get treated like royalty. But when we're here in America, we're back of the plane, playing back-to-backs." If you consider yourself a basketball fan, you need to respect the WNBA for what it is. It might be different, and it may take some getting used to but it's necessary to show them support. This isn't going to happen overnight, but the game of basketball will be better if more fans can get behind the WNBA.
Main Photo:
Embed from Getty Images