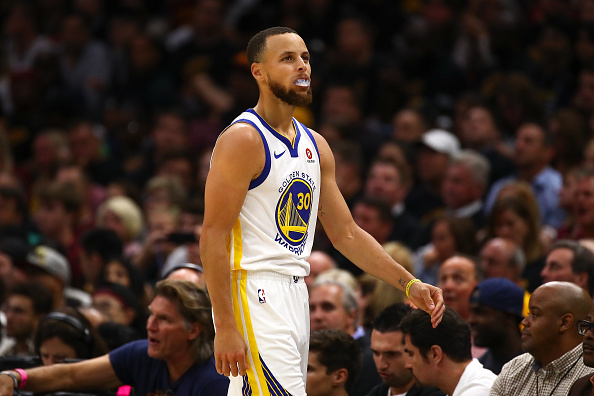 In the NBA, the Finals MVP is always a topic of discussion. It's one of the most talked about MVPs in a championship game in any sport. The stars always come out and shine for the MVP but there have also been some unexpected heroes to come forward and take the spotlight. The NBA Finals is upon us as the Golden State Warriors will face the Toronto Raptors. The Warriors will be looking for their fourth title in five years. On the other hand, this is the Raptors first NBA Finals in franchise history.
Who will take home the Finals MVP in 2019?
Candidates for 2019 NBA Finals MVP
Stephen Curry – Golden State Warriors
You can't talk about the NBA Finals without talking about Stephen Curry. He has been a star in this league and has been lights out for the Warriors. Curry stepped up in a huge way when Kevin Durant went down against the Houston Rockets and the Portland Trail Blazers. He scored 35 or more points in all four games against the Blazers. He probably needs to be something close to this as Durant will be out for game one of The Finals and possibly game two. Curry has been the key to the Warriors success for years and it's time to show why this is his team.
Kawhi Leonard – Toronto Raptors
Kawhi Leonard is an obvious candidate for the Finals MVP. He has been great for the Raptors ever since they traded for him this off-season. Leonard has gotten this team through tough games and not so easy obstacles. From big dunks to buzzard beaters, Kawhi has gone above and beyond for this team. Who knows what will become of him this off-season but for now, he is focused on winning yet another NBA title and bringing the Raptors their first title in their first finals appearance.
Leonard has NBA finals experience as he has gone to and won the NBA championship. In 2014 with the San Antonio Spurs, he won the Finals MVP. The offensive numbers weren't there but he won MVP because of his amazing defense on LeBron James. He has had a heavier workload on offense in Toronto and he doesn't seem fazed by it. "The Claw" will definitely be one of the best of the floor in the NBA Finals.
Draymond Green – Golden State Warriors
Draymond Green can be a little high maintenance but has been the heart and soul for this Warriors team. He gets himself fired up, his teammates fired up, and the fans fired up. Green has shown that he can handle the big spotlight. If he can get himself under control and stop the antics in the NBA Finals, then he can be a reason why the Warriors win another championship. Green has played great defense and has made some great plays in crucial spots, putting up four triple-doubles in the 2019 playoffs. Two of them came in games three and four of the Western Conference Finals against the Blazers and he almost did it in all four games. Green might not even be a top three players on his team, but he is one of the most important.
Klay Thompson: Golden State Warriors
Another Warriors' star up for MVP is not surprising at all. Although throughout his career he hasn't put up great numbers in the NBA Finals, his ability to catch fire is reason alone to be MVP. Like Curry, with Durant out, Klay Thompson is going to have to step up for his team and he is surely capable. A pure shooter like Thompson won't be silenced and can contribute at any point. He might struggle at some points but he has the ability to knock down a couple of big threes and play great defense.
Kevin Durant?
He would be an obvious choice for MVP in the NBA Finals but his status for this series is unknown. Durant is for sure out for game one and maybe game two. No one knows when he will come back and it might be too late for him to capture the Finals MVP. If the Warriors are in trouble when Durant comes back and sparks the team to a championship, you better believe he will win it.
Under the Radar Finals MVP
Kyle Lowry: Toronto Raptors
How is Kyle Lowry under the radar if he has been one of the stars on the Raptors for years? Well, because of Kawhi Leonard. Ever since Leonard got there, Lowry hasn't been forgotten but he hasn't been in the spotlight either. Lowry hasn't been to an NBA Finals and has not shown he can make a clutch play in a big game like this. That being said, Lowry still can bring a lot of game to the finals. He is still a pretty good player and just a little bit can help this team. If he realizes where he's at and can rise to the occasion don't be surprised if he can steal the MVP form the top players.
Last Word
Curry is the favorite to win Finals MVP at 2/3. Finals MVP can be won not just because of the numbers but by making big plays and being clutch. A couple of big shots or big plays when needed in a couple of games can make a big difference. As Kawhi has shown, great defenders can also win the Finals MVP. The Warriors are big favorites to win another NBA championship but Kawhi isn't just going to let them go by easily. The NBA Finals will once again involve Steph Curry and marks the return the Kawhi Leonard in the Finals.
Image Credit:
Embed from Getty Images